Digesting Delivering Alpha 2017: The Top Picks You Need To Know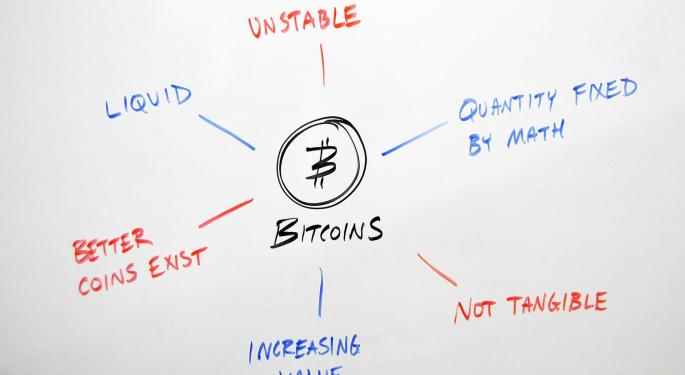 Anything but bitcoin.
The cryptocurrency got little love at CNBC's Delivering Alpha conference Tuesday, with JPMorgan Chase & Co. (NYSE: JPM) CEO Jamie Dimon calling it "fraudulent" and Saba Capital Management CIO Boaz Weinstein attributing its rise to nothing beyond FOMO.
Tiger Management CEO Julian Robertson "never understood" it, and Starwood Capital Group CEO Barry Sternlicht predicts its eventual ties to illicit activity.
Only one speaker expressed faith in the trade.
"We've been massively long since the beginning," Social Capital CEO Chamath Palihapitiya said. "The genie is fundamentally out of the bottle."
What Else To Jettison?
If you're inclined to follow consensus down the short road, a few other pessimistic plays may be of interest.
James Chanos, the founder and managing partner of Kynikos Associates, is not a fan of Alibaba Group Holding Ltd (NYSE: BABA), is short Tesla Inc (NASDAQ: TSLA) and recommended selling shale exploration and production firms, including Continental Resources, Inc. (NYSE: CLR), which he thinks can neither repay its debt nor make a profit.
Related Link: A Look Back At Delivering Alpha 2016's Top Long And Short Ideas
At the same time, Procter & Gamble Co (NYSE: PG) is too heavily matrixed, according to Trian Partners CIO Ed Garden. "We need someone running the P&L [profit and loss]," he said, demanding accountability on sales reporting.
And beware of bonds. "Bonds to me look like a bubble," Omega Advisors Chairman Leon Cooperman said.
So, What's Good To Buy?
But Cooperman does like United Continental Holdings Inc (NYSE: UAL), which he considers a $100 stock that was "under-managed" until 18 months ago. Viewing its current management among the sector's best, he expects 15-percent earnings growth over the next few years.
First Data Corp (NYSE: FDC), Shire PLC (ADR) (NASDAQ: SHPG), Hess Corp. (NYSE: HES) and WPX Energy Inc (NYSE: WPX) round out Cooperman's top five picks.
Meanwhile, Robertson champions the cruise industry and Alibaba, the latter of which he recently bought back after having previously sold off at $100. His newest trade has seen 50-percent earnings this year.
He also favors FANG: the hedge fund manager is a "long-term player" in Facebook Inc (NASDAQ: FB), loves Netflix, Inc. (NASDAQ: NFLX) and considers Apple Inc. (NASDAQ: AAPL) "not that expensive" at $163.
Terex Corporation (NYSE: TEX) is the "most exciting investment" in Marcato Capital Management's portfolio, according to managing partner Mick McGuire. The stock has doubled since McGuire invested last year, and he sees its potential to triple.
Starboard Value CEO and chief investment officer, Jeff Smith, considers Perrigo Company plc Ordinary Shares (NYSE: PRGO) a worthy buy, noting that it has a big opportunity in Amazon.com, Inc. (NASDAQ: AMZN).
Smith also likes Altaba Inc (NASDAQ: AABA), but he's out of Macy's Inc (NYSE: M), considering the department store model not dead but difficult to fix.
Some General Advice
Emerging markets earned great praise. Marc Lasry, CEO and co-founder of Avenue Capital Group, advised looking in non-U.S. markets, where capital scarcity and greater growth provide better returns. Both he and Michael Trotsky, CIO of Massachusetts Pension Reserves Investment Management Board, see opportunity specifically in Brazilian distressed debt.
Greater profits are to be found in non-performing loans, particularly of the European brand, according to Jeffrey Aronson, co-founder and managing principal of Centerbridge Partners.
Additionally, Weinstein asserted that closed-end funds will outperform ETFs, and Ray Dalio, founder and chairman of The Bridgewater Associates, advised gold as 5 to 10 percent of a portfolio.
Related Link: Jamie Dimon: Bitcoin Is Stupid
View Comments and Join the Discussion!
Posted-In: Long Ideas News Short Sellers Short Ideas Forex Events Markets Media Best of Benzinga