The 5 Most Overvalued Dow Stocks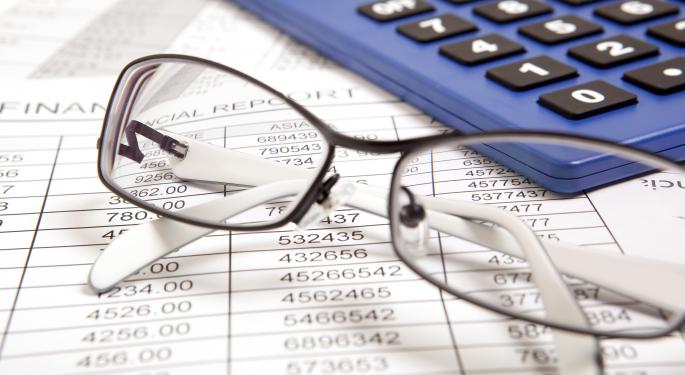 With the Dow Jones Industrial Average finishing at a new closing high for a third straight day, you can bet on a lot of talk about stocks being frothy.
But are they?
Below are three different ways to spot stocks that may be frothy, and the top five identified by each marker. Some names recur, but the different indicators generate different top fives. The indicators are high trailing P/E ratios, high forward P/E ratios, and high relative strength index numbers.
The 30 Dow Stocks Seem Fine
The 30 stocks in the Dow itself are probably not overvalued. The trailing 12-month price/earnings ratio for the average was 16.37 after Tuesday's finish. That's down from 16.62 a year ago. The forward P/E ratio -- measuring price against earnings 12 months from now -- was 14.78, not outrageously high either.
Related: Dow Closes At A New High As Late Month Rally Boosts Stocks
A high P/E value can be a signal that a stock is at least ahead of the market. The reason the P/E ratios among the Dow stocks aren't as high as, say, Amazon, which sports a P/E ratio of 473, is that these stocks are known quantities.
The 30 components all make money. None faces trouble that could threaten its existence. They have huge market capitalizations, averaging $162 billion.
The group includes two of the four most valuable companies in the world: Exxon Mobil, with a market cap of $440 billion, and Microsoft, whose market cap is $334 billion.
High Trailing P/E Ratios
But some stocks are sporting prices that look rich, if judged by trailing P/E ratios, and could be ready for a pullback. Here are the top five:
Merck (NYSE: MRK): Tuesday close: $55.75. P/E ratio 36.77.
The stock had jumped 19 percent for the year through May 1, along with health-care stocks generally. Also, an important heart attack drug Zontivity recently won Food and Drug Administration approval. But the shares have pulled back in the last two weeks in part because of the sell-off in biotech stocks.
Nike (NYSE: NKE): Tuesday close: $74.59. P/E ratio: 25.47.
The company is seeing strong sales and profit gains from all of its regions. It expects to see sales jump with this year' World Cup soccer tournament. It's taking so much market share from competitors that Adidas's CEO even had to defend his company against charges that Adidas couldn't compete against Nike's soccer shoes. But the stock is down 5 percent this year in part because it jumped 52 percent in 2013.
Visa (NYSE: V): Tuesday close: $212.06. P/E ratio: 25.09.
The credit-card processor is seeing growth around the world. It also expects, like Nike, to be a winner from the World Cup.
Boeing (NYSE: BA): Tuesday close: $133.45. P/E ratio: 23.
The aerospace giant's commercial airline business is soaring, thanks to strong demand for more fuel efficient planes. It won a big order for 50 new-generation 737 planes from China's Juneyao Airlines.
General Electric (NYSE: GE): Tuesday close: $26.92. P/E ratio: 22.14.
GE's industrial business is growing rapidly, and the company is cutting costs and streamlining operations.
High Forward P/E Ratios
Using the P/E ratio measured against past earnings doesn't offer a view about how investors feel about a company's future. Using a 12-month forward P/E produces this list of five potentially overbought stocks.
Nike: Forward P/E ratio: 22.15. The signal: A bit pricey.
Visa: Forward P/E ratio: 20.36. The signal: A bit pricey.
Coca-Cola (NYSE: KO): Tuesday close: $41.11. Forward P/E ratio: 20.36.
The shares are down slightly in 2014 and could come down further unless the company can find ways to boost revenue and earnings.
Procter & Gamble (NYSE: PG): Tuesday close: $81.61. Forward P/E ratio: 18.04.
The shares are flat in 2014. Earnings have been weak, but the company has cheered investors with share buybacks.
Walt Disney (NYSE: DIS). Tuesday close: $82.08. Forward P/E ratio: 17.84.
The stock is up 7.4 percent this year, not bad considering the Dow is up just 0.8 percent on the year. Analysts have been upgrading the stock recently.
Relative Strength Index
There's one more way to look at if a stock is overvalued: relative strength index, which measures a stock's momentum. A stock is considered overbought and probably ready to pull back if its 14-day RSI is greater than 70.
Here are the five Dow stocks with the highest RSI levels:
Travelers Companies (NYSE: TRV): Tuesday close: $92.91. RSI: 78.
The stock is up 2.6 percent in May and 9.3 percent for the quarter. At some point, investors will take profits in the stock. And probably soon.
Caterpillar (NYSE: CAT): Tuesday close: $107.15. RSI: 71.
Caterpillar is up 18 percent for the year and up 24.3 percent since early February.
McDonald's (NYSE: MCD). Tuesday close: $103.53. RSI: 70.
It probably is overbought. The stock is up 11 percent from a low in early February and is up 6.7 percent for the year.
3M (NYSE: MMM). Tuesday close: $92.91. RSI: 66.
The shares may be flat for the year. But they're up 15 percent with little break from a low in early February. That's the risk.
Coca-Cola: RSI: 65.
The RSI is high because Coca-Cola shares have risen 11 percent since February 19, compared with the Dow's overall gain of 4.2 percent.
Posted-In: Amazon Boeing Caterpillar Coca-colaEducation Markets Trading Ideas General Best of Benzinga
View Comments and Join the Discussion!