The Daily Biotech Pulse: Keytruda Setback For Merck, Denali Pulls The Plug On Neurological Asset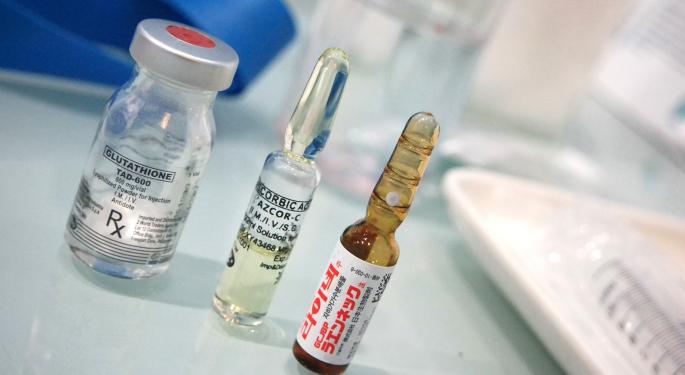 Here's a roundup of top developments in the biotech space over the last 24 hours.
Scaling The Peaks
(Biotech Stocks Hitting 52-week Highs June 9)
Down In The Dumps
(Biotech Stocks Hitting 52-week Lows June 9)
Applied Molecular Transport Inc (NASDAQ: AMTI) (IPOed Friday)
Ayala Pharmaceuticals Inc (NASDAQ: AYLA)
Stocks In Focus
Melinta Agrees To Take Tetraphase Private For $39M In Cash And $16M In CVRs
With the two-way contest for Tetraphase Pharmaceuticals Inc (NASDAQ: TTPH) ending after AcelRx Pharmaceuticals Inc (NASDAQ: ACRX) pulled out, Melinta announced a definitive merger agreement to acquire Tetraphase, through a tender offer, for an aggregate of $39 million in cash, plus an additional $16 million in cash potentially payable under contingent value rights to be issued in the proposed acquisition.
The companies expect the deal to close in the third quarter, and Tetraphase will go private following the consummation.
The stock added 14.93% to $2.54 in after-hours trading.
Vermillion To Join Russell 3000 Index
Women's health company Vermillion, Inc. (NASDAQ: VRML) announced it is set to join the broad-market Russell 3000 Index, effective after the market opens on June 29.
"We are thrilled to join the Russell 3000, which we believe will attract broader interest in Vermillion from institutional investors and investment funds," said Valerie Palmieri, CEO of Vermillion, Inc.
In after-hours trading, the stock added 5.57% to $4.74.
Merck's Keytruda Flunks Late-Stage Bladder Cancer Study
Merck & Co., Inc. (NYSE: MRK) said the Phase 3 KEYNOTE-361 trial that is evaluating its Keytruda in combination with chemotherapy for the first-line treatment of patients with advanced or metastatic urothelial carcinoma did not meet the dual primary endpoints of overall survival and progression-free survival.
The company said the monotherapy arm of the study was not formally tested, since superiority was not reached in the combo arm. The safety profile, however, was consistent with previously reported studies.
Curis Extends Tuesday's Late-Session Rally
Curis, Inc. (NASDAQ: CRIS), which began to gain momentum after 2 p.m. ET Tuesday, is advancing strongly amid a lack of any news release from the company.
The stock soared 88.52% to $2.30 in after-hours trading, adding to the nearly 42% jump in regular session.
AbbVie To Pay Up to $3.9B For Oncology Partnership With Genmab
GENMAB A/S/S ADR (NASDAQ: GMAB) and AbbVie Inc (NYSE: ABBV) Genmab and AbbVie announced a broad collaboration agreement to jointly develop and commercialize three of Genmab's early-stage investigational bispecific antibody product candidates. The companies also agreed for a research collaboration for future differentiated antibody therapeutics for cancer.
The agreement provides for AbbVie paying Genmab $750 million in upfront payment with the potential for Genmab to receive up to $3.15 billion in additional development, regulatory and sales milestone payments for all programs, as well as tiered royalties between 22% and 26% on net sales for epcoritamab outside the U.S. and Japan.
In pre-market trading, Genmab shares were rising 4.16% to $30.06 and AbbVie shares were little changed with a positive bias.
Pfizer Reports Positive Late-Stage Study For Eczema Drug
Pfizer Inc. (NYSE: PFE) announced positive top-line results from the Phase 3 JADE TEEN study of abrocitinib, an investigational oral once-daily JAK1 inhibitor, in patients 12 to 18 years of age with moderate to severe atopic dermatitis who were also on background topical therapy. Both doses of abrocitinib met the co-primary endpoints and were generally well tolerated.
Fulcrum Plans To Evaluate Pipeline Asset In Phase 3 Trial For COVID-19
Fulcrum Therapeutics Inc (NASDAQ: FULC) said it plans to evaluate losmapimod as a potential treatment for patients with COVID-19.The company said it has submitted an IND application to support initiation of a Phase 3 clinical trial in hospitalized patients in the U.S. following Pre-IND consultation via the Coronavirus Treatment Acceleration Program
Vertex Gets Label Expansion For Its Cystic Fibrosis Treatment In Europe
Vertex Pharmaceuticals Incorporated (NASDAQ: VRTX) said the European Commission has granted approval for the label extension for Kalydeco to include the treatment of children and adolescents with cystic fibrosis, ages 6 months and older and weighing at least 5 kg, who have the R117H mutation in the cystic fibrosis transmembrane conductance regulator gene.
Denali Therapeutics Stalls Neurological Drug Study
Denali Therapeutics (NASDAQ: DNLI) said it has decided along with its partner Sanofi SA (NASDAQ: SNY) to pause clinical studies with DNL747 and focus efforts on accelerating development of DNL788, which according to the company has superior drug properties and a more rapid path toward proof-of-concept clinical studies in patients in multiple neurological indications.
The company attributed the decision to pause the study to emerging evidence that higher levels of target inhibition may be required for maximizing efficacy, and challenges to achieving higher doses imposed by molecule-specific toxicity findings with DNL747 in preclinical studies.
Denali shares fell 6.85% to $23.95 in after-hours trading.
Illumina's COVID Test Issued FDA Emergency Use Authorization
Illumina, Inc. (NASDAQ: ILMN) said the FDA issued an Emergency Use Authorization for the Illumina COVIDSeq Test, a high-throughput, sequencing-based in vitro diagnostic workflow enabling the detection of SARS-CoV-2. The end-to-end workflow extends the options available for labs to scale diagnostic testing.
Offerings
Cardiovascular Systems Inc (NASDAQ: CSII) said it priced its previously announced underwritten public offering of 3.68 million shares at $34 per share. The offering is expected to close on June 12, subject to customary closing conditions.
In after-hours trading, the stock fell 9.46% to $34.75.
Immunic Inc (NASDAQ: IMUX) said it has commenced a public offering of shares of its common stock. The company said it intends to use the proceeds to fund the ongoing clinical development of its three small molecule products: IMU-838, IMU-935 and IMU-856, and for other general corporate purposes, including to investigate IMU-838, the Company's lead asset, as a potential oral treatment option for COVID-19.
The stock fell 6.33% to $11.99 in after-hours trading.
CareDx Inc (NASDAQ: CDNA) said it intends to sell up to $100 million of shares of its common stock in an underwritten public offering.. All of the shares will be offered and sold by the company.
The stock moved down 1.50% to $32.89 in after-hours trading.
View Comments and Join the Discussion!
Posted-In: Biotech News Penny Stocks Offerings FDA Top Stories Pre-Market Outlook Trading Ideas Best of Benzinga