The Week Ahead In Biotech: ESMO Conference, PDUFA Dates, Clinical Trial Results And IPOs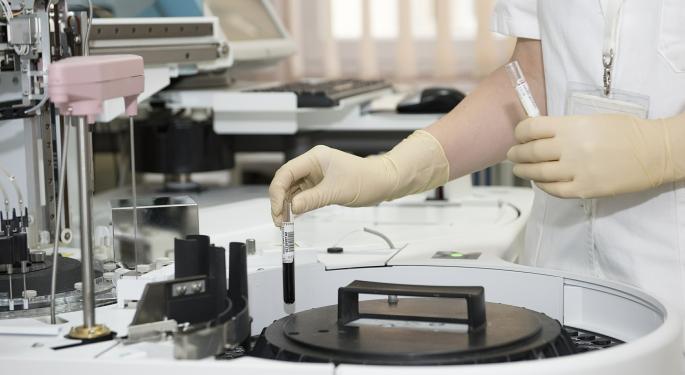 Here are a few catalysts that can dictate the directional moves of biotech stocks in the upcoming week:
Conferences
European Society For Medical Oncology, or ESMO, 2018 Congress – Oct. 19-23, in Munich, Germany
11th Annual Conference on Stem Cell and Regenerative Medicine – Oct. 15-16, in Helsinki, Finland
International Conference on Obesity and Chronic Diseases – Oct. 15-16, in Dubai, UAE
22nd European Nephrology Conference – Oct. 15-16, in Warsaw, Poland
International Conference on Diabetes and Cholesterol Metabolism – Oct. 15-17, in Dubai
9th European Congress on Rheumatology, Autoimmunity and Orthopedics -Oct. 16-17, in Warsaw, Poland
The American Society of Human Genetics, or ASHG, 2018 Meeting – Oct. 16-20, in San Diego, California

Invest in IPO shares before the stock hits the market with ClickIPO. Check it out here

Annual Congress on Cellular Therapies, Cancer, Stem Cells and Bio Medical Engineering – Oct. 17-18, in New York
3rd International Conference on Embryology and Human Genetics – Oct. 17-18, in Las Vegas
4th International Conference on Synthetic Biology and Tissue Engineering – Oct. 18-19, in Rome, Italy
27th International Conference on Neurology and Cognitive Neuroscience – Oct. 18-19, in Warsaw, Poland
Euro Oncology Summit – Oct. 18-19, in Amsterdam, Netherlands
14th Global Biomarkers Summit – Oct. 18-19, in Amsterdam
10th World Congress and Expo on Immunity, Autoimmunity Inflammation and Immunotherapies – Oct. 19-20, in New York
3rd Annual Kidney Congress – Oct. 19-20, in New York, U.S.
16th International Conference on Nephrology & Therapeutics – Oct. 19-20, in New York
5th International Conference on Parkinson's disease and Movement Disorders – Oct. 19-20, in New York
2018 American College of Rheumatology, or ACR, Annual Meeting – Oct. 19 - 24 in Chicago, Illinois
PDUFA Dates
The FDA is set to rule on Regeneron Pharmaceuticals Inc (NASDAQ: REGN)- Sanofi SA (NYSE: SNY)'s sBLA for Dupixent, which is being evaluated for adults and adolescents aged 12 years or older with moderate-to-severe asthma. Dupixent is a monoclonal antibody approved already for the treatment of adults with moderate-to-severe atopic dermatitis that is not properly controlled with topical therapies.
The PDUFA date is set for Saturday, Oct. 20.
Clinical Trial Results
ArQule, Inc. (NASDAQ: ARQL) is set to present Phase 1/2 data for ARQ 092, its treatment candidate for overgrowth diseases, at ASHG 2018 Oct. 17.
Selecta Biosciences Inc (NASDAQ: SELB) will present Phase 2 five-monthly data on its tophaceous gout candidate SEL-212 at the ACR meeting to be held between Oct. 19 and Oct. 24.
Novartis AG (NYSE: NVS) is due to present Phase 3 data for Cosentyx for treating psoriatic arthritis at the ACR meeting.
See Also: Akorn's Generic Drug For Inadequate Eye Lashes Receives FDA Nod
ESMO Presentations
Pending Q3 Releases
Acorda Therapeutics Inc (NASDAQ: ACOR) is due to release Phase 2 data for its primary sclerosing cholangitis treatment option BTT1023
GALAPAGOS NV/S ADR (NASDAQ: GLPG) is due to release Phase 2 data for its combo treatment GLPG 2451+2222+2737 for cystic fibrosis in homozygous F508del patients.
Novo Nordisk A/S (ADR) (NYSE: NVO) will release Phase 2 data for its Concizumab that is being evaluated as a treatment option for hemophilia A.
Earnings
Wednesday, Oct. 17
Abbott Laboratories (NYSE: ABT) (before the market open)
Thursday, Oct. 18
Intuitive Surgical, Inc. (NASDAQ: ISRG)(after the market close)
IPOs
LogicBio Therapeutics, a pre-clinical gene editing company developing therapies for rare diseases, is set to offer 5.77 million, priced in a $12-$14 range. The company seeks to list its shares on the Nasdaq under the ticker symbol LOGC.
PhaseBio Pharmaceuticals will offer 5 million in an IPO, priced between $12 and $14. The biotech that develops therapies for orphan diseases is to list its shares on the Nasdaq under the ticker symbol PHAS.
Medical device company SI-BONE is to offer 6 million shares in an IPO, with an estimated price range of $13-$15. The shares will be listed on the Nasdaq under the ticker symbol SIBN.
IPO Quiet Period Expiry
Elanco Animal Health Inc (NYSE: ELAN)
Y-mAbs Therapeutics, Inc (NASDAQ: YMAB)
Posted-In: Biotech Earnings News Health Care Previews FDA IPOs Top Stories Best of Benzinga
View Comments and Join the Discussion!