Epic Earnings: Many US Companies Beating Expectations As Season Continues
It's an epic earnings day on Wall Street, as a collection of massive U.S. companies report results, including Apple Inc (NASDAQ: AAPL) and five other Dow components. Fed speakers and housing data help round out the schedule.
Earnings just keep rumbling on here as we near the end of October, and so far, there's been little not to like. To date, more than 75% of companies have beat expectations, and, in a truly positive sign, nearly 80% have beaten Wall Street's consensus estimates on the revenue side of the coin. Futures trading pointed toward a slightly higher open.
Approximately 180 S&P 500 companies report results this week, and it seems like a big portion of them come today. Among the big names are Merck & Co., Inc (NYSE: MRK), Eli Lilly and Co (NYSE: LLY), 3M Co (NYSE: MMM), and E I Du Pont De Nemours And Co (NYSE: DD). And waiting in the wings is Apple, which reports after the close (see below). Expect the flavor of the market this week to mostly be shaped by individual company earnings stories, and remember, there's still a lot to come after today, with names like Boeing Co (NYSE: BA), The Coca-Cola Co (NYSE: KO), Tesla Motors Inc (NASDAQ: TSLA), Alphabet Inc (NASDAQ: GOOGL) (NASDAQ: GOOG), and Amazon.com, Inc. (NASDAQ: AMZN) on tap in the coming days. By the end of the week, investors should have pretty good insight into the health of big U.S. companies.
Earlier today, another biggie reported, as Caterpillar Inc. (NYSE: CAT) surpassed earnings per share estimates but didn't match Wall Street analysts' estimates on revenue. The company also lowered its full-year guidance, and, in a statement, cited "economic weakness throughout the world." But MRK shares zoomed up 3% early Tuesday after the company solidly beat on earnings and revenue. 3M, Procter & Gamble Co (NYSE: PG) and DD also beat estimates.
Bond prices remain under pressure, in part from solid U.S. economic data, and the yield on U.S. 10-year Treasury bonds is back above 1.75%. It's also noteworthy that the yield curve is on its way up, meaning the spread between short-term and longer-term yields is increasing. This can be a positive factor for the financial sector, and sure enough, financials are up nearly 2% over the last week, solidly ahead of the broader market.
Consumer confidence reached nine-year highs last month, and we'll find out if that lasted into October when the Conference Board reports at 10 a.m. ET today. Perhaps a better measure of consumer confidence is durable goods data, due Thursday morning. And the Case-Shiller 20-city housing index and the FHFA Housing Index, both out this morning, might also provide more insight into the consumer economy.
Atlanta Federal Reserve President Dennis Lockhart speaks this afternoon. Chicago Fed President Charles Evans made some dovish remarks on Monday about potentially keeping the federal funds rate lower for longer.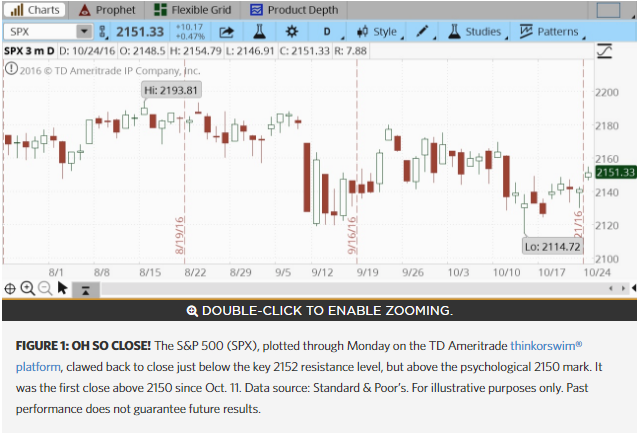 M&A Volume Scampering Up: Mergers and acquisitions (M&A) activity is picking up here in Q4, with the biggest recent deal the $85 billion agreement for AT&T Inc. (NYSE: T) to purchase Time Warner Inc (NYSE: TWX). That was just one of a few recent deals totaling nearly $240 billion that have a chance to make 2016 the second-biggest M&A year on record after 2015 if just a handful of the current deals come to fruition, Bloomberg noted. M&A activity became rather sluggish in the wake of the Great Recession, falling well over 50% on a value basis between 2007 and 2009 before waking up and slowly growing until the record activity of last year. A relatively slow-growing economy that makes it hard for companies to out-perform, combined with low interest rates that provide easy access to financing, often can make M&A seem more attractive. On the other hand, the agreement between T and TWX appears to face a challenging regulatory scrutiny, and politicians from both major parties expressed concern that the deal could concentrate too much power in too few hands. We'll see what ultimately gets done with this one.
Are Samsung's Struggles Handing AAPL a Bigger Slice of Market? As anyone who's been on an airplane flight recently probably knows, airlines have banned Samsung's Galaxy 7 phone because it might be a fire hazard, and the phone has been recalled. Did this steer additional customers to Apple, which reports earnings after the close today? That's one thing to keep an eye on, and investors might also be curious to see how AAPL's new iPhone 7 did during its first months on the market. Though the iPhone 7 and Samsung's struggles could take the headlines, it's also worth watching to see if AAPL continues to see falling sales overall, as it has the last two quarters. The phone market keeps getting tougher, and in Q2, AAPL's sales fell 15% from a year earlier, the second quarter in a row of falling sales. For Q3, analysts surveyed by Briefing.com expect earnings per share of $1.65, down from $1.96 a year ago, but the company's share price remains near its high for the year.
Going Opposite Ways? Stocks were tracking crude oil rather closely last week, but the relationship appeared to break down a little on Monday, as the S&P 500 Index (Index: SPX) rose nearly 0.5% while front-month U.S. crude futures fell around the same amount, dipping below $50 a barrel during the session before recovering slightly. Pressure on oil came from the fundamental side, as Iraq said it wouldn't necessarily abide by an OPEC output freeze. But later in the day, Iran said it would encourage other countries to join. Oil futures have been trading back and forth near the $50 level for several weeks, perhaps a sign of how difficult it is to pierce this mark. Last week saw 11 new oil rigs added to U.S. production, according to the Baker Hughes weekly report, if anyone needed a reminder that higher prices often lead to more U.S. drilling, which can lead to lower prices.
TD Ameritrade and all third parties mentioned are separate and unaffiliated companies, and are not responsible for each other's policies or services.
Inclusion of specific security names in this commentary does not constitute a recommendation from TD Ameritrade to buy, sell, or hold.
Market volatility, volume, and system availability may delay account access and trade executions.
Past performance of a security or strategy does not guarantee future results or success.
Options are not suitable for all investors as the special risks inherent to options trading may expose investors to potentially rapid and substantial losses. Options trading subject to TD Ameritrade review and approval. Please read Characteristics and Risks of Standardized Options before investing in options.
Supporting documentation for any claims, comparisons, statistics, or other technical data will be supplied upon request.
The information is not intended to be investment advice or construed as a recommendation or endorsement of any particular investment or investment strategy, and is for illustrative purposes only. Be sure to understand all risks involved with each strategy, including commission costs, before attempting to place any trade. Clients must consider all relevant risk factors, including their own personal financial situations, before trading.
TD Ameritrade, Inc., member FINRA/SIPC. TD Ameritrade is a trademark jointly owned by TD Ameritrade IP Company, Inc. and The Toronto-Dominion Bank. © 2016 TD Ameritrade IP Company, Inc. All rights reserved. Used with permission.
Posted-In: Earnings News Broad U.S. Equity ETFs Guidance Commodities Events Global Econ #s
View Comments and Join the Discussion!