Market Wrap For January 8: Fed Minutes Released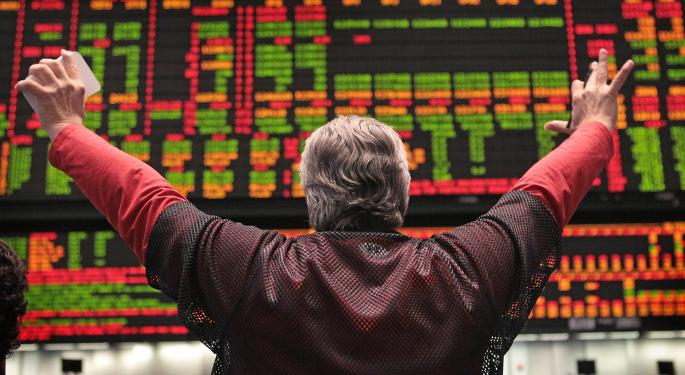 Major indices finished Wednesday's trading session relatively flat as the Fed's minutes released had no impact on the markets.
Minutes released from the Federal Reserve's latest meeting re-affirmed that many members on the committee wanted to proceed with caution in trimming the $85 billion monthly bond purchase program. Furthermore, additional reductions are not on a "preset" course.
The Dow lost 0.41 percent, closing at 16,462.74.
The S&P 500 lost 0.02 percent, closing at 1,837.49.
The Nasdaq gained 0.30 percent, closing at 4,165.61.
Gold lost 0.41 percent, trading at $1,224.60 an ounce.
Oil lost 1.31 percent, trading at $92.44 an ounce.
Silver lost 1.17 percent, trading at $19.56 an ounce.
News of Note
MBA Mortgage Applications rose 2.6 percent this week compared to a decline of 5.5 percent last week.
December ADP Jobs Report rose 238K, higher than the consensus estimate for a rise of 205K. The December job gains proved to be the strongest of 2013.
EIA Petroleum Inventories revealed that crude declined by 2.7 million barrels.
Moody's has cut its 2014 and beyond price target for gold and silver to $1,100 an ounce and $18 an ounce, respectively. Moody's rates many of the largest gold producers in the world.
The eurozone's unemployment rate held firm at 12.1 percent in November.
Equities-Specific News of Note
Analysts at Cantor downgraded Twitter (NYSE: TWTR) to Sell with a $32 price target. The analysts noted that the company's shares are expensive on a fundamental basis. Specifically, its 30.8x EV/Revenue multiple is approximately double those of several other internet companies. The analysts wrote "While historically we've reserved our sell rating to business models with structural challenges, we find Twitter's valuation to be excessive and currently see materially more downside than upside." Shares lost 3.53 percent, closing at $59.29.
Analysts at KeyBanc initiated coverage on SodaStream (NASDAQ: SODA) with a Buy rating and $70 price target. The analysts noted that SodaStream is trading at a discount to its historical projected EPS multiple. Additionally, Green Mountain Coffee Roasters (NASDAQ: GMCR) cold beverage machine is not expected to have a significant impact on SodaStream's earnings in 2014 and 2015. Shares gained 3.97 percent, closing at $50.34.
Analysts at Deutsche Bank (NYSE: DB) upgraded Kraft Foods (NASDAQ: KRFT) to Buy from Neutral with a $59 price target. The analysts noted that shares are compelling given the company's financial goals that correctly reflect intermediate and long term growth limitations, commitment to return value to shareholders and a new culture installed by the CEO Tony Vernon. Shares lost 1.27 percent, closing at $53.24.
Analysts at Deutsche Bank downgraded J.M. Smucker (NYSE: SJM) to Hold with a price target of $110, lowered from $114. The analysts noted the company is operating in a competitive environment with Folgers coffee struggling to gain share. Additionally the analysts noted that the company will generate a "more moderate growth" in free cash flow over the coming years. Shares lost 3.35 percent, closing at $98.12.
Analysts at Citigroup (NYSE: C) upgraded MetLife (NYSE: MET) to Buy with an increased price target of $62, up from a previous $55. The analysts noted that the company's growth and free cash flow will pick up in 2014. Shares gained 1.52 percent, closing at $54.18.
Exxon Mobil (NYSE: XOM) announced the expansion of its chemical production facility in Singapore, where it will process crude oil directly into petrochemical products. According to the company's CEO, two-thirds of the world's growth in chemical demand will occur in the Asia Pacific region. Shares lost 0.33 percent, closing at $100.74.
Microsoft (NASDAQ: MSFT) is close to name a new CEO to replace the outgoing Steve Ballmer. Ford (NYSE: F) CEO, Alan Mulally, will not be booking himself a one way ticket out of Detroit. Mulally revealed in an interview that he plans to stay put with Ford throughout 2014. Shares of Microsoft lost 1.79 percent, closing at $35.76 while shares of Ford gained 1.11 percent, closing at $15.55.
Related: Alan Mulally To Remain At Ford Through 2014
Rovi (NASDAQ: ROVI) announced a multi-year patent license deal with YouTube that covers Rovi's video discovery technologies. Terms were not disclosed. Shares gained 2.99 percent, closing at $21.72.
China's Unipec, a unit of Sinopec (NYSE: SNP) has beaten Royal Dutch Shell to become the number one oil tanker charterer in the world for the second straight year. A decade ago, the company wasn't among the top 20 in the world. PetroChina (NYSE: PTR) was named as one of the top ten largest in the world in a sign of China's growing control over elements of its oil supply chain. Shares of Sinopec lost 1.00 percent, closing at $76.23 while PetroChina lost 0.56 percent, closing at $104.11.
Related: Beware Of China ETFs (FXI, PGJ, GXC)
Delta Air Lines (NYSE: DAL) announced it will spend $770 million to upgrade the interior of 225 planes. The company plans to equip every seat with an electrical power outlet. Shares hit new 52 week highs of $30.10 before close the day at $29.79, up 3.51 percent.
Bristol-Myers (NYSE: BMY) Daclatasvir treatment for certain forms of hepatitis C is set to get an accelerated review by European regulators. Shares gained 1.64 percent, closing at $53.42.
Barnes & Noble (NYSE: BKS) named Michael Huseby to be its new CEO. Previously, Huseby was the company's CFO. Shares lost 0.81 percent, closing at $14.63.
Salesforce (NYSE: CRM) said that the number of apps built for its Salesforce1 platform has doubled since the platform launched in November. The company also noted that it has more than 250 partners who have committed to develop apps for the Salesforce1 AppExchange. Shares gained 3.62 percent, closing at $56.94.
Fairfax Financial has agreed to buy another $250 million worth of BlackBerry (NASDAQ: BBRY) convertible debt with a 6 percent yield and a conversion price of $10 a share. Shares gained 0.53 percent, closing at $8.53.
Winners of Note
Micron Technology (NASDAQ: MU) reported a beat in its quarterly results yesterday. The company reported an EPS of $0.30 a share, above the consensus estimate of $0.21. Management sees a "healthy market condition" for 2014.
Forest Laboratories (NYSE: FRX) is set to buy Aptalis Holdings from a private equity group, TPG Capital for $2.9 billion in cash. Management calls the deal "an excellent strategic and financial fit" and expects cost synergies of $125 million from the newly combined companies. Shares hit new 52 week highs of $69.45 before closing at $69.30, up 17.94 percent.
Elliot Management, already a 10 percent owner of Riverbed Technology (NASDAQ: RVBD) has issued a tender off for $19 a share to acquire the company. Shares gained 9.41 percent, closing at $19.53.
Last night Reuters announced that CEC Entertainment (NYSE: CEC) is exploring a sale. Analysts at Sterne Agee calculated a sale could come with a $54.79 price tag for the parent company of Chuck E. Cheese restaurants. Shares hit new 52 week highs of $49.79 before closing the day at $49.53, up 6.19 percent.
The FDA has accepted NPS Pharmaceuticals (NASDAQ: NPSP) Natpara BLA for revue with a goal date of October 24. The company also announced preliminary fiscal 2013 results. In 2013 the company sees net global sales at $31.5 million, in the high range of the $28 to $32 million guidance. The company expects to hold $180 million in cash at the end of the year. Shares gained 6.46 percent, closing at $35.1..
Nupathe (NASDAQ: PATH) surged today after Teva Pharmaceuticals (NASDAQ: TEVA) has offered to buy the company for $3.65. Teva's offer is well above the $2.85 that Endo Health Solutions (NASDAQ: ENDP) offered in mid December. Nupathe's board stated that Teva's offer "is reasonably expected to lead to a superior proposal." Shares of Nupathe hit new 52 week highs of $4.49 before closing the day at $4.38, up 35.60 percent. Shares of Endo Health hit new 52 week highs of $70.54 before closing the day at $69.93, up 5.32 percent. Teva shares were unaffected, losing 0.39 percent to close at $41.05.
Rite Aid (NYSE: RAD) has been upgraded to Overweight from Neutral with a price target of $6.50 by analysts at JPMorgan (NYSE: JPM) Shares gained 6.40 percent, closing at $5.65.
Apollo Education Group (NASDAQ: APOL) issued quarterly results that pleased investors with a stronger than expected net income and a positive 2014 outlook. Shares hit new 52 week highs of $31.94 before closing the day at $30.76, up 14.20 percent.
Related: Analysts Dissect Apollo Education's First Quarter Results
Marbridge Daily said that Chinese e-commerce behemoth Alibabay is interested in a possible investment in Qihoo 360 Technologies (NASDAQ: QIHU). The talks are alleged to have been ongoing for "a significant period of time." 86Research thinks the odds of this happening are low. Shares gained 9.34 percent, closing at $89.00.
Analysts at JPMorgan increased their price target on Yelp (NASDAQ: YELP) to $89 from a previous $75. The analysts noted that their checks indicate strong coverage for Yelp ads in most regions and verticals. Additionally, the company's deals products are proving to be strong. Shares hit new 52 week highs of $79.89 before closing the day at $78.42, up 7.93 percent.
Decliners of Note
J.C. Penney (NYSE: JCP) issued a press release this morning reaffirming its previous forecast for the fourth quarter. The company is "pleased" with its performance during the all important holiday shopping season. While this seems like positive news, the press release was extremely short on details and heavy on carefully picked words. Benzinga hosted Brian Sozzi of Belus Capital Advisors this morning during who said "people want numbers." Shares lost 10.01 percent, closing at $7.37.
Related: Brian Sozzi: Retailers Just Letting The Stores Die Everyday
Questcor Pharmaceuticals (NASDAQ: QCOR) tumbled after TheStreet's Adam Feuerstein tweeted that the move is attributable to Chronic Disease Fund co-payment assistance issues. Shares lost 4.75 percent, closing at $50.50 but traded as low as $47.71.
Earnings of Note
Constellation Brands (NYSE: STZ) announced its third quarter results this morning. The company reported an EPS of $1.10, beating the consensus estimate of $0.91. Revenue of $1.44 billion came in ahead of the consensus estimate of $1.38 billion. Wine and spirits sale rose 3 percent and the company expects free cash flow for full year 2014 to come in at a range of $525 million to $575 million. Shares hit new 52 week highs of $78.40 before closing the day at $76.61, up 9.55 percent.
Monsanto (NYSE: MON) announced its first quarter results this morning. The company reported an EPS of $0.67, beating the consensus estimate of $0.64. Revenue of $3.14 billion came in ahead of the consensus estimate of $3.08 billion. Shares gained 1.76 percent, closing at $115.23.
Quote of the Day
Some of the Fed members "expressed concern about the potential for an unintended tightening of financial conditions if a reduction in the pace of asset purchases was misinterpreted as signaling that the committee was likely to withdraw policy accommodation more quickly than had been anticipated." - Minutes from the Fed's December 17-18 policy meeting
View Comments and Join the Discussion!
Posted-In: Adam Feurenstein ADP Jobs Report Alan Mulally Apollo Education Group Aptalis HoldingsNews FDA After-Hours Center Best of Benzinga