August PDUFA Dates: Biotech Investors Stay Tuned To A Month Of Plenty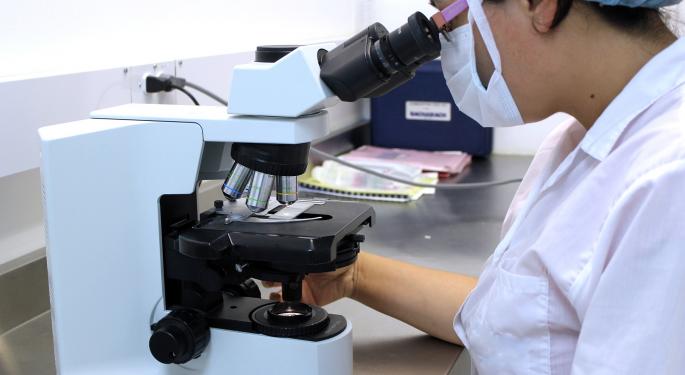 The biotech sector's performance moderated in July, although the month had its fair share of action on the FDA front, as well as boasting conferences and trial result announcements aplenty.
The NYSE ARCA BIOTECH INDEX and the iShares NASDAQ Biotechnology Index (ETF) (NASDAQ: IBB) gained roughly 1.9 percent and 2.9 percent, respectively, in July. This compares to the roughly 9-percent gains posted by each of these averages in June.
New molecular entity, or NME, approval figures come in at 26 thus far this year, with three NMEs approved in July.
A Look Back At June Decisions
NMEs
Gilead Sciences, Inc. (NASDAQ: GILD)'s Vosevi, a once-daily single-tablet HCV regimen, was approved for treating chronic hepatitis C virus infection in adults without cirrhosis or with mild cirrhosis. The stock gained about 0.85 percent on July 18, when the decision came through and has been up about 7 percent since then.
Puma Biotechnology Inc (NASDAQ: PBYI)'s neratinib was approved for the extended treatment of patients with early stage HER2-positive breast cancer. The stock soared 8.5 percent on the FDA decision.
Johnson & Johnson (NYSE: JNJ)'s Janssen Biotech received FDA approval for Tremfya, its plaque psoriasis candidate.
Other Approvals
Ocular Therapeutix Inc (NASDAQ: OCUL) shares were pounded by over 12 percent after it was served a Complete Response Letter for Dextenza, its treatment candidate for ocular pain following ophthalmic surgery.
GlaxoSmithKline plc (ADR) (NYSE: GSK) received FDA approval for a new subcutaneous formulation of Belysta for treating lupus.
Eagle Pharmaceuticals Inc (NASDAQ: EGRX), despite having a PDUFA date of July 23 for its NDA for Ryanodex to treat exertional heat stroke, indicated that it has not received any communication from the FDA regarding this, thus far.
GILD
Source: Y Charts
What Is In Store For August?
Bristol-Myers Squibb Seeks Good News After January Opdivo Fiasco
Company: Bristol-Myers Squibb Co (NYSE: BMY)
Type of Application: sBLA (priority review)
Drug/Treatment Candidate: Opdivo
Indication: To treat patients with mismatch repair deficient or microsatellite instability high metastatic colorectal cancer after prior chemotherapy
The immune-oncology drug has been approved for several indications, ranging from melanoma, head and neck, lung, kidney and blood cancer. However, the company decided in January not to pursue accelerated regulatory approval for Opdivo + Yervoy as first-line lung cancer treatment, handing out advantage to Merck & Co., Inc. (NYSE: MRK)'s Keytruda along with chemotherapy, which was approved for the same earlier than expected.
AbbVie Knocks The Door With HCV Candidate
Drug/Treatment Candidate: Glecaprevir/Pibrentasvir
Date: Aug. 2 (estimated, as Priority Review status was granted Feb. 2)
Glecaprevir/Pibrentasvir is a fixed dose combination of glecaprevir, an NS3/4A protease inhibitor for treating all major genotypes of chronic hepatitis C. Glecaprevir was developed in collaboration Enanta Pharma.
It is believed that the combo treatment option could face competition from Gilead Sciences' Epclusa launched last year, while Merck also has a treatment candidate in the works.
See also: What To Expect From Exact Sciences' Pending Q2 Release
Will The Third Time Be The Charm For Dynavax?
Company: Dynavax Technologies Corporation (NASDAQ: DVAX)
Drug/Treatment Candidate: Heplisav-B vaccine
Indication: Treating hepatitis B infection in adults 18 years and older
The company received CRL for Heplisav on February 25, 2013, and once again on November 14, 2016. An FDA Advisory Committee, which met July 28, voted 12 to 1 in favor of the safety data for Heplisav.
With the positive FDA Adcom a key de-risking event for Heplisav-B, RBC Capital Markets upgraded shares of Dynavax. The firm pointed out that it had remained on the sidelines on the company due to a lack of clarity on the regulatory outcome for Heplisav-B.
Engerix B of GlaxoSmithKline is the current standard of care for hepatitis B virus.
Pfizer's ALL Treatment All Geared For Approval
Company: Pfizer Inc. (NYSE: PFE)
Treatment Candidate: Inotuzumab Ozogamicin (Besponsa)
Indication: Treating patients with relapsed or refractory acute lymphoblastic leukemia, or ALL
This anti-CD22 antibody-drug conjugate was granted priority review status following a breakthrough therapy designation accorded October 2015. The European Commission has approved it as a monotherapy for the indication earlier this month.
Valeant Eyes Approval For Eye Drop
Company: Valeant Pharmaceuticals Intl Inc (NYSE: VRX)
Treatment Candidate: atanoprostene bunod, an intraocular-pressure lowering single-agent eye drop
Indication: Treating open angle glaucoma or ocular hypertension
Valeant's Bausch & Lomb and Nicox announced resubmission of the application on February 27, with the data supporting the treatment candidate as the first nitric-oxide donating prostaglandin F2α analog for ophthalmic use.
Adamas Targeting Smooth Movement For ADS-5102
Company: Adamas Pharmaceuticals Inc (NASDAQ: ADMS)
Treatment Candidate: ADS-5102 (amantadine hydrochloride) extended release capsule
Indication: Treating levodopa-induced dyskinesia in patients with Parkinson's disease
Amantadine is a glutamate antagonist that inhibits the action of neurotransmitter glutamate. ADS-5102 is meant to treat dyskinesia, which otherwise is involuntary movements caused by Parkinson's treatment levodopa.
See also: Analyst Prescribes Neutral Rating For Pfizer Shares
Will The Tidings Be Sweet For Novo Nordisk's Victoza
Company: Novo Nordisk A/S (ADR) (NYSE: NVO)
Type of Application: sNDA
Treatment Candidate: Victoza (liraglutide)
Indication: Reducing the risk of cardiovascular death in people with type 2 diabetes
AFDA Advisory Committee voted 17-2 vote, vouching for Victoza's cardiovascular risk reduction. The sNDA filing was announced on Oct. 25, 2016.
Kamada's Anti-Rabies Therapy On FDA Altar
Company: Kamada Ltd (NASDAQ: KMDA)
Treatment Candidate: KamRAB
Indication: Human anti-rabies immunoglobulin (IgG) therapy
Celegene-Agios Blood And Bone Marrow Cancer Drug To Come Before FDA
Treatment Candidate: Enasidenib (AG-221)
Indication: Treating patients with relapsed or refractory acute myeloid leukemia with an isocitrate dehydrogenase 2 mutation
The NDA submission was done in late December 2016, and the treatment candidate was accorded priority review status.
View Comments and Join the Discussion!
Posted-In: Biotech News Previews FDA Trading Ideas General Best of Benzinga