What Success Is Made Of: Investors, Execs And Entrepreneurs Talk Routines And Role Models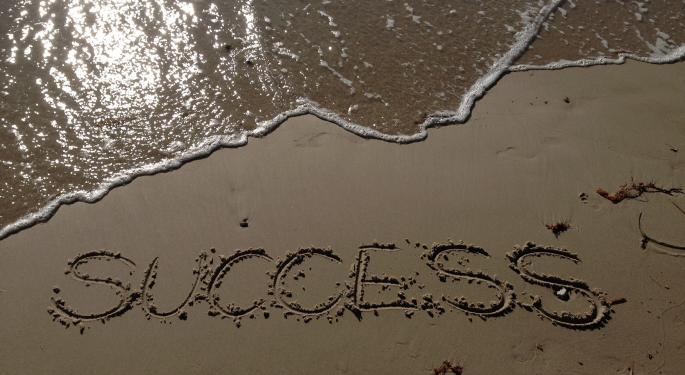 What is success made of?
While Benzinga strives to always ask the most pertinent and provoking questions during staff-conducted interviews, the team also attempts to gather intel on how investors think, what makes them tick and why they've had success.
A big part of the job as a reporter is conducting these interviews, talking to successful people about their businesses, strategies, plans and opinions, but during those moments, it's also possible to shed light on the humanity of success. Whether what is gleaned provides everyday investors with daily strategies or levels the playing field between big shot and reader, Benzinga is dedicated to sharing these inside scoops.
Below is a look at four questions Benzinga has repeatedly asked company executives, investors, entrepreneurs and other accomplished people in the financial world.
In this two-part article, we'll feature:
Thomas Gütermann, Family Office Manager.
Timothy E. Morris, chief financial officer at AcelRx.
JJ Kinahan, chief strategist at TD Ameritrade Holding Corp. (NASDAQ: AMTD).
Douglas M. Fambrough, Ph.D., CEO at Dicerna Pharmaceuticals Inc (NASDAQ: DRNA).
Tom McKenzie, managing partner at impact investment firm Cavendish Global.
Alexis Caporale, award-winning young entrepreneur, founder of a company often called the Etsy Inc (NASDAQ: ETSY) of Latin America and other successful ventures.
Don Steinbrugge, one of the top experts in the hedge fund industry.
Alan Brochstein, founding partner at New Cannabis Ventures and founder at 420 Investor.
Brendan Hill, drummer of Blues Traveler and co-owner of Bainbridge Island dispensary Paper & Leaf.
Stephen Rizzone, CEO and president at Energous Corp (NASDAQ: WATT).
What's One Thing You Do In The Morning To Help You Be Successful?
Gütermann: I do sports — gymnastics — [for] at least 20 minutes so that my body gets hot, really feverish. Then I take a hot shower and a very cold shower, then I have breakfast and then, I start my day.
Ford: I have a small, high-energy dog. So, for both of us who wake up every morning with lots of energy, lots of things to do — for me, it's critically important that we both go out for a 20–35-minute walk, get ready for our day, sort of figure out what we're going to do next.
Now, her day is pretty complicated… she goes right to the couch after we're finished. But, for me, it's really important. Once I've done that, once I had 25 minutes to think about how I am going to manage my day, then I am much more prepared, versus when I just have to leave her and really not have the opportunity to be prepared for what's about to hit me.
Morris: For me, in the morning — whether it is a run or a spin or something where I can for an hour or so engage in some cardio related activity — allows my mind to really process thoughts, strategies, tackle problems, issues and/or essentially plan the day or long-term success.
So, having that time where you are essentially tuned out with no input other than your environment, I think helps me process and be ready for the day. So, the measure of success is some type of processing time, whether it's with your dog or your bike.
Brochstein: I get up very early.
Kinahan: I get up early and read good, informational things, like newsletters from the Wall Street Journal, Barron's, The Economist… I get like 20 news summaries delivered to my inbox every morning. That gives me a good take on where everything is in the market and in the world overall. You catch up on everything immediately and you have a good sense of what the first part of the day will bring.
Hill: The first couple hours of my day are extremely important for me. Actually, it's essential for me to make a game plan for what I want to accomplish that day. I always try to schedule meetings and phone calls for 11 a.m. or later. That way I can have a few solid hours to have my coffee, get the majority of my to-dos done before having to focus on business calls, in person or off-site meetings, and more. When I am on the road with the band, I usually have most of the day to work before heading to the show to play.
Fambrough: I'm really tempted to say get out of bed, but that's not probably not what people are looking for. I eat an apple every morning; I start the day with good healthy food and not too much of it.
Steinbrugge: I drink a lot of coffee so I can work twice as fast as most people.
McKenzie: I exercise, usually walk. I try to exercise every morning because it not only gets the blood flowing, but it gets you thinking about what's coming up in the day. It's also a great way to work through problems.
Caporale: I like to have time in the morning. I am not one of those people that wake up with no time to spare and just go out of my home. I like to have breakfast with no rush, check my emails, think, put my house in order… Just having the beginning of the day to myself is fundamental to making good decisions.
Rizzone: Start the day appreciating that it is a privilege to be the CEO of Energous, reflect on the fact that how you achieve success is as important as success itself, strive to be the best while recognizing that there is always someone smarter and better and the best way to compete is through focus, work hard and the right attitude.
Who Is An Investor You Look Up To? Why?
Morris: From our standpoint, you always got to put Berkshire Hathaway Inc. (NYSE: BRK-A) (NYSE: BRK-B)'s Warren Buffett on there because he's been highly successful and he's fairly pragmatic and down to earth. I don't mind putting him out there.
Fambrough: I may be seen as sort of buttering up to one of my largest shareholders, but I think Rajiv Kaul at Fidelity has, over a very long period of time, had a great nose for recognizing value, and being patient and supportive with things that could really grow into special companies and now he's got one of the biggest portfolios in biotech investing.
Steinbrugge: The guys at Renaissance Technologies [Jim Simons' hedge fund firm] ... They generated one of the top performances— Jim Simons has built a phenomenal business, he's got unbelievably smart people, they have an information advantage on the market. Overall, it's a very impressive organization.
Hill: I am fascinated by forward-thinkers and risk-takers like Elon Musk. His story is so compelling. Someone who, at several points in his life, could have retired a multi-millionaire, but was driven to help make Paypal Holdings Inc (NASDAQ: PYPL), Tesla Inc (NASDAQ: TSLA) and Space X better by never compromising, risking his own reputation and wealth to ensure that they succeeded, and throughout keeping a vision for helping move the planet forward with innovation and eco-friendly pursuits.
Gütterman: There aren't really any investors that I admire, whom I really love, because what they are often doing is not my world. My world is bringing new, innovative things with a limited risk exposure to the world. It's not sitting on an old, traditional financial desk, focused on bonds, stocks, cash management, hedge funds ...
Traditional investments are boring to me, and the private equity scene in Europe is relatively weak because it's hard to sell startup companies or mid-cap companies in Europe.
So, to answer your question, there are no investors I admire or want to follow. I want to do my own thing, to create my own ideas and not copy them from anyone else.
Brochstein: Jeff Friedberg, a self-trained investor who developed his passion into a money management firm. He takes a very long-term view, works very hard to find new ideas and puts his clients first.
McKenzie: I really admire what the Bill and Melinda Gates Foundation does. We [at Cavendish Global] have had some interaction with them, but obviously, the scope is enormous. I admire what they do and how they're making an enormous impact with the wealth that they have created.
Kinahan: I was fortunate enough to spend many years on the trading force in Chicago, and I would say there were a lot of people there that I admired and tried to pick up the best habits off them. I can't say there is one individual that embodies it completely, but what I can say is there is one characteristic that I admire in investors: they always knew what their risk was and defined how much they could make by their risk; they didn't swing for the fences. They were willing to risk a certain amount of money because they thought they had a high probability of making a certain amount of money.
Caporale: In terms of returns, it's always Warren Buffett. But, in terms of doing interesting stuff with the money he's made, I'd say Bill Gates. While I am not particularly fond of Microsoft Corporation (NASDAQ: MSFT), he is now using the money he made to cure malaria, for instance. That's interesting, to say the least.
Check out Part 2 of this interview, where we'll share these businesspeople's answers for three more questions, including who they admire the most.
More From Benzinga:
Rapper 'The Game' Talks About His Cannabis Venture: 'Setting The Standard For Quality Medicine, Patient Care'
ArcView's Troy Dayton Explains Why The Cannabis Industry Will Thrive Even If Trump Cracks Down On Marijuana
4 Lessons Latin American Startups Can Teach U.S. Businesses In The Trump Era
View Comments and Join the Discussion!
Posted-In: News Education Entrepreneurship Topics Crowdsourcing Success Stories Interview General Best of Benzinga