Exclusive: AcelRx Pharma Execs Discuss Stock Performance, Catalysts And Financial Position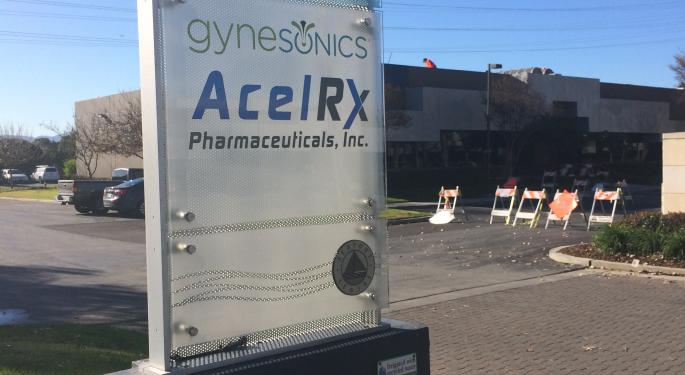 AcelRx Pharmaceuticals Inc (NASDAQ: ACRX) is a micro-cap company focused on the development and commercialization of therapies for the treatment of moderate-to-severe acute pain in medically supervised settings. What's particularly interesting here is that the development of its lead product candidate, ARX-04 —branded DSUVIA, was almost completely funded by the U.S. Department of Defense.
Benzinga recently had the chance to chat with Timothy E. Morris, chief financial officer; and Gina Ford, RPh, vice president of commercial strategy, who explained DSUVIA's potential to replace I.V. morphine.
In this piece, we'll go into stock performance, upcoming catalysts, financials, and more.
Stock Performance
After a weak 2016, where the stock lost about 32 percent, AcelRx had a good start to 2017, gaining almost 20 percent in the first 40 days of the year. So, Benzinga wanted to know what went on last year, and what had changed going into 2017.
The company's original pipeline product was called Zalviso, a drug device combination meant to replace I.V. P.C.A. morphine machines in-hospital, for longer stay surgeries, Morris explained.
Zalviso has been on the market in Europe for a few years now. However, the U.S. FDA never approved the product, and this logically hurt the stock.
While in a back and forth over Zalviso with the FDA, AcelRx got a DoD contract to advance the DSUVIA trials – see previous article. After completing all the studies over 2016, the company filed an NDA, leading us to the current situation.
"I think we have really done a nice job at repositioning the company and its pipeline [which] was initially Zalviso-focused. Now, it is focused on DSUVIA, which — we think — is a much better opportunity," Morris commented. "So, to the extent you see the drops from the CRL [the FDA's Complete Response Letter from 2014]. But, now we are coming back and getting more in favor."
Related Link: Exclusive: Dicerna CEO Explains RNA Interference And How It's Used To Treat Rare Genetic Diseases
"Also, I think we've done a decent job trying to explain what the opportunity is from a market standpoint with DSUVIA, so we think hopefully it is catching on," he added.
Upcoming Catalysts
The chief financial officer then went into upcoming catalysts.
First off, he mentioned the FDA's response to its DSUVIA NDA – also known as a Day 74 Letter. In addition, AcelRx will file for approval of ARX-04 in Europe.
"I think also having an advisory committee, assuming it is positive in the summer, would be a very nice catalyst," Morris supplemented. "Then, clearly some kind of approval or PDUFA will be a great catalyst, hopefully by the end of the year."
Cash & Debt
Finally, Benzinga asked Morris how comfortable the company is with its cash and debt positions, and inquired about plans to raise capital.
"We ended the year 2016 at $80 million," he voiced. "I have given guidance that I will need about $50 million by mid-year. We'll have relatively conservative spending through the advisory committee meetings; assuming that it is positive, then we will look to increase the burn and look to ramp up as we put commercial infrastructure in place."
"I haven't given any cash guidance beyond that. I will tell you I clearly have enough cash to get to approval. [However], I don't believe I have enough cash to fully invest in the appropriate commercial launch setting," he ended. "So, as a CFO I am always looking for sources of cash and/or capital and we will continue to do that really forever."
Check back tomorrow for the last part of this article, where Morris and Ford go into institutional investors, the future of the company and the impact of a Republican administration on its prospects.
Image Credit: By Jeanjung212 (Own work) [CC BY-SA 4.0 (http://creativecommons.org/licenses/by-sa/4.0)], via Wikimedia Commons
View Comments and Join the Discussion!
Posted-In: Biotech Long Ideas News Management Exclusives Movers Trading Ideas Interview Best of Benzinga