What Success Is Made Of: Investors, Execs And Entrepreneurs Talk About Their Routines And Role Models - Part 2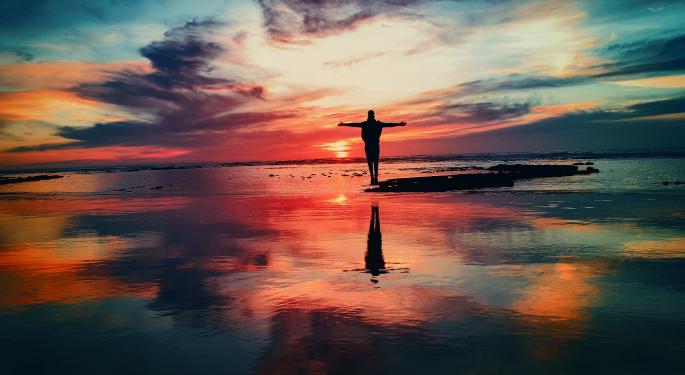 What is success made of?
While Benzinga strives to always ask the most pertinent and provoking questions during staff-conducted interviews, the team also attempts to gather intel on how investors think, what makes them tick and why they've had success.
A big part of the job as a reporter is conducting these interviews, talking to successful people about their businesses, strategies, plans and opinions, but during those moments, it's also possible to shed light on the humanity of success. Whether what is gleaned provides everyday investors with daily strategies or levels the playing field between big shot and reader, Benzinga is dedicated to sharing these inside scoops.
Below is a look at four questions Benzinga has repeatedly asked company executives, investors, entrepreneurs and other accomplished people in the financial world.
Check out the first part of this article, where we went into things these people do every moning to help them be successful.
In this two-part article, we feature:
Thomas Gütermann, Family Office Manager.
Timothy E. Morris, chief financial officer at AcelRx.
JJ Kinahan, chief strategist at TD Ameritrade Holding Corp. (NASDAQ: AMTD).
Douglas M. Fambrough, Ph.D., CEO at Dicerna Pharmaceuticals Inc (NASDAQ: DRNA).
Tom McKenzie, managing partner at impact investment firm Cavendish Global.
Alexis Caporale, award-winning young entrepreneur, founder of a company often called the Etsy Inc (NASDAQ: ETSY) of Latin America and other successful ventures.
Don Steinbrugge, one of the top experts in the hedge fund industry.
Alan Brochstein, founding partner at New Cannabis Ventures and founder at 420 Investor.
Brendan Hill, drummer of Blues Traveler and co-owner of Bainbridge Island dispensary Paper & Leaf.
Stephen Rizzone, CEO and president at Energous Corp (NASDAQ: WATT).
Who Is A Non-Investor You Admire For Business Strategies?
Caporale: A non-investor who has great business strategies is Chris Voss; he's a former FBI hostage negotiator. He's applied a lot of what he's learned in the Bureau to business… It's very, very, very interesting.
Kinahan: One of the people in history I admire the most if Thomas Jefferson. Maybe business strategies are short-term, but many of the things he did live on 200 years later, and I'm not just talking about writing the Constitution. You think of the Library of Congress, which was started from his personal library collection; you think about all the architectural work he did… I think he's probably one of the most influential people who's ever lived in terms of the fact that, I think, if you look at a business strategy, you want it to be something that continues to live on year after year. And, the things Jefferson did will live on who knows how long. But, any business strategy that would be as successful as that, that is as flexible, at the same time, I think you have to admire more than almost anything you could see in any other business strategy.
Ford: I admire AcelRx founder and Chief Medical Officer, Pam Palmer. This is her company; this is her innovation. For me, as a commercial person, delivering this to patients so she sees her technology's benefits, that's a big inspiration for me.
Steinbrugge: I'd probably say Bill Gates. Obviously, he's built a very successful company, Microsoft, but it's also impressive that he's given (and plans to give) a significant percent of his money away to charity.
Brochstein: Selim Bassoul, the CEO of Middleby Corp (NASDAQ: MIDD), is a businessman I admire greatly. He is a long-term thinker who has dominated his niche by remaining focused and taking risks at opportune times, and who has always been open and honest with his shareholders.
McKenzie: I would say, Jeff Gallagher, who is the CEO of the Virginia Biotechnology Association. He has done just an unbelievable job bringing biotechnology to Virginia. Not so much that I think it's important to bring biotechnology to Virginia, I think that's great for Virginia, but I think he's really helped create a lot of opportunities for companies.
He's not an investor per se, but he's having a great impact on bringing unique technology to the market. I would say a lot of the state biotechnology organizations have really hard working CEOs; I would just use Jeff as an example.
Hill: There are so many examples of people who have followed their dream, worked incredibly hard against many odds, focusing their passion and succeeded in business as well as their craft. Prince is someone who I admire greatly, for not only having an amazing musical career, literally building an empire based on his art, but also privately being extremely charitable, never publicizing his philanthropic activities. Most of us found out how generous he was only after his untimely passing. That is the true test of a good person, doing good when no one is looking. He is and will be sorely missed.
Who Do You Admire, In General?
Morris: I have to admire [New England Patriots coach] Bill Belichick. He's great at what he does; he shows you how work ethic, intelligence, dedication, and overall effort will pay off in the end.
Rizzone: John Fitzgerald Kennedy has always been the person I have admired most because of his patriotism, his vision, his ability to articulate a common goal, his leadership and his unalterable faith in mankind, as captured in this quote: "Ask not what your country can do for you; ask what you can do for your country."
Fambrough: In another context, I'd say Thomas Hunt Morgan, but I doubt most readers know him. He's kind of the modern founder of American genetics.
I also look up to Eric Lander. Eric Lander, more than any other individual, has driven the sequencing of the human genome and the subsequent use of that information very broadly across the biomedical community, fostered collaborations, created public data sets, and generally brought together communities of scientists to make the human genome incredibly valuable.
Caporale: My idol is Jamie Oliver, the cook. He's a guy that got famous being authentic, real and simple, and having interesting values. Now that he's actually made it and is super-famous, he's proving that his ideals were real by pushing laws against sugar, changing school menus…
Gütterman: Virgin America Inc (NASDAQ: VA) (NYSE: ALK)'s Richard Branson is the only person I really admire. With Virgin Galactic, and his record label [Virgin Records] made great LPs. From that time, I've watched him and I like him very much.
So, I admire him because he's got it all, he's a modern-day man. He sometimes does very risky investments, and he always comes back... He's a fighter...
Branson understands that money is energy. He's lost a lot of money in his life, and does not have a problem with that. He just stands back up immediately.
Hill: It sounds cliché, I know, but I would have to say, my father. I have never met anyone who comes close to his wit, intelligence, kindness and patience. He and my mom are such amazing parents to my siblings and me, they brought us over to America when we were young and worked incredibly hard to give us a good education and supported our endeavors. I think my dad, being an only child, yearned for a big happy family, which we are, and you can see the happiness and love he has for us all when we are together. I only hope I can walk in his footsteps and cast half the shadow of peace and grace that he has when I look back on my life.
Brochstein: I really admire my wife of 27 years. Besides putting up with me, which is no easy task, she has impacted the lives of so many children through her work as a teacher.
Kinahan: My wife is involved in kids' survivorship work; she's a doctor. I will just say that the people who I admire the most work in hospitals, particularly anybody who's taking care of children: nurses, doctors… People tend to forget the amazing work they do every day.
More From Benzinga:
Rapper 'The Game' Talks About His Cannabis Venture: 'Setting The Standard For Quality Medicine, Patient Care'
ArcView's Troy Dayton Explains Why The Cannabis Industry Will Thrive Even If Trump Cracks Down On Marijuana
4 Lessons Latin American Startups Can Teach U.S. Businesses In The Trump Era
View Comments and Join the Discussion!
Posted-In: News Education Entrepreneurship Hedge Funds Topics Crowdsourcing Success Stories Exclusives Best of Benzinga