Family Office Legend Thomas Gütermann Talks To The Media For The First Time Ever: 'We Opened A Fund Focused On Pre-IPO Unicorns'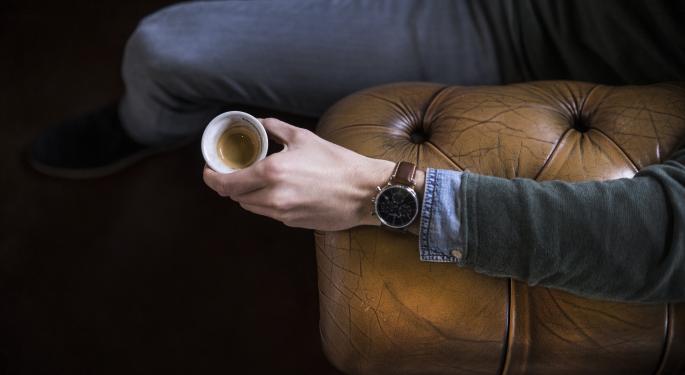 Ever heard details about Thomas Gütermann?
No? That's why he's a legend in the family offices1 world.
People talk about him, his family, his ventures, his investments… But very few really know anything about him. When you come from a mega-wealthy family, it's best to remain discrete. And Gütermann certainly does — Google him, and you'll see what I mean.
However, Gütermann, or just Thomas, finally decided to break the ice last Wednesday. He was in New York for a few days to attend SCN Corporate Connect's Family Office & Life Science Symposium at the NASDAQ2 and agreed to meet me for some drinks at his hotel.
At one point, I decided to ask him why there was so little about him on the internet. He explained that, as a family office with abundant assets under management, the Gütermann Family Office (and it's U.S. affiliate, the Christmann-Gutermann Family Office3) needed no outside investors, and thus, no publicity. In fact, being discrete had always played to their advantage. Nonetheless, since he had just set up a fund open to outside investors, he was willing to go on the record for the first time ever.
Below is a glimpse at the underreported Gütermann history, his new open fund project, his investment philosophy, what markets he is looking at and more.
Getting To Know The Gütermann Family
Javier Hasse: Please tell us about the Gütermann family and its business.
Thomas Gütermann: Gütermann is a very old family, founded at 1864 in Vienna, Austria. We've been silk producers for the past 100 years; at the beginning of the 20th century, we had the monopoly of silk the silk business in Europe. Nowadays, the company produces silk in Germany, Mexico, India and Spain. We are professionals in high-tech textile, not in mass production.
We sold 85 percent of Gütermann Textiles [a company with more than $120 million in annual sales] to a U.S. firm in 2014. Therefore, we [the Gütermann family and its associates] set up another business, which is now our core business. We work on organizing and offering direct investments into large private equity companies.
The Direct Market Access Fund is our core product now. We are too young at the moment; we started less than a year ago but are already managing substantial assets. We want to focus on the U.S. and Europe.
Javier: What's your investment philosophy?
Thomas: My investment philosophy is relatively simple: let's talk with the investors, let them talk, let them decide... We support them, and the investors win with us.
As our site states, we focus on companies with a market cap of at least $5 billion. We look for companies that successfully implemented their business models worldwide, and that own the necessary unique characteristic to persist in their markets over the long term. We therefore concentrate on companies that are influencing today our consumption patterns of tomorrow. A lot of these limited companies are closed. In the event of an IPO, we look for an attractive risk/return profile with a tractable exit scenario for the investor.
Javier: Are there any markets outside the United States you are looking at?
Thomas: Israelis have probably the best understanding of money and are very creative. So, that would be the next stage [for the Direct Market Access Fund]. As I said, we are too young at the moment and want to focus on the United States and Europe. But, Israel would be a fantastic situation that needs another five years to build up seriously; you cannot do it in one day.
I have no crystal ball, but I'm cautiously optimistic and I'll try to get in this market after we have established our pre-IPO venture in Europe and the U.S.
I think the Asian markets are also interesting, but from the legal compliance and regulatory standpoint, it's very difficult to invest there.
Take China, for example; it's a fantastic situation, but it's not easy. There are a lot of companies in China that nobody knows abroad. They might have 10,000 employees, growing and substantial earnings, but still, nobody knows them. It is particularly difficult to get into Chinese companies as a foreign investor.
Check back soon for Part 2 of this article, where Thomas Gütermann discussed his success routines, his idols, his hobbies and other projects.
________
1 Family offices are private wealth management firms set up to invest for very high net worth families. Since they are not accountable to outside investors, they do not have to justify their investments. This means they can often generate market-beating returns.
2 The Family Office & Life Science Symposium was held on Tuesday at the Nasdaq Marketsite. Among the companies presenting there were AcelRx Pharmaceuticals Inc (NASDAQ: ACRX), Amyris Inc (NASDAQ: AMRS), Cellular Biomedicine Group Inc (NASDAQ: CBMG), Dicerna Pharmaceuticals Inc (NASDAQ: DRNA) and Hemispherx BioPharma, Inc (NYSE: HEB). Attendees included Andrew Schneider (Family Office Networks), Tom McKenzie (Cavendish Global), Arthur Andrew Bavelas (Family Office Insights), Steven Christmann (Christmann-Guttermann Family Office), the Gorlin Family Office, the Gonzalez Family Office, the Murray Capital Group, the Lexington Family Office, Morgan Stanley (NYSE: MS), Wells Fargo & Co (NYSE: WFC) and many others.
3 The Christmann-Gutermann Family Office made early investments in Peter Thiel's Founders Fund, Pinterest, Twitter Inc (NYSE: TWTR), Uber, LinkedIn Corp (previously traded (NYSE: LNKD)) and Facebook Inc (NASDAQ: FB), among many other Silicon Valley companies, reaping market beating returns over time.
4 Gütermann Textiles was acquired by KPS Capital Partners' American & Efird Global. A&E is the largest U.S. (and the world's second-largest) manufacturer and distributor of premium quality industrial and consumer sewing thread, embroidery thread and technical textiles.
View Comments and Join the Discussion!
Posted-In: News Emerging Markets Financing Hedge Funds IPOs Success Stories Startups Exclusives Best of Benzinga