AcelRx CFO Shares Update On DoD Relationship And More After FDA Accepted NDA For DSUVIA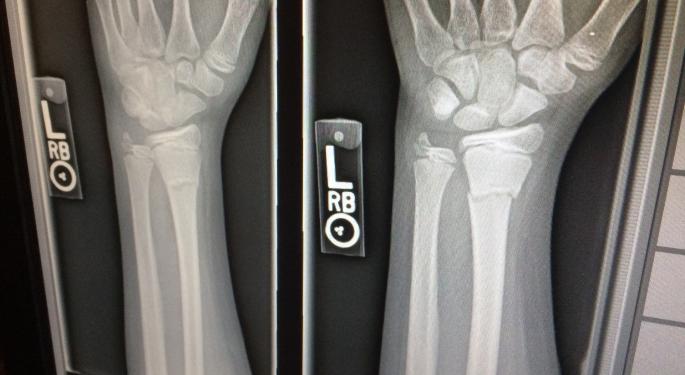 Micro-cap specialty pharmaceutical company AcelRx Pharmaceuticals Inc (NASDAQ: ACRX) announced Monday the FDA accepted its New Drug Application for DSUVIA, its treatment for moderate-to-severe acute pain in medically supervised settings. In addition, the federal agency set a PDUFA date of Oct. 12, meaning it will reach a decision on the NDA by that date.
Following the event, Benzinga reached out to AcelRx Chief Financial Officer Timothy E. Morris for some comment.
"[Between today and October], we have a great deal of work to do to prepare for launch, including identifying key sale and marketing personnel, and finalizing our brand identity," he began.
Benzinga: Are there any specific risks you are worried about going into the PDUFA date?
Morris: Our data has been consistent through the clinical program, so we are confident in the efficacy and safety evidence we are presenting. We don't believe there are any issues with the drug, but suspect there will be discussion on our self-imposed limitation to have the drug used in a "medically supervised setting." Not much precedent here but we think it is the right thing to do.
Related Link: AcelRx: Replacing Morphine With Department Of Defense Funding
Benzinga: What's the total size of the moderate-to-severe acute pain management market? What percentage of this market do you estimate can DSUVIA capture?
Morris: We've estimated that the U.S. market for DSUVIA is $1.1 billion. We believe there are 91 million patients with moderate to severe pain annually and our peak sales have us capturing around 10 percent of patients.
The largest patient segment that we would look to treat are those 51 million Americans who go to the ER with moderate-to-severe acute pain from a trauma or injury each year. Beyond those patients, we would look to address moderate-to-severe acute pain in patients who undergo ambulatory or short-stay in-patient surgeries; certain other hospital procedures; and, painful procedures performed in-offices.
Benzinga: Is your relationship with the DoD ongoing? When do you expect to get this drug to the battlefield?
Morris: Yes, we maintain regular contact with the DoD and keep them apprised of our milestones. The DoD has made a commitment to purchase 100,000 units of DSUVIA upon approval at a negotiated price, but when they roll it out to troops is uncertain.
Benzinga: Why do you say this treatment is non-invasive?
Morris: DSUVIA is a sublingual tablet formulation — in lay terms, it's a tablet (smaller than a pencil eraser) that is placed under the tongue and is absorbed through the tissue. This contrasts to a needle, often inserted into the vein on the top of a patient's hand and taped in place — this is the method used to deliver intravenous morphine nowadays.
Related Link: Exclusive: AcelRx Pharma Execs Discuss Stock Performance, Catalysts And Financial Position
Benzinga: Who are the competitors in the space? How do you compare to them? What's your edge?
Morris: We expect injectable morphine would be our primary competitor.
We've already discussed the advantage of being non-invasive; but in addition, there is a cost benefit to using a product like DSUVIA. Morphine itself is not very expensive, but when you factor in the cost of the IV, the pump, the nurse's time, any monitoring equipment that might be needed — we've determined that the cost of an initial dose of morphine is upward of $140 per patient.
DSUVIA, at $45 per dose would be a significant cost saving. That said, there will always be a role for morphine in the hospital, so we would expect to initially compete most favorably in those patients who have difficult-to-stick veins like diabetics, as well as patients who can be treated in a "vertical" treatment area — where they are seated rather than assigned a bed.
This evolution to incorporate vertical ER treatment areas is an effort to improve hospital efficiency, as it allows beds to be reserved for gravely ill or injured patients. DSUVIA would work very well for these "vertical" patients.
View Comments and Join the Discussion!
Posted-In: Biotech News Small Cap FDA Management Movers Interview General Best of Benzinga