7 Companies That Could Be Acquired In 2017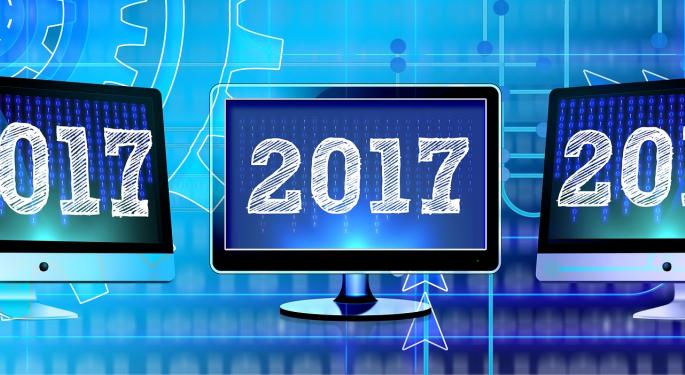 M&A activity and the rumors surrounding it provide trading opportunities for investors. Both news and rumors generate positive sentiment, as deals reinforce corporate America's faith in profit growth.
Traders can capitalize through different strategies in the wake of M&A news. Adopting a long only strategy helps when the target company is trading at a notable discount to the offer price. Traders can buy the stock on the assumption that the discount will diminish and eventually disappear.
In a long-and-short strategy, an investor can capitalize not only from price appreciation of the target company but also from the retreat in the predator's stock. While going long on the target company's stock, an investor goes short on the acquiring company.
Going the contrarian way, if the chances of the deal being completed is slim, one could go long on the predator's stock and short on the target company's stock.
The year 2016 did have its fair share of M&A transactions, although it paled in comparison to the record-breaking faring in 2015. The M&A hangover from last year, global economic uncertainties, including the Brexit, market volatility and regulatory hurdles all led to a not-so conducive environment, as $570 billion worth of deals were called off.
Notable among the called-off deals were Pfizer Inc. (NYSE: PFE)'s $160 billion takeover of Allergan plc Ordinary Shares (NYSE: AGN) and Halliburton Company (NYSE: HAL) for Baker Hughes Incorporated (NYSE: BHI).
Turning over to the New Year, will 2017 be kind to M&A transactions? Let's look at some possible deals that could materialize.
TravelCenters of America
TravelCenters of America LLC (NASDAQ: TA) confirmed a bid from private equity Golden Gate Capital in June this year. This operator of travel centers and convenience stores across interstate highways was reportedly approached with a $540 million bid in December 2015. Since then, the company's fundamentals have deteriorated and the stock has lost about 22 percent in the year-to-date period. Will Golden Gate step in again? If yes, will TravelCenters resist yet again?
AlarmCom Hldg
Comcast Corporation (NASDAQ: CMCSA) agreed to buy Icontrol Networks, which supports connected home security, for the latter's Internet of Things technology. in June this year. However, some of the assets, including its Canadian subsidiary Piper and a product called Connect, acquired by AlarmCom Hldg Inc (NASDAQ: ALRM) for $140 million in cash and debt.
With Icontrol now in Comcast's bag, MSOs such as Charter Communications, Inc. (NASDAQ: CHTR), Rogers Communications Inc. (USA) (NYSE: RCI) and Cox Communications, which were using Icontrol's technology, might not want to be the client of Comcast. This would mean these companies might fall back on rival AlarmCom, which could evince the interest of one of these firms as a potential acquisition target.
Zendesk
A leaked email has raised the scepter of Zendesk Inc (NYSE: ZEN) being acquired. An email of Colin Powell, a board member of salesforce.com, inc. (NYSE: CRM) has suggested that Zendesk was among the companies salesforce.com was considering acquiring. Incidentally, the leak also revealed Adobe Systems Incorporated (NASDAQ: ADBE) was also being considered.
Hain Celestial
Following French dairy giant Danone SA (ADR) (OTC: DANOY)'s acquisition of WhiteWave Foods Co (NYSE: WWAV) announced in July this year, there were strong rumors Hain Celestial Group Inc (NASDAQ: HAIN) may also be on Danone's radar.
Hain Celestial found itself amid an accounting probe, although an internal audit committee absolved it of any intentional wrong doing.
Splunk
Data analytics firm Splunk Inc (NASDAQ: SPLK) was in the news early this year under the supposition International Business Machines Corp. (NYSE: IBM) could be interested either in expanding its relations or buying out the company. The logic for IBM's interest is data analytics is a key component for IoT.
The stock is still 6 percent down for the year-to-date period despite the M&A rumors and fairly decent third-quarter results.
Inseego
Inseego Corp (NASDAQ: INSG), which replaced the erstwhile Novatel in November 2016, might also be an acquisition target, given the frenzied M&A activity in the space. The provider of SaaS and solutions for the IoT as well as business connectivity solutions and device management services, could be on the radar of companies such as Verizon Communications Inc. (NYSE: VZ).
Fred's
Given the sprucing up Fred's, Inc. (NASDAQ: FRED) is doing with its pharmacy business, there are rumors that the company might be considered as a plum purchase by national pharmacy chains, even as a mega merger in the space, involving Walgreens Boots Alliance Inc (NASDAQ: WBA) and Rite Aid Corporation (NYSE: RAD) is in the works.
Posted-In: Colin Powell Cox Communications Golden Gate CapitalLong Ideas M&A News Rumors Trading Ideas Best of Benzinga
View Comments and Join the Discussion!