Back To Banks: More Financial Results In Ahead of Powell Testimony Later This Week
It's an earnings potpourri this week highlighted by big banks but also including the first info tech firms to report. With Fed Chair Jerome Powell's planned congressional testimony also in the mix over the coming days, the headlines could come fast and furious.
Despite all the earnings ahead, overseas news dominated the scene early Monday while stock futures had a flat feel and volatility rose. China's economy came into focus as the country's Q2 gross domestic product growth of 6.7 percent met expectations but slipped slightly from 6.8 percent the previous quarter. The headlines are also packed with news from the meeting between U.S. and Russian presidents now underway, while investors await Netflix, Inc. (NASDAQ: NFLX) earnings after the closing bell.
Bank of America Shines in Q2
Bank of America Corporation (NYSE: BAC) topped the earnings board early Monday and results looked quite strong. The company exceeded Wall Street analysts' expectations with earnings per share of $0.63. The average estimate had been $0.56. Revenue of $22.6 billion eclipsed analysts' projected $22.27 billion. It appears profit might have benefitted from lower taxes as well as cost cutting. Shares gained ground in pre-market trading.
What really stands out about BAC is the 3.7 percent growth in deposits, which is just massive for a bank of its size. What a contrast to Blackrock, Inc. (NYSE: BLK), which also reported early Monday and experienced a nearly 81 percent drop in investor inflows from a year earlier. BLK's earnings results exceeded Wall Street analysts' expectations and profit rose, but shares fell in pre-market trading as investors digested the inflow news.
BAC and BLK are just two companies in a big market, so you don't want to draw conclusions based only on their results. But looking at just those two, one possible conclusion is that we're seeing a de-leveraging of risk in which people might be looking for potentially "safer" places to put their money. We'll have to wait and see if this trend continues as other financial firms report.
More Thoughts on Friday's Bank Earnings
Looking back at the three big banks reporting earnings last Friday, the results probably rated a grade of around C+, down from maybe B+ or A- for the same three companies in Q1. JP Morgan Chase & Co. (NYSE: JPM) had really good numbers and generally a great quarter. Revenue in Citigroup Inc. (NYSE: C) trading division was pressured in part due to a 6 percent revenue decline in fixed income trading, which management attributed to "a more challenging market environment." Wells Fargo & Co. (NYSE: WFC) missed estimates on both the top and bottom line—not a great story.
One of the concerns is that loans were down nearly across the board. This could be partly a result of tariff fears, with businesses and consumers perhaps stepping back and waiting to make their next decision until the trade picture becomes more settled. We'll have to wait and see if this dip in loans is just temporary for a quarter or two or if it's more of a long-term trend.
The banks had pretty solid results on the trading front, but that came with a bit of a caveat because JP Morgan said in its call that the company looks for trading revenues to be flat the rest of the year. Citigroup saw equity trading rise 19 percent in Q2, but fixed income trading came down. Looking ahead to when Goldman Sachs Group Inc. (NYSE: GS) and Morgan Stanley (NYSE: MS) report this week, both are more reliant on investment banking, and in a sense the results from Friday might raise the performance bar for both firms' investment banking businesses.
What really stands out is how well JPM and C performed in Q2 despite 10-year yields remaining so low. It's arguable that few analysts (and probably few of the economists at the banks themselves) would have thought 10-year yields would be in the 2.85 percent range this far into the year, but here we are in mid-July and that's basically where the yield sits. Despite that, both firms managed to beat earnings per share expectations pretty solidly.
Though shares of the financials have been punished as rates remain stubbornly low, it's possible bank stocks could get rewarded if yields start to find more traction and re-visit the 3 percent level. That's where yields were briefly in May, and with the Fed still in a hiking cycle, it's not necessarily too aggressive to think yields could potentially make it back to that level sometime in the coming months.
Focus On Tech as Netflix Bows Later Today
Looking at the earnings calendar this week, focus could shift to info tech this afternoon when Netflix—the first of the "FAANGs" to report—puts out results. As in previous quarters, subscribership numbers could be a key focus as NFLX takes the stage. The company easily topped analysts' subscriber growth expectations in Q1.
The pace of earnings reports continues to pick up as the week continues. In addition to the banks, some of the major reports include Johnson & Johnson (NYSE: JNJ), IBM (NYSE: IBM), Microsoft Corpoartion (NASDAQ: MSFT), and General Electric Company (NYSE: GE). In addition, Fed Chair Jerome Powell is scheduled to testify to Congress this week (see more below), and June housing starts and building permits are also on tap. Data this morning showed June retail sales up 0.5 percent, in line with Wall Street's expectations.
Last week was a winning one for the major U.S. indices, with the Dow Jones Industrial Average ($DJI) rising 2.3 percent, the Nasdaq (COMP) up about 1.8 percent, and the S&P 500 (SPX) up 1.5 percent. Some of the top-performing sectors included info tech, industrials, health care and financials.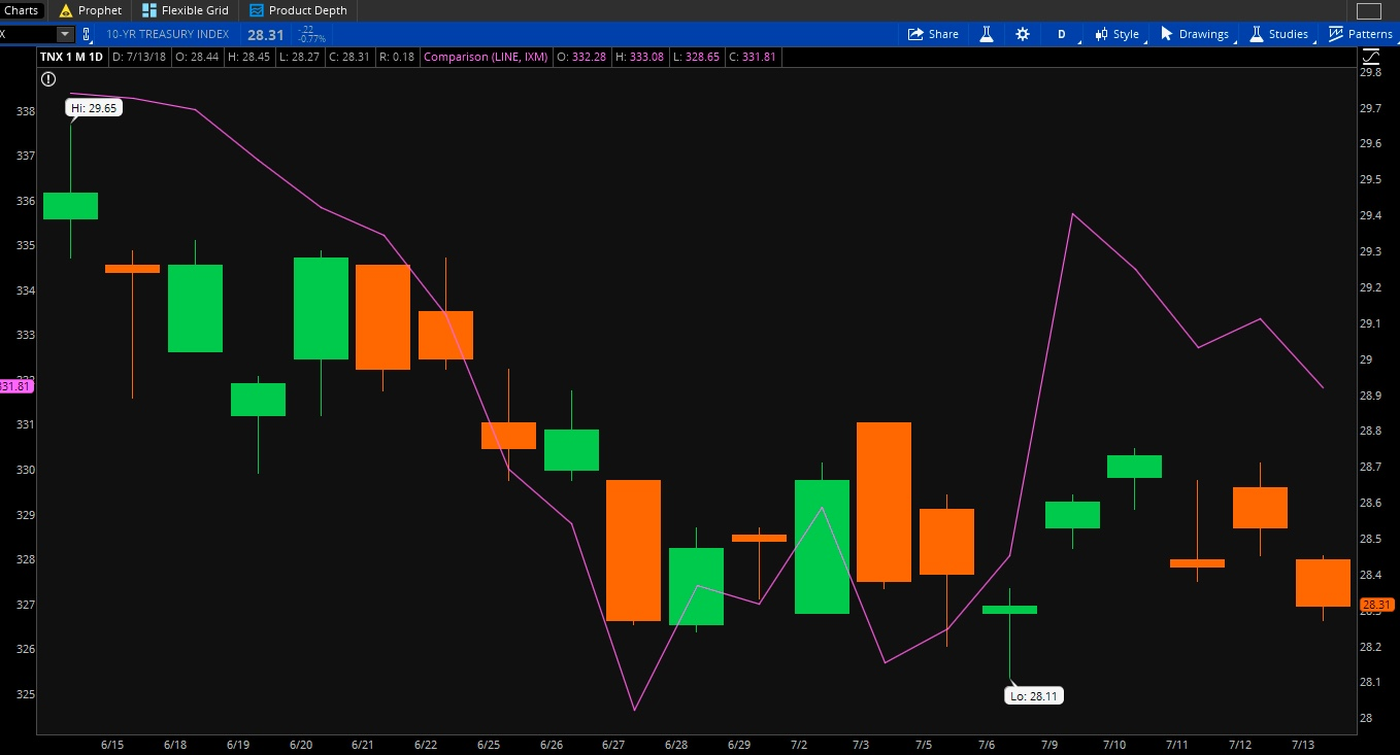 FIGURE 1: No Break for Banks: Ten-year Treasury yields (candlestick) remain mired below 2.9 percent, perhaps one reason why the financial sector (purple line) continues to come under pressure. If yields do start to climb, that could possibly give financial stocks a chance to get out of their rut. Data Source: S&P Dow Jones Indices, CME Group. Chart source: The thinkorswim® platform from TD Ameritrade. For illustrative purposes only. Past performance does not guarantee future results. Chart Source: The thinkorswim platform from TD Ameritrade. For illustrative purposes only. Past performance does not guarantee future results.
Punish the Winners?
With last Friday's big bank earnings marking the semi-official start of Q2 earnings season, it's worth looking back to Q1 earnings for a possible lesson in expectations vs. results. Like this quarter, the market entered Q1 earnings season with hopes for major earnings growth. Those hopes weren't misplaced, as earnings per share grew more than 20 percent on average for S&P 500 stocks. However, last quarter didn't see a spike in stock prices to accompany those strong earnings.
It seems like the market is rewarding companies less for beating earnings expectations these days. According to The Wall Street Journal, companies that reported stronger-than-expected profit for Q1 saw an average stock price increase of just 0.2 percent from two days before reporting earnings through two days after, well below the five-year average of 1.1 percent. It was the fifth-straight quarter in which S&P 500 companies that beat expectations had price moves below the five-year average. Just because that's been the trend doesn't mean it necessarily is going to happen again, but it is something to keep in mind with many analysts once again predicting 20 percent earnings growth for Q2.
Looking for Oil Relief
Worried about the price of oil? Shares of American Airlines (AAL) and other airline companies came under pressure last week partly based on concerns that high gas costs could hurt profits. However, there could be some relief ahead, and seeing it might be as simple as looking at crude oil futures a little farther down the road. Though front-month U.S. crude futures finished last week slightly above $71 a barrel, September futures are priced just under $70 and October futures are below $69. That's not too surprising, because crude tends to get cheaper after the U.S. summer driving season ends. Looking farther out, into next year, expectations are built in for even lower crude prices. January futures trade below $66, and futures for December of 2019 are at around $63. Based on the structure of the futures market, it appears participants might be pricing in less concern about constrained supplies from places like Venezuela, Libya, and Iran.
Powell Testimony Ahead
Just as earnings season gets into full swing, investors face a diversion as Fed Chair Jerome Powell is scheduled to testify to Congress this Tuesday and Wednesday. One thing to watch for is possible volatility around his testimony, because his public speeches have, for one reason or another, frequently jolted the markets. This time around, the focus on inflation might be especially strong following last week's consumer price index for June that showed a 2.9 percent year-over-year rise, the highest in more than six years. Though that figure included energy prices, which are often fickle, it could put Powell and company under more pressure to respond with a rate hike by the time of the Fed's September meeting.
At this point, the market treats a September hike as nearly a given, with Fed funds futures pointing to a nearly 85 percent chance. The question is whether Powell, at his testimony, might say anything that gives investors a hint of whether the potential September hike is the last of the year or if another could follow by December. Chances for a fourth rate hike this year are currently around 52 percent, not much changed from a week ago.
Information from TDA is not intended to be investment advice or construed as a recommendation or endorsement of any particular investment or investment strategy, and is for illustrative purposes only. Be sure to understand all risks involved with each strategy, including commission costs, before attempting to place any trade.
Posted-In: TD AmeritradeEarnings News Commodities Federal Reserve Markets
View Comments and Join the Discussion!