Earnings Expectations for the Week of February 11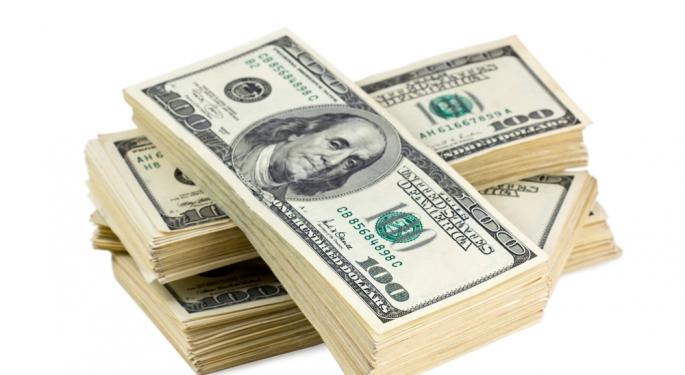 Quarterly reports from General Motors (NYSE: GM) and Deere (NYSE: DE) will be among the highlights on the earnings front this week. The consensus forecast for the former calls for fourth-quarter earnings per share (EPS) to be more than 23 percent higher than a year ago to $0.51 per share.
The construction and agricultural equipment maker is expected to say that fiscal first-quarter EPS came to $1.40, up about seven percent year-over-year. Revenue from both are expected to be less than 10 percent higher, relative to a year ago. Deere reports Wednesday morning, GM Thursday morning.
Analysts are also looking for earnings growth from Goodyear Tire (NASDAQ: GT) and Cisco Systems (NASDAQ: CSCO) this week, but a year-over-year EPS decline from Avon Products (NYSE: AVP), Duke Energy (NYSE: DUK) and MetLife (NYSE: MET).
Food and Beverage Earnings
There are a number of food and beverage companies scheduled to post quarterly earnings this week, including both parts of the former Kraft Foods: Mondelez (NASDAQ: MDLZ) is expected to say Wednesday that EPS and sales each fell by about a third to $0.38 per share and $9.69 billion. The Kraft Foods (NASDAQ: KRFT) forecast calls for $0.24 EPS and $4.75 billion in sales.
Coca-Cola (NYSE: KO) and Dr Pepper Snapple (NYSE: DPS) are expected to report annual EPS growth to $0.43 and $0.85, respectively, for their fourth quarters. But PepsiCo's (NYSE: PEP) fourth-quarter EPS are forecast to have declined more than eight percent to $1.05. Analysts expect marginal revenue growth from each of these three. Coke reports Monday morning, Dr Pepper Tuesday morning and Pepsi Wednesday morning.
Dean Foods (NYSE: DF) is expected to say Wednesday and Campbell Soup (NYSE: CPB) on Friday that their EPS for the most recent quarter were up marginally, relative to the year-ago period, to $0.30 and $0.66, respectively. Sales for the former are also predicted to be marginally higher, but for the soup maker to be up almost 10 percent to $2.32 billion.
The fiscal third-quarter forecast for J.M. Smucker (NYSE: SJM) calls for $1.39 EPS on $1.56 billion in revenue. That would be up from $1.22 and $1.47 billion in the same period of the previous year. Smucker will share its results Friday before the markets open.
From Buffalo Wild Wings (NYSE: BWLD) and Whole Foods Market (NASDAQ: WFM), analysts are looking for double-digit percentage EPS growth to $0.95 and $0.77, respectively. Revenues for each are also expected to have risen by double digits from the year-ago quarter. The restaurant chain reports late Tuesday, while the supermarket operator reports late Wednesday.
Molson Coors Brewing (NYSE: TAP) is expected to post fourth-quarter EPS of $0.64 (down about 34 percent) and full-year EPS of $3.85 (up about two percent). Sales for both periods are forecast to be more than 12 percent higher than a year ago. The Denver-based brewer steps into the earnings spotlight Thursday before the opening bell.
Media-Related Earnings
Among the handful of media-related companies scheduled to share their fourth-quarter results this week is CBS (NYSE: CBS). Analysts on average expect the TV and motion-picture company to say Thursday that EPS rose more than 20 percent to $0.72 for the quarter and about 24 percent to $2.55 for the full year. Revenue for both periods is expected to be up less than four percent year-over-year.
Comcast (NASDAQ: CMCSA) is predicted to post EPS of $0.53 (up more than 11 percent) on revenue of $16.00 billion (up more than six percent) for the quarter, and $1.94 (up more than 18 percent) on revenue of $62.48 billion (up about 12 percent) for the full year. Comcast reports Wednesday morning.
DirecTV (NASDAQ: DTV) and Discovery Communications (NASDAQ: DISCA) are both scheduled to report Thursday before the markets open. Analysts expect the former to say quarterly EPS rose more than nine percent to $1.13, while the latter reports that EPS declined more than 11 percent from the year-ago quarter to $0.76. Fourth-quarter revenues for each are forecast to be more than six percent higher.
Publisher McGraw-Hill (NYSE: MHP), which is also the parent of Standard & Poors, shares its most recent results early Tuesday. The consensus forecast calls for $0.72 EPS (up more than 12 percent) on revenue of $1.61 billion (up almost nine percent) for the quarter, and $3.45 EPS (up more than 15 percent) on $6.46 billion (up more than three percent) in revenue for the full year.
View Comments and Join the Discussion!
Posted-In: Avon Products Buffalo Wild Wings campbell soupEarnings Long Ideas Short Ideas Previews Trading Ideas Best of Benzinga