Are Storms an Investment Opportunity?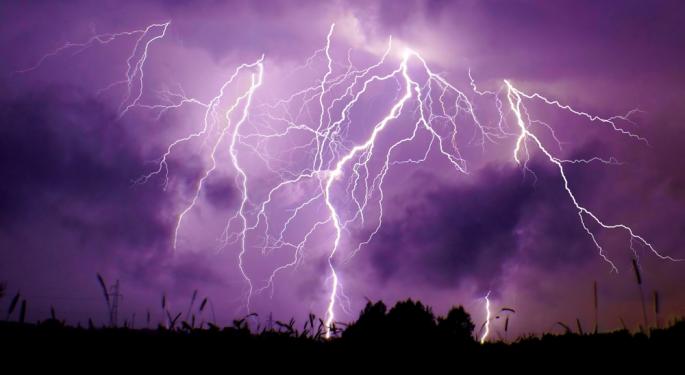 For the last two days, the entire East coast has been bombarded with news about the impending arrival of Hurricane Sandy. Meteorologists, already looking tired, have filled the airwaves with vague predictions and hapless reporters have been dispatched to gas stations and supermarket parking lots to report on the craziness.
The public, of course, feeds on this hysteria and heads out to buy pallets of bottled water, bundles of batteries and whatever else they might need should they lose power. Americans don't like to not control the events around them, so when a storm is coming, we busy ourselves over-preparing to feel like we have some control over the outcome.
In the financial world, there is a tendency towards a more measured view. Instead of trying to protect against forces we cannot control, we instead say, "how can I make money off of this?"
Nobody wants a devastating storm, but it is important to recognize that they will happen. Hurricane Sandy marks the start -- a very early one -- to the winter storm season in the Northeast. While Sandy will be mostly a rain and wind event, we are not far from winter and the special problems -- and investing opportunities -- that cold weather storms bring.
Below are some companies and industries that make money when the snow starts to fall:
Home Depot & Lowe's
The two major home improvement chains are perfectly positioned to profit off of horrible weather. Not only do they sell a variety of items that people need during and after a storm, they also have strong pricing power. Yes, grocery stores and Target (NYSE: TGT) and Wal-Mart (NYSE: WMT) sell some storm supplies like salt to melt ice and snow shovels, but those chains can run out quickly and they don't stock the bigger ticket items.
Home Depot (NYSE: HD) and Lowe's (NYSE: LOW) price based on demand. You can probably get a great deal on a grill at either of these chains right now, but try buying a generator and you will pay top dollar. Similarly, if you plan on needing a snow blower, prices will be high now, but they will reach their peak once the snow starts to fall and customers will be happy to pay.
Very few people buy winter storm supplies in the spring when stores are looking to clear out seasonal merchandise. Instead, people wait until it's almost too late, which can be great for margins at Home Depot and Lowe's.
A bad winter will drive sales and margins higher at both chains. It will also have the secondary effect of eliminating the excess inventory that either has to be discounted or stored for the rest of the year.
Oil companies
Cold weather means higher oil and gas consumption. Storms also provide a justification for prices to climb. Increased demand drives prices up as do shortages – or imagined shortages – due to supply being disrupted because of transportation difficulties.
High prices – be they for gas or home heating oil – also have a trailing benefit for oil companies, such as Marathon Oil (NYSE: MRO), Chevron (NYSE: CVX), Exxon Mobil (NYSE: XOM), Occidental Petroleum (NYSE: OXY), ConocoPhillips (NYSE: COP), BP (NYSE: BP) and Murphy Oil (NYSE: MUR). Prices rise as the cost of oil goes up, but they fall incrementally. Even when oil prices plummet, consumers only see their prices fall slowly.
Hospitals and the "baby" industry
It's a long-range play, but, when couples are stuck in the house – perhaps with no power – they tend to give in to more basic instincts. Look at any major snow event that traps people at home and nine months later there is a baby boom. Maybe it's the cold, maybe it's the lack of anything to do, but a winter full of snowstorms means a fall full of babies. Think of companies such as LifePoint (NASDAQ: LPNT), Community Health (NYSE: CYH), Universal Health (NYSE: UHS), Health Management (NYSE: HMA) and Vanguard Health Systems (NYSE: VHS).
Posted-In: Earnings News Retail Sales Events Economics Trading Ideas General Best of Benzinga
View Comments and Join the Discussion!