PETA Leverages Shareholder Power, Calls On SeaWorld To End All Animal Breeding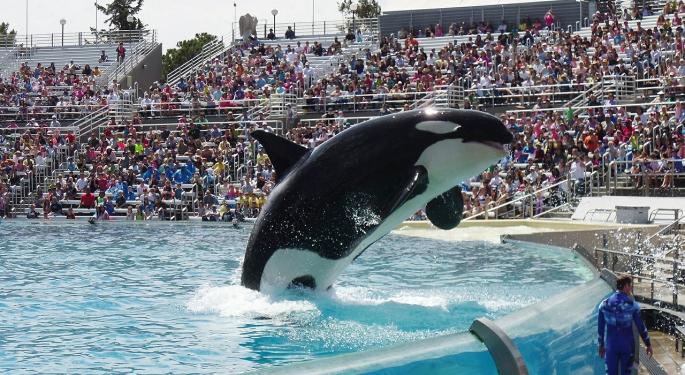 SeaWorld Entertainment Inc (NYSE: SEAS)'s stock is down 31 percent this year, but People for the Ethical Treatment of Animals, a lifelong shareholder, won't tap out.
Its investment has nothing to do with finances; its goal is greater than bank gains and its mission often serves to the detriment of SeaWorld's stock.
"PETA buys only the minimum amount of stock required to submit shareholder resolutions and speak at annual meetings — we don't invest in these companies to make money," PETA representative Megan Wiltsie told Benzinga. "For example, PETA has owned stock in SeaWorld since 2013, and as we've publicized the company's abuse of animals in shareholder meetings and publicly, its stock has continued to tank."
PETA's Latest Play
Its most recent campaign won't help matters, at least not financially. PETA submitted a resolution this week calling for the ban of SeaWorld's animal breeding, which it claims forces socially complex animals to live in incompatible groups, leading to premature death.
"It's clearer than ever that today's public simply doesn't support SeaWorld's cruel animal prisons," Tracy Reiman, executive vice president at PETA, said in a press release. "PETA's shareholder resolution calls on SeaWorld to save itself by ending all animal breeding and focusing instead on modern displays and entertainment that don't harm animals."
SeaWorld said it had not yet received the proposal, but takes its shareholders' considerations seriously. A representative intimated the company's alignment with PETA's fundamental mission.
"Our mission is to protect marine animals and their habitats," Travis Claytor, director of SeaWorld's corporate reputation and communications, told Benzinga.
"We feel confident the awareness that SeaWorld raises through education, our conservation and rescue efforts, and significant work in advancing the scientific understanding of many species provide great benefit, ultimately helping to protect and preserve these species."
SeaWorld is committed to ending orca breeding and advancing conservation initiatives, including anti-shark finning legislation, Clayton said.
Playing The Shareholder Card
PETA boasts success with this method of activism, often supplemented by participation in annual meetings. A resolution it filed in 2016 resulted in the successful ban of captive orca breeding.
Before that, the animal rights group urged Tesla Inc (NASDAQ: TSLA) to reduce its carbon footprint by converting to vegan leather in its vehicle seats.
PETA claims successful shareholder campaigns against 3M Co (NYSE: MMM), Denny's Corporation (NASDAQ: DENN), General Electric Company (NYSE: GE), McDonald's Corporation (NYSE: MCD), Safeway and DuPont.
Now, SeaWorld and Canada Goose Holdings Inc. Subordinate Voting Shares (NYSE: GOOS) are its most public targets, but the activist group also holds stock in Chevron Corporation (NYSE: CVX), Eli Lilly and Co (NYSE: LLY), Home Depot Inc (NYSE: HD), VF Corp (NYSE: VFC) and "dozens" of food, pharma and other companies.
Related Links:
PETA Wants To Roast Canada Goose
Domestic Fair Trade Label Set To Enrich Local Economies, Expand Retailer Options
View Comments and Join the Discussion!
Posted-In: Megan Wilsie PETANews Travel Legal Top Stories Exclusives General Best of Benzinga