PETA Buys Canada Goose Stock, Plans To Push For An End To Use Of Real Fur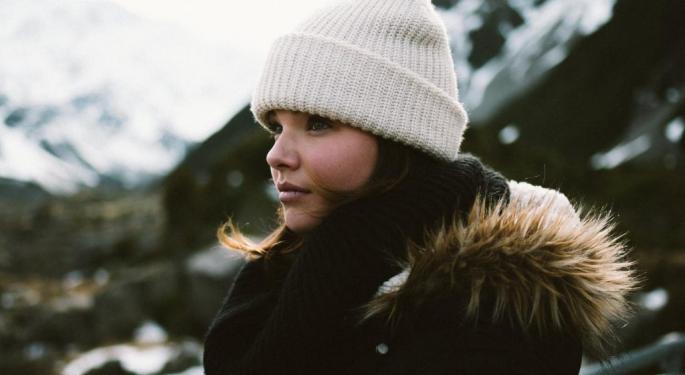 Luxury coat maker Canada Goose (NYSE: GOOS) is celebrating a big pop on its first day of trading on the NYSE. Shares initially soared 25 percent as investors rushed in to get a piece of the popular apparel company.
One of the most surprising Canada Goose buyers was animal rights organization People for the Ethical Treatment of Animals (PETA). The organization has been outspoken about its opposition to Canada Goose's use of real coyote fur and goose down in its jackets.
Invest in IPO shares before the stock hits the market with ClickIPO. Check it out here
PETA is using Canada Goose's IPO to take a strategic position as a company shareholder by buying the minimum number of shares required to submit shareholder resolutions and be able to speak during company shareholder meetings. PETA intends to influence shareholders and pressure the company to end its use of fur and down.
Coyotes Still Suffer
PETA associate director Ashley Byrne tells Benzinga that, while Canada Goose may not be violating the law by using animal products, there is very little regulatory oversight in the Canadian trapping industry.p
Related Link: PETA Wants To Roast Canada Goose
"Even if these trappers are following the letter of the law, these coyotes are suffering tremendously," Byrne says. She says coyotes have been known to starve or freeze to death while trapped and even attempt to chew off their own limbs to try to free themselves.
Buying Stock
PETA routinely gains access to companies by buying stock.
"We recently purchased stock in Louis Vuitton," Byrne says. "We've had a campaign going on for quite a while exposing how crocodiles are mistreated for their accessories."
"We've found that this is a really effective way to bring issues right to a company's shareholders and to get a seat at the table so that executives are willing to meet with us," Byrne tells Benzinga.
PETA has a track record of success using the same approach. After PETA invested in Tesla Inc (NASDAQ: TSLA), the organization pressured the company into offering a fully vegan interior option.
Byrne encourages anyone interest in joining PETA's protect against Canada Goose to visit the organization's website and purchase stickers and other merchandise to raise awareness of the issue. In addition, Byrne says sharing PETA's videos depicting corporate animal cruelty is also a big help to the cause.
Finally, anyone in the New York or Toronto areas can join PETA's ongoing local protest campaigns near Canada Goose locations.
Posted-In: Ashley Byrne Canada Goose Louis VuittonNews IPOs Top Stories Exclusives Interview Best of Benzinga
View Comments and Join the Discussion!