Nevada started selling cannabis for adult use just a couple of weeks ago and dispensaries are already running low on (or even out of) product. Almost every major media outlet in the U.S. has reported on this event, explaining the shortage is caused by distribution problems and inefficiencies rather than by a scarcity of weed in the state.
Government officials have declared a state of emergency and will evaluate, on Thursday afternoon, if they will grant additional licenses for distribution, even to liquor wholesalers.
As this story surfaced, so did sales figures and projections. $3 million in cannabis were sold in the four days that followed the recreational system's debut. This generated about half a million dollars in tax revenue for the state, and led experts to estimate that roughly $30 million will have been sold by the end of the year. Beyond the numbers, all of this data points toward a clear conclusion: the demand for weed in America is being underestimated.
The Nature Of The Beast
In numerous occasions in the past, Benzinga has pointed out that marijuana is a product that does not need to create demand, does not need to catch consumers' attention. It's a multibillion-dollar market with a preexisting demand.
Leslie Bocskor, investment banker and president of cannabis advisory firm Electrum Partners, completely agrees with this hypothesis. Chatting with Benzinga, he pointed to United Nations and RAND Corporation estimates, which valued the illegal weed consumed in the U.S. close to $50 billion. To establish some comparison, the NFL made about $13.3 billion in revenue last year, Delta Air Lines, Inc. DAL took in $39.64 billion, and Oracle Corporation ORCL generated $37 billion.
"The very large black market will migrate VERY quickly to the regulated market," he said. "This is why MJBD's fact books in the last few years show that nearly 70 to 80 percent of startup cannabis businesses reach break even within one year."
In fact, Bocskor expects the legal market to be even larger than the illegal space. "This enormous black market grew based on customers who were and are willing to risk arrest, robbery, tainted products, and more. As we migrate to a regulated market, new consumers who were not willing to risk life, liberty, robbery and other unknowns will come to the regulated market quickly."
This inflow of new consumers is, in his opinion, what explains why Nevada sold out so fast when it opened its adult use market.
"The massive preexisting market will likely be exceeded by new consumers as we see the artifacts of prohibition decay and fall away in history. As this is normalized, the adult use market will evolve into a combination of wellness, functional supplements, and recreational. That will be combined with the medical marijuana market as we know it today disappearing completely," he concluded.
Alan Brochstein, author of the 420 Investor, also weighed in on the issue. "I think the conversion of the existing demand is part of the story, but I am excited about a broader market created by legalization, with new products geared towards non-traditional users who may substitute for alcohol or pharmaceuticals," he told Benzinga.
America Wants Weed
Finally, Benzinga reached out to Joel Milton, CEO at Baker Technologies, one of the leading tech platforms for marijuana dispensaries and brands, often dubbed "the salesforce.com, inc. CRM of pot."
"Nevada is a perfect example (and confirmation) that Americans want safe legal access to cannabis," he said.
Regarding the shortage of weed in the state, be added, "While we believe that Nevada had the best intentions in mind when it made this regulation around cannabis sales, it's clear that putting a distribution law in place came with several ramifications — most notably the current shortage.
"If you look at Colorado, Oregon, and Washington, who didn't include this law, we wonder if mandatory distribution laws are necessary. Although we're on board with strict regulation around production, distribution and sales of cannabis, we want to make sure that these regulations don't come at a cost to the end consumer."
The Demand Curve
Anyone who took a basic economics class has heard about the demand curve: It's a graphic representation of how demand for a certain commodity impacts its price. Although cannabis is not strictly a commodity – yet, wholesale prices in Nevada have already started to rise with demand.
As per an analysis conducted by New Leaf Data Services last week, volume-weighted average wholesale rates in the state jumped by over 15 percent to settle at $2,635 per pound, with some individual lots reported to move for as much as $3,500 per pound.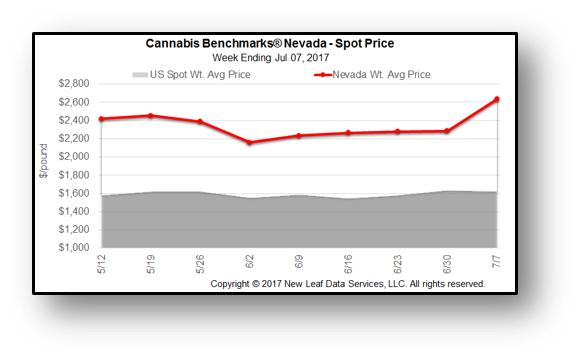 "Emphasizing the spike in rates that can occur at the opening of a new adult-use market, the lowest-priced deals reported in Nevada last week — at $2,105 per pound — were over $900 more than the composite price observed in Colorado, where the state Spot Index settled at $1,201 per pound in the nation's most mature commercial cannabis market. In the lead up to the opening of Nevada's early retail sales, supply side pricing had been on the rise — albeit slowly — throughout June."
More From Benzinga:
Lighting It Up: How Marijuana-Focused HERB Developed Engagement Levels Comparable To Vice And Buzzfeed
Consumer Study Shows Which Cannabis Brands Are Winning The Design Race And Why ________
Image Credit: Javier Hasse