Adam Feuerstein Sees Major Price Manipulation In Small-Cap Pharma Stocks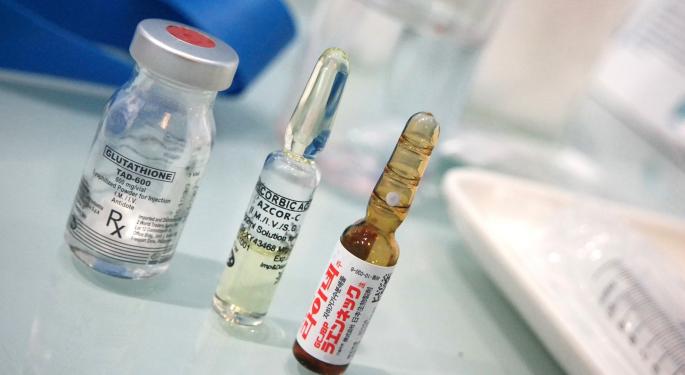 Following his Tuesday tweets regarding Cyclacel Pharmaceuticals Inc (NASDAQ: CYCC)'s stock pumping, TheStreet's Adam Feuerstein told Benzinga the instance is only one example of an enduring problem in the market.
"This company is one of the worst biotech companies out there that has done nothing," he said on Wednesday's PreMarket Prep show. "Really the only thing they're successful at is raising money, they're surely not successful at developing drugs, but yet you see what the stock did in the last week, which kind of from my perspective is ridiculous."
Shares of Cyclacel spiked as high as 160 percent Monday and Tuesday off a weekend press release highlighting positive data for the CYC065 cancer therapy. Independent investigators found that the drug stunted growth, prompted apoptosis and initiated anaphase catastrophe in potentially metastatic lung cancer cells.
Feuerstein took to Twitter Inc (NASDAQ: TWTR) to call the company out for stock manipulation.
The blatant manipulation of down-and-out, micro-cap biotech stocks is out of control. Regulators should step in. $CYCC

— Adam Feuerstein (@adamfeuerstein) April 4, 2017
However, he clarified Wednesday morning he doesn't see illegal stock manipulation meriting SEC investigation — merely companies aware of and acting on investor ignorance.
"Know what you're buying," he warned investors. "These companies know what's going on and their investment bankers know what's going on, and they do try to take advantage of that by throwing out these sort of quickie stock offerings."
As social media helps manipulate "low-float" stocks, many investors can get hurt by taking long or short positions without truly understanding the companies.
"What I do see is that a lot of people start making fundamental justifications for why these stocks deserve to be trading higher when that's not really what's going on," Feuerstein said.
Feuerstein tweeted that the value peaks were essentially porous — built on misunderstood circumstances.
$CYCC is a zero. You're trading worthless pieces of paper. And when the inevitable Rodman-led financing happens, you'll be a bag holder.

— Adam Feuerstein (@adamfeuerstein) April 4, 2017
A Market Trend
Feuerstein said the issue is manifest in this year's extreme volatility of small-cap biotechs, such as Tonix Pharmaceuticals Holding Corp. (NASDAQ: TNXP). The blame, he said, is partly on investment bank Rodman & Renshaw, which raises money for them.
"I think part of it is it wasn't necessarily Cyclacel specifically but maybe it was more indicative of what I'm sort of seeing in the market this year — seeing lot of volatility and crazy momentum-based trading going on in sort of down and out small-cap biotech stock, low-floaters that are really from a fundamental perspective are the kind of stock you don't even think about any more," he said. "They've gone through years of failure, left on side of road, and we see crazy movement and wonder what's going on.
"Cyclacel was the latest in a list of these stocks that have done this."
Still, Feuerstein's faith in small-cap biotechs isn't completely shaken. Aurinia Pharmaceuticals Inc (NASDAQ: AUPH), for example, earned his esteem for positive management performance.
All mentioned stocks spiked at Feuerstein's mentions. At the time of publication, Cyclacel was down 9.18 percent.
PreMarket Prep is a daily trading ideas show with a focus on pre-market volatility and technical setups. You can listen live and chat with our hosts, guests, and listeners every morning from 8-9 a.m. ET here or on YouTube Live. You can listen to the podcast on iTunes, Soundcloud and Sticher.
View Comments and Join the Discussion!
Posted-In: Biotech News Health Care Small Cap Analysis Top Stories Exclusives Trading Ideas Interview Best of Benzinga