Did The CIA Clear The Way For High-Profile Cyber Attacks?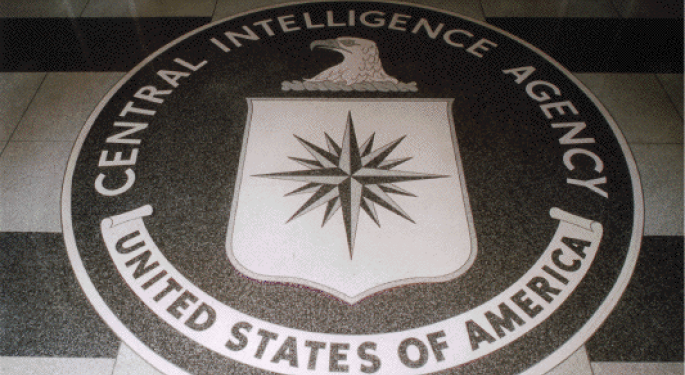 Lost amid a Twitter Inc (NASDAQ: TWTR) flurry responding to revelations of federal government hacking schemes, Edward Snowden offered his take on the WikiLeaks documents.
The CIA reports show the USG developing vulnerabilities in US products, then intentionally keeping the holes open. Reckless beyond words.

— Edward Snowden (@Snowden) March 7, 2017
Why is this dangerous? Because until closed, any hacker can use the security hole the CIA left open to break into any iPhone in the world. https://t.co/xK0aILAdFI

— Edward Snowden (@Snowden) March 7, 2017
Snowden said the CIA compromised security systems and rendered American citizens and companies vulnerable to non-government hackers. It is unclear how long the breaches have been in place, but if Snowden's thesis is correct, it may mean that the federal government is partly liable for recent data theft and subsequent fallout.
In alleged cases of Russian, Chinese and North Korean cyber intrusions, the U.S. government may have lain a welcome mat and unlocked the door.
A History Of Non-Government Hacks
Over the last few years, a number of retail credit card systems and online accounts were compromised, including those of Target Corporation (NYSE: TGT), Michaels Companies Inc (NASDAQ: MIK), Home Depot Inc (NYSE: HD), eBay Inc (NASDAQ: EBAY), CVS Health Corp (NYSE: CVS), Walgreens Boots Alliance Inc (NASDAQ: WBA), Costco Wholesale Corporation (NASDAQ: COST).
Personal account information was stolen from AT&T Inc. (NYSE: T), Alphabet Inc (NASDAQ: GOOGL) and Yahoo! Inc. (NASDAQ: YAHOO), and VTech lost data on 4.8 million parents and 6.8 million children.
Sony Corp (ADR) (NYSE: SNE) was targeted in two separate attacks. In 2011, PlayStation Network surrendered information for 77 million accounts, and in 2014, Sony Pictures servers lost confidential data later publicized by the hacking group, "Guardian of Peace."
Throughout 2015, the electronic systems of seven of President Donald Trump's hotels lost credit card data, and Experian lost credit-check information for about 15 million T-Mobile US Inc. (NASDAQ: TMUS) customers.
Health insurance companies were also targeted, with more than 10 million records swiped from Excellus BlueCross BlueShield's network in 2013 and another 80 million Anthem Inc (NYSE: ANTM) records compromised in 2015.
In possibly the most notable case, hackers penetrated the servers of Ashley Madison in 2015 by "Team Impact," which leaked the accounts of 37 million users.
The Government's Self-Inflicted Pain?
And then there were the attacks on the government, itself. In October 2014, Russian hackers breached a White House network and seized the president's schedule, emails and other sensitive data. In May 2015, a breach of the Internal Revenue Service compromised tax returns for about 100,000 Americans and cost about $50 million in fraudulent claims.
The next month, hackers made off with the personal information of about 22.1 million current, former and prospective federal employees in a breach of the Office of Personnel Management. Shortly after, they gained access to police and intelligence data through a law enforcement portal.
These were just a sample of dozens of cyber attacks reported throughout the last few years, and it is yet to be seen whether pre-existing security flaws enabled later breaches.
Related Link: WikiLeaks: The CIA 'Weaponized' Apple, Samsung And Microsoft Products For Surveillance Purposes
Related Link: The CIA Didn't Tell Google And Apple About Backdoor Hacks Into Their Products
Related Link: Journalist Who Died In Car Accident Feared Government Was Tracking Him Before Death; WikiLeaks Documents May Have Vindicated Him
_______ Image Credit: By user:Duffman - Own work, Public Domain, via Wikimedia Commons
Posted-In: News Politics Legal Events Global Tech Media General Best of Benzinga
View Comments and Join the Discussion!