Journalist Who Died In Car Accident Feared Government Was Tracking Him Before Death; WikiLeaks Documents May Have Vindicated Him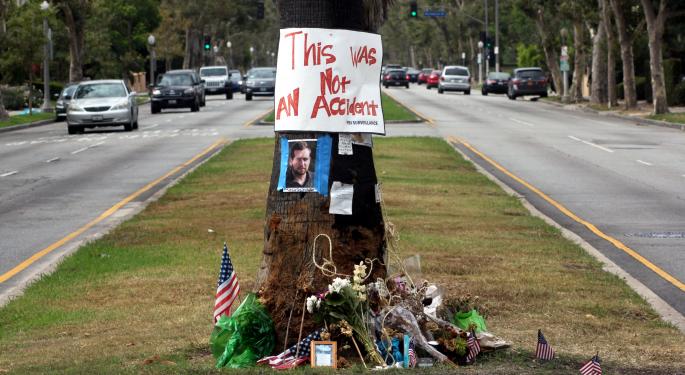 As Americans attempt to digest WikiLeaks' latest revelations that the CIA developed an extensive domestic spying apparatus, it may be relevant to explore the life of a fallen journalist who was pulling a similar thread.
WikiLeaks revealed Tuesday the CIA has developed cyber espionage capabilities that can penetrate Apple Inc. (NASDAQ: AAPL) iPhones and even software systems on automobiles, casting the death of Michael Hastings in a new light.
Hastings, a journalist whose Rolling Stone expose of Gen. Stanley McChrystal led former President Barack Obama to fire McChrystal, was suspicious that the government was tracking him in his final days.
Hastings' Death And What He Was Investigating
Hastings died in a single-car accident in Los Angeles in 2013; the circumstances of which left many commentators skeptical. At the time of his death, Hastings was working on an article covering Obama-era CIA director John Brennan.
Per New York Magazine: "At 4:20 a.m. on Tuesday, June 18, Hastings's silver Mercedes C250 coupe, speeding south on Highland Avenue, crossed Melrose, jumped the median, hit a palm tree, and exploded. The charred body of the driver was identified by the Los Angeles coroner as John Doe 117 until fingerprints confirmed that the deceased was Michael Hastings."
Before the accident, Hastings sent an email to his colleagues at BuzzFeed, where he was working at the time, saying government agents had been speaking to people close to him.
A former counter-terrorism advisor to former President Ronald Reagan told the Huffington Post in 2013 that it was possible government forces hacked Hastings' car in order to assassinate him, but the theory met opposition. The issue largely lay dormant until WikiLeaks confirmed the CIA's capabilities.
"As of October 2014 the CIA was also looking at infecting the vehicle control systems used by modern cars and trucks," WikiLeaks said in a press release. "The purpose of such control is not specified, but it would permit the CIA to engage in nearly undetectable assassinations."
While the timeline WikiLeaks suggests doesn't fit with the timing of Hastings' death, the confluence of government interest in hacking vehicles may prove that he was on to something.
Not The Only Investigative Journalist To Suspiciously Die
Other journalists who have drawn the ire of the CIA have ended up dead.
Gary Webb, the San Jose Mercury-News writer whose 1998 "Dark Alliance" series revealed connections between crack cocaine distributors in Los Angeles and CIA-funded Nicaraguan rebels, was found dead in 2004 with two bullets in his head.
Webb's death was ruled a suicide.
Related Link: WikiLeaks: The CIA 'Weaponized' Apple, Samsung And Microsoft Products For Surveillance Purposes
Related Link: WSJ Source Confirms Part Of WikiLeaks Report; Here's What You Should Know
______
Image Credit: Tree at crash site of Michael Hastings, By Lord Jim - flickr, CC BY 2.0, via Wikimedia Commons
View Comments and Join the Discussion!
Posted-In: Barack Obama BuzzFeed CIANews Events Tech Media General Best of Benzinga