TD Ameritrade Traders Adopt Some Old And New Approaches To The Trade War Market In June's IMX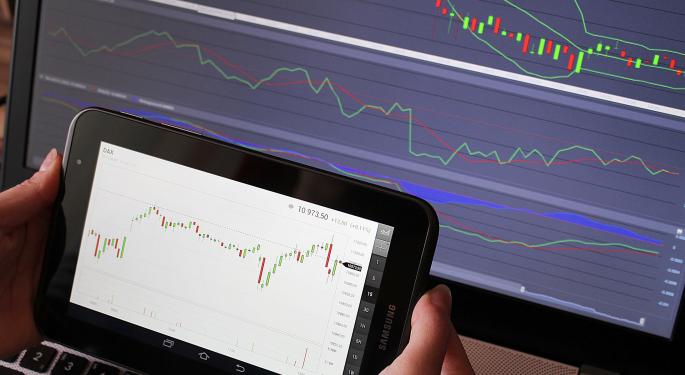 TD Ameritrade on Monday released the June update to its monthly Investor Movement Index (IMX), revealing that opportunistic traders with TD Ameritrade accounts brushed aside trade fears to resume the "buy-the-dip" strategy that characterized last year's market. As a result the IMX, which uses portfolio exposure among TDA clients to create a broad market sentiment score, rose for a second consecutive time this year to 5.5, a 7.16-percent gain.
This increase is notable for a number of reasons, chief among them is that the index is now above its December 2016 level. This show's that, at least among TDA customers, confidence in the equity market is beginning to rebound following a massive 44-percent slide in the index between December 2017 to April 2018.
Fade The Headlines
One of the clearest byproducts of this shift from cautious to cocky is that some of the month's biggest headline casualties also were some of the hottest picks for trader accounts in the IMX. General Electric Company (NYSE: GE) is a prime example. The stock was a net-buy among TDA clients for the month after falling to its lowest price in a decade and being delisted from the Dow Jones Industrial Index.
Semiconductor outfits and Chinese tech companies were also vulnerable picks for traders following tariffs levied between China and the United States, which include some limitations on Chinese investment in domestic tech companies. Although the sanctions were scaled-back from prior estimations, fears of the possibility of greater restrictions on vital foreign investment still caused double-digit percentage drops in Micron Technology, Inc. (NASDAQ: MU), but that didn't dissuade investors from betting on a rebound.
Then there's Chinese video platform iQIYI, Inc. (NASDAQ: IQ), which announced a licensing partnership with Netflix, Inc. (NASDAQ: NFLX) late in the month amidst the tariff rhetoric. Both were still net buys for TDA traders, despite rising — then falling — from all-time highs.
Expect A Green Future
One notable exception to the buy-the-dip philosophy was the cannabis industry. Following the Canadian parliament's decision to legalize recreational cannabis use, investors flocked to Canopy Growth Corp. (NYSE: CGC) and Cronos Group Inc. (NASDAQ: CRON), making them net-buys for the broker's clients.
While the surge didn't support a spike in share price, the stocks have traded steadily in the intervening weeks. While the marijuana industry may take some time to find its level, it's clear investors have taken the opportunity to familiarize themselves with the market.
Don't Rest On Your Laurels
Despite traders bullish take on the front-page stories, many still took the chance to reap their windfall, selling some high flyers before the headlines.
Given the remarkable upswing in WTI crude oil, profit-taking traders set their sights on energy concerns Chesapeake Energy Corporation (NYSE: CHK) and Exxon Mobil Corporation (NYSE: XOM). While the Chesapeake continues to reach new 52-week highs, Exxon Mobil is still trading near its 2018 open, though that's still 15 percent higher than the year-low it set back in late March.
Among the other high-flyers that were net-sold over the month were Advanced Micro Devices, Inc. (NASDAQ: AMD) and Macy's Inc. (NYSE: M), which both reached a new 52-week high during the month; Valeant Pharmaceuticals Intl Inc. (NYSE: VRX), which did the same but dropped 5 percent after the FDA blocked one of its topical treatments; and Facebook, Inc. (NASDAQ: FB), which continues to post new all-time highs while also being net-sold by TDA clients for five months in a row.
Rounding out the list of net-sold stocks is General Motors Company (NYSE: GM), which surged to a year-to-date high late in May due to a $2.25 billion investment in its autonomous vehicle segment from Softbank. Unfortunately, TDA traders' cavalier attitude toward the ongoing trade war woes didn't extend to the automaker, and General Motors was a irredeemable casualty, losing 12 percent and returning to within $2 of its open prior to the Softbank announcement.
It's clear that, while some of the market's old confidence has returned, traders aren't eager to bet on a swift resolution to the growing global trade war
View Comments and Join the Discussion!
Posted-In: IMX Investor Movement Index TD AmeritradePsychology Markets Trading Ideas General Best of Benzinga