April started with considerable pressure on the markets.
"Concerns over legalization in Canada, previously assumed to be a 'done deal,' continue to weigh on investors, along with fears of a supply glut, as discussed on the cover of Barron's this week," 420 Investor Alan Brochstein told Benzinga. "It looked to me like we hit a low this week, and I was able to up my exposure in my model portfolios to the Canadian LPs," he added, pointing out that insiders have been buying stock in their companies, with large purchases at Aurora Cannabis, Cronos Group and MedReleaf by one or more executives.
Despite experiencing some volatility, the United States Marijuana Index, which tracks 17 of the largest marijuana stocks in the U.S., ended the week flat. The North American Marijuana Index, which also includes Canadian stocks, posted losses of 5.2 percent.
The Horizons Marijuana Life Sciences Index ETF HMLSF lost 9.75 percent over the five days of the week, while the ETFMG Alternative Harvest ETF MJ tumbled more than 7 percent. This compares to the SPDR S&P 500 ETF Trust SPY's 1.3 percent decline.
Here are some of the top marijuana stocks in U.S. exchanges and how the performed this week:
22nd Century Group Inc

XXII

: down 1.7 percent
Aphria Inc

APHQF

: down 11.5 percent
Aurora Cannabis Inc

ACBFF

: down 13 percent
Cannabis Sativa Inc

CBDS

: down 3.3 percent
CannTrust Holdings Inc

CNTTF

: down 13.7 percent
Canopy Growth Corp

TWMJF

: down 17.1 percent
Cronos Group Inc.

CRON

: down 13.4 percent
GW Pharmaceuticals PLC- ADR

GWPH

: down 1.6 percent
Hiku Brands Company Ltd

DJACF

: down 22.2 percent
India Globalization Capital, Inc.

IGC

: down 9.5 percent
MedReleaf Corp

MEDFF

: down 11 percent
Scotts Miracle-Gro Co

SMG

: down 2.3 percent
THC Biomed Intl Ltd

THCBF

: down 11.5 percent
Zynerba Pharmaceuticals Inc

ZYNE

: up 1.5 percent
In The News
High Times Holding Corporation announced the closing of its acquisition of Green Rush Daily. High Times -- which currently trades under Origo Acquisition Corporation OACQ OACQF -- will give Green Rush's sole proprietor, Scott McGovern, a total of 577,651 Class A shares (worth roughly $6.4 million) and $500,000 in cash.McGovern will serve as High Times' senior executive vice president of publishing, getting an additional 289,630 Class B non-voting stock options, to vest over a three-year period at $2.18 per share, as part of his compensation. Read all about it in our exclusive article.
Cannabis Wheaton Income Corp CBWTF announced the acquisition Canada-based late-stage "Licensed Dealer" applicant Dosecann in an all-stock deal valued at $38 million.
Friday Night Inc TGIFF and its subsidiary, Infused Mfg, have skated into the sports recovery market with a new one-year licensing agreement with skateboard firm Grizzly Griptape, founded by skateboard legend Torey Pudwill. Together they will launch their newest product line, Canna Hemp X, which includes a CBD-infused recovery cream targeting the rapidly growing sports recovery market.
CannaRoyalty Corp CNNRF reported 2017 revenues of C$3 million ($2.35 million), up from C$642,277 ($500,000) in its nine months of operation in 2016. On a per share basis, the company posted a net loss of C$0.22 ($0.17) for 2017 versus C$0.41 per share ($0.32) for the nine months of 2016.
Organa Brands, one of the largest cannabis brands in the world, announced that one of its co-founders, Ralph Morgan stepped down from day-to-day operations to pursue a new business opportunity in the cannabinoid therapeutics realm. The company will continue to be led by its trio of Presidents: Jeremy Heidl, Chris McElvany, and Jeremy Heidl. Morgan will remain an equity partner in the company and will retain his seat on the company's Board of Directors.
Online cannabis ordering platform Stemless, a participant in Quake Capital's New York accelerator program, announced its expansion to all states that support the sale of medical or recreational cannabis. The company, which originally piloted in the state of Oregon, offers a customer-centric online marijuana ordering and delivery solution that allows dispensaries to compliantly offer their patrons tracked delivery, online payment, online ordering and custom loyalty programs.
"Most dispensaries currently don't have a way to compliantly transact online, broadcast accurate live menus and accept non-cash payments," Founder and CEO Koushi Sunder told Benzinga. "This makes it hard for customers to know what products are available for purchase or when the optimal time to stop by their local store is, ultimately degrading the purchase experience for both sides. Through live menu broadcasting, loyalty rewards and online payments, Stemless gives consumers direct access to what dispensaries are carrying. This helps dispensaries create an enhanced purchasing experience in a way that is compliant with all applicable state and local laws."
Cannabis-focused B2B news and event production company Marijuana Business Daily (a.k.a. MJBizDaily) has launched Hemp Industry Daily, a publication focused on delivering objective and market driven coverage of where the hemp industry is headed. Hemp Industry Daily is releasing its first report solely dedicated to the status of hemp, the "Hemp Industry & Market Snapshot Report," available for download following this link.
Cura Cannabis Solutions announced that 10 percent of all sales on SelectCBD.com, its hemp-derived CBD e-commerce site, will directly benefit Realm of Caring (RoC) this April. RoC is an organization that aims to improve lives through research, education and advocacy around cannabis and hemp products.
"The movement toward broad acceptance, access, and normalization of cannabis can only be achieved with critical stakeholders on board," a company representative told Benzinga. "For that reason, Cura is especially excited about RoC's mission to advocate and spread educational information about cannabis – along with often misunderstood details about the endocannabinoid system – to health care professionals as well as families with life limiting diagnoses across the country."
Learn more about these news, and others onMARIMED Inc/SH SH MRMD, Open Source Health Inc., Emerald Health Therapeutics Inc EMHTF, Solis Tek Inc SLTK and MassRoots Inc MSRT with our partners at Green Market Report's Marijuana Money:
Interesting Data
A recent study conducted by HelloMD and UC Berkeley provided further evidence to support the theory of cannabis as a substitute for opioid based medication. As per the results, 97 percent of patients enrolled were able to reduce the amount of opioids they use to treat their pain when they supplement their therapy with cannabis. In addition, 92 percent said they preferred cannabis to opioids for the treatment of their diverse medical conditions, 81 percent said they felt cannabis alone (with no opioid supplements) was more effective at treating those conditions, and 71 percent declared cannabis delivered the same pain relief as their opioid medication.
Down a similar lane, New Frontier Data published an infographic showing how CBD use reduces pill intake.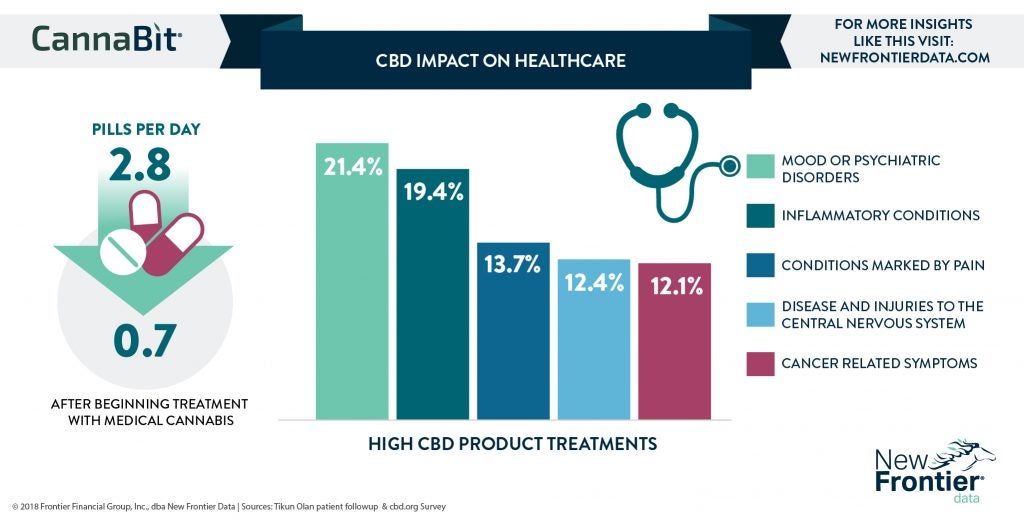 Source: New Frontier Data.
LeafLink, the largest B2B e-commerce platform in the cannabis industry, published a study showing that, both in 2017 and 2018, marijuana sales saw a far greater increase in volume of purchasing orders across the wholesale cannabis space than April. In an effort to capitalize on this effect, brands offered sales on March 20 to wholesale buyers, CEO Ryan Smith said.
During March of 2017, retailers on LeafLink placed orders that were 14 percent larger than their averages. While most would expect April to be the busiest month in terms of order sizes on the back of 4/20, March witnessed 24 percent larger orders than April – probably indicating retailers were building up stock. In March 2018, over $29 million in orders were placed on the LeafLink platform.
Arcview Market Research and BDS Analytics recently published a report that contended California's heavy taxes and restrictive regulation may slow the degree to which the new adult-use cannabis market replaces illicit sales. As per the study, legal storefronts have a 77 percent handicap when competing with illicit market prices.
Interested in getting an inside perspective, Benzinga reached out to Shareef El-Sissi, CFO of the Garden of Eden dispensary in Hayward, California. "Unregulated delivery services are really undercutting our business," he said. "I've had delivery services list their address as my address. They're stealing customers out from under us while we're playing by the rules, paying our taxes and operating with integrity."
Interestingly, El-Sissi pointed out that the problem is much worse in Southern California as law enforcement has struggled with resources to properly police the illegal market.
"Customers don't care because in many cases, they're getting the same product for a cheaper price," El-Sissi said. "This market is on track for such tremendous growth that we need to solve these problems now and wrangle in this wild West mentality because the utopian vision of regulated cannabis is at risk."
Events Calendar
April 9: Benzinga will sponsor Terpenes & Testing Magazine's CNvest: Terps and Tech event, an investor gathering focused on cannabis science and technology companies, in San Jose, California. Check out the 16 cannabis science and technology startups that made it to the final round of the pitch contest here.
April 12-14: Compassionate Certification Centers is hosting its second yearly World Medical Cannabis Conference & Expo in Pittsburgh. The event will include a job fair, exhibits, networking events, courses and panels featuring more than 70 speakers. Check out the details here.
May 18: Avicanna, the first cannabidiol company to get accepted into Johnson & Johnson's

JNJ

Innovation, JLABS @ Toronto, is hosting the 2018 International Symposium on Cannabis & Medical Applications in Santa Marta, Colombia. The event features numerous expert speakers from some of the most prestigious scientific institutions in the world.