Why It's Too Soon To Judge Apple's Next Product Cycle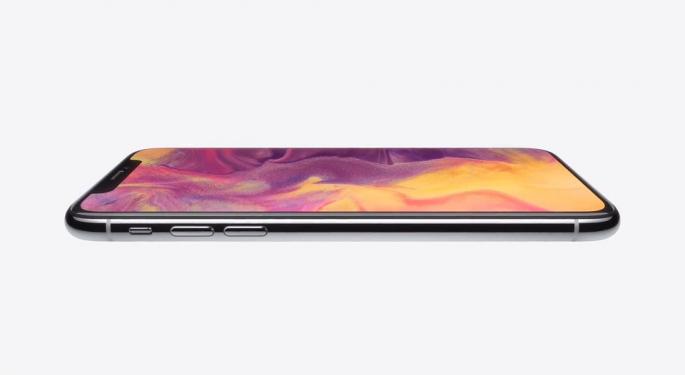 Apple Inc. (NASDAQ: AAPL) shares fell to an intra-day low of $153.83 Wednesday, down 3.1 percent before they trimmed some of the losses and settled down 1.7 percent at $156.07 for the day.
Commenting on the weakness, B. Riley & Co. analyst Craig Ellis said it could be due to two reasons, namely weak China initial iPhone 9 preorders and Watch 3 LTE connection issues. However, the firm did not attach much significance to the sources of weakness, reasoning that it is too early to draw any conclusion.
Ellis noted that China's JD.Com Inc (ADR) (NASDAQ: JD) reported that China preorder numbers were at 1 million iPhone 8, notably lower than 2.5 million preorders for iPhone 7 and 3.5 million for iPhone 6. Ellis feels, if true, the data could engender regional product cycle demand concerns.
B. Riley & Co. also made note of Watch 3 LTE connection issues carried in several published product reviews and acknowledged by Apple.

The firm is of the view that the iPhone product cycle is one of the biggest in late-2017 and early-2018. Therefore, the firm said the preorder numbers have implications for semi and capital equipment stocks. The firm noted that the PHLX Semiconductor fell 1.4 percent on Wednesday, while wireless component stocks were sold off between 3 and 5 percent, off the data.
Preorder Decline Isn't Surprising
Though acknowledging that the data raises regional demand risk, the firm thinks it is too early to draw broad-based product cycle conclusions. Lending credence to its deduction, the firm noted that Apple's China sales have been on the wane for the past six quarters, with the decline over the last four quarters averaging 16 percent.
Analysts Take The Measure Of Apple's iPhone X
Given the trend, the firm doesn't consider the preorder decline as a surprise. However, the firm noted that investors have come to expect year-over-year product cycle strength. Therefore, the firm said if China is weaker year-over-year, other regions need to outperform. For that to happen, the firm said improving global developed and emerging economy GDP growth is a must.
Additionally, the firm noted that the observation's sample is small for projecting it to the global trend. The firm said it wouldn't be surprised if stronger demand emerged elsewhere, in China or in other regions.
Thirdly, B. Riley & Co. believes demand is being drawn elsewhere at the moment, given increased competition from fast-growing and value-price focused China tier 1 OEM's such as Huawei, OPPO and Vivo. Also, the firm noted that Samsung Electronic (OTC: SSNLF is much better positioned, transforming the competitive landscape as a robust one.
The firm also thinks the third-quarter guidance of chipmakers was relatively conservative, given their cautious stance as they took cues from their past experience of being burned by iPhone product cycle weakness.
"So for that and other reasons we doubt the data point by itself puts estimates at risk," the firm said.
Companies Exposed To iPhone Product Cycle
According to the firm, iPhone chip exposure includes RF companies such as Broadcom Ltd (NASDAQ: AVGO), Skyworks Solutions Inc (NASDAQ: SWKS) and Qorvo Inc (NASDAQ: QRVO), where it believes content is $5 or more, with Broadcom having far higher content following C17's 40 percent content gain on increased RF filters, a Bluetooth 5.0 combo connectivity upgrade and wireless charging content.
Meanwhile, the firm expects Skyworks to retain strong diversity receive content. Beyond the front end, the firm said Texas Instruments Incorporated (NASDAQ: TXN) is used for power management content, Cirrus Logic, Inc. (NASDAQ: CRUS) for Audio IC's and NXP Semiconductors NV (NASDAQ: NXPI) for NFC control and a mix of memory manufacturers for DRAM and NAND.
If the product cycle weakness is confirmed, the firm said it would be incrementally negative for Semi Cap Equipment suppliers like Applied Materials, Inc. (NASDAQ: AMAT), Lam Research Corporation (NASDAQ: LRCX) and KLA-Tencor Corp (NASDAQ: KLAC), each of which fell around 2 percent Wednesday.
"The competitor report raised a yellow flag of risk that the product cycle is less robust than we and other would like, and we will continue to monitor preorder and initial sales indications to calibrate demand versus expectation, though at present do not see estimate risk for covered names with iPhone exposure," the firm concluded.
At time of writing, Apple shares were sliding 1.40 percent to $153.86.
Related Link: After 10 Years, The iPhone Is Still Apple's Cash Cow
View Comments and Join the Discussion!
Posted-In: B. Riley & Co.Analyst Color News Global Top Stories Analyst Ratings Tech Trading Ideas Best of Benzinga