From Comcast To Amazon: Companies Set To Win, Lose With FCC Agenda This Month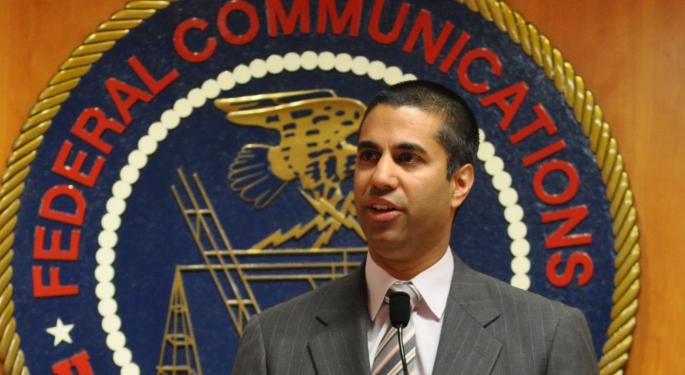 The Federal Communications Commission is debating instituting significant policy changes that Height Securities expects to positively shake the communications sector.
FCC Chairman Ajit Pai recently announced proposed amendments to calculate national television market share accounting for new viewing methods, such as over-the-top streaming. The calculation is critical in determining compliance with media ownership rules capping companies at a 39-percent, cross-platform market share.
As recalculations are considered, the Sinclair Broadcast Group Inc (NASDAQ: SBGI) and Tribune Media Co (NYSE: TRCO) merger hangs in the balance. According to current standards, Tribune has a 44-percent market share and Sinclair 38 percent, which means that a legal merger requires alteration of the FCC's calculation formula.
"If the FCC allows the transaction it would have to be done under the auspices of deregulation and the rationale would be based on a market definition that includes other media, reducing the concentration issues presented by station ownership," Height analyst Nils Tracy wrote in a Wednesday note. "In essence, the FCC would have to look at all of the assets held by the companies and do a broader antitrust review that showed lower concentration levels in other assets that mitigate the high station concentration levels."
Tracy asserted confidence in the FCC's approval of such changes and redefinition of market share, thus ensuring that the Tribune–Sinclair deal meets regulatory requirements.
The Telecom Advantage
The FCC is also exploring limiting net neutrality rules established under the Obama administration. Telecom companies are positioned to win from a repeal, which would ultimately result in "rolled-back enforcement efforts."
Beneficiaries include internet service providers (ISP) providers, such as Comcast Corporation (NASDAQ: CMCSA) and Charter Communications, Inc. (NASDAQ: CHTR), as well as wireless broadband providers, such as Verizon Communications Inc. (NYSE: VZ), AT&T Inc. (NYSE: T), T-Mobile US Inc (NASDAQ: TMUS) and Sprint Corp (NYSE: S).
The FCC will also vote to repeal rules surrounding edge providers, which could result in the implementation of prioritization strategies by ISPs that could affect OTT service companies, such as Netflix, Inc. (NASDAQ: NFLX) and Amazon.com, Inc. (NASDAQ: AMZN).
Tracy said larger OTT providers should evade impact "through the strength of their content and the economic clout of their subscriber numbers." However, smaller companies might wobble under increased overhead.
The FCC is holding its next open meeting May 18.
Related Link:
Senate Votes To Let Broadband Providers Sell Your Browsing History Without Consent
________
Image Credit: By Federal Communications Commission (5.6.2014 E-Rate Modernization Workshop) [Public domain], via Wikimedia Commons
Posted-In: Analyst Color News Previews Events Analyst Ratings Tech Media Trading Ideas Best of Benzinga
View Comments and Join the Discussion!