Here's The Danger In Overthrowing Net Neutrality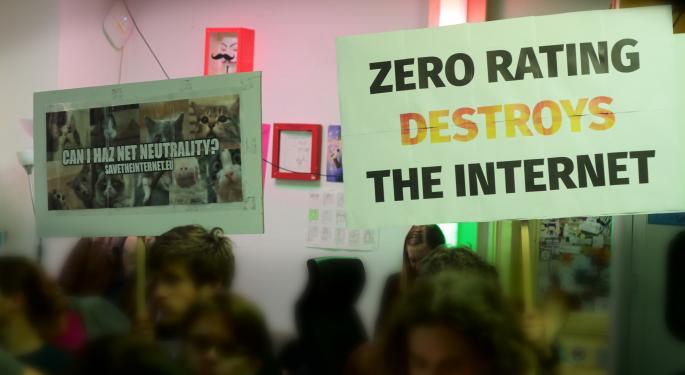 One of the more pressing and controversial topics of the past few years appears to be front and center in 2017: net neutrality.
Net neutrality is the principle that companies who provide internet service should provide customers with equal and consistent access to all content and applications regardless of the source.
As an example given to Business Insider, Comcast Corporation (NASDAQ: CMCSA), an internet provider, also owns the TV station NBC and would have incentives to promote NBC's content to consumers over a competing station.
Why Net Neutrality Resurfaced In 2017
According to Statista, President Donald Trump's appointment to lead the Federal Communications Commission (FCC) is Ajit Pai, an outspoken critic of net neutrality.
Statista noted that in a speech given as recent as December 2016, Pai spoke out against net neutrality regulation and said it is a "solution that wouldn't work for a problem that didn't exist."
Statista continued that now more than ever regulating and enforcing net neutrality rules is vital.
For instance, without net neutrality and assuming that AT&T Inc. (NYSE: T)'s acquisition of Time Warner Inc (NYSE: TWX) is approved, Comcast would have a huge incentive to throttle users internet connection when trying to watch HBO Now — a competing platform.
The concept of net neutrality also applies to streaming music. For example, fresh off its acquisition of a stake in Tidal, Sprint Corp (NYSE: S) could be incentivized to throttle customers' internet connection if they were streaming music on a competitor service, such as Pandora Media Inc (NYSE: P).
"It remains to be seen if and how quickly Pai will be able to overthrow net neutrality," Statista noted. "When he does, however, a new era dawns on the internet economy."
Image Credit: By Jean-Frédéric - Own work, CC0, via Wikimedia Commons
Posted-In: Ajit PaiNews Politics Legal Tech Media Trading Ideas General Best of Benzinga
View Comments and Join the Discussion!