What We Learned From The Last Avian Flu Outbreak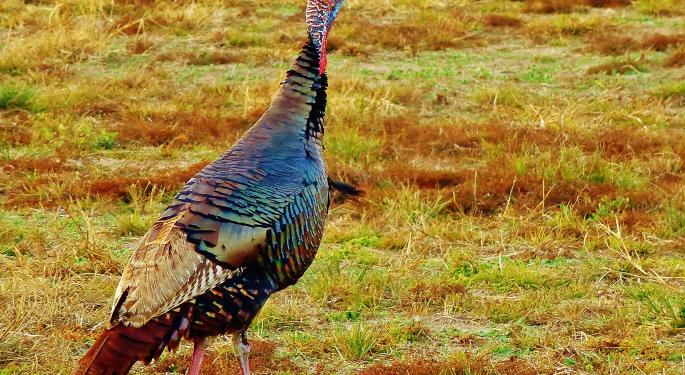 Within the past 48 hours, there has been a fifth confirmed outbreak of avian influenza, or "bird flu" in the U.K. The H5N8 strain of the bird flu has spread from wild birds to farmed poultry in several areas of the U.K.
The U.K. outbreak is one of 40 outbreaks of bird flu around the world since November. Earlier this month, an outbreak of the H7N8 strain of the virus was reported in a commercial turkey flock in Indiana.
What Is Bird Flu?
Bird flu is a virus that occurs naturally among wild birds and can be transferred to domestic poultry such as turkeys or chickens. The virus doesn't typically infect humans, though human infection has sporadically occurred with certain strains of the virus.
The human mortality rates associated with certain strains of bird flu, such as the H5N1 strain, can be as high as 60 percent. Fortunately, human infection is rare and the virus is difficult to transfer from person-to-person.
Impact On Markets
So far, the world has been able to avoid a major bird flu poultry pandemic, but that hasn't kept financial markets from reacting to the scare. In May 2015, the bird flu scare led to an 87 percent spike in egg prices in less than two months.
Chicken and turkey prices also increased as a result of the scare.
"In the midst of an outbreak, supply availability can be cut quickly, resulting in a rapid rise in the price of good impacted by said outbreak," Angie Setzer, vice president of grain at Citizens LLC, tells Benzinga.
"The main thing I've learned in past outbreaks though is that once the disease is controlled through proper culling measures the recovery in many cases can be somewhat quick. Here in Iowa, for example, it took just under a year from the start of the most recent outbreak to its resolution to see the price of eggs go full circle from normal cost levels to nearly three times that level back to even below normal pricing levels."
Stocks To Watch
Of course, shares of chicken producers could take a hit from the bird flu scare. That list includes names such as Tyson Foods, Inc. (NYSE: TSN), Hormel Foods Corp (NYSE: HRL), Sanderson Farms, Inc. (NASDAQ: SAFM) and Pilgrim's Pride Corporation (NASDAQ: PPC).
Restaurants with a focus on breakfast, such as Bob Evans Farms Inc (NASDAQ: BOBE), Cracker Barrel Old Country Store, Inc. (NASDAQ: CBRL) and even McDonald's Corporation (NYSE: MCD) could take a hit from higher egg and chicken prices.
In addition, restaurants that rely heavily on baked goods that require eggs, such as Panera Bread Co (NASDAQ: PNRA) and Krispy Kreme Doughnuts (NYSE: KKD) could see an uptick in costs.
Restaurants focused on chicken, such as Wingstop Inc (NASDAQ: WING) and Buffalo Wild Wings (NASDAQ: BWLD) could also be impacted in the event of a broiler chicken pandemic.
Finally, online travel stocks such as Expedia Inc (NASDAQ: EXPE), Priceline Group Inc (NASDAQ: PCLN), Royal Caribbean Cruises Ltd (NYSE: RCL) and Carnival Corp (NYSE: CCL) could see a slowdown in international travel. Expedia has specifically mentioned "avian flu outbreaks" as a factor that "could negatively affect our business" in recent SEC filings.
Some stocks, on the other hand, are poised to benefit from higher poultry and egg prices. In 2015, Cal-Maine Foods Inc (NASDAQ: CALM) shares jumped 50 percent in three months during the bird flu scare. The Mississippi-based company is the nation's largest egg producer and completely avoided the outbreak.
In addition, biotech companies working on bird flu vaccines, such as Sinovac Biotech Ltd. (NASDAQ: SVA), Novavax, Inc. (NASDAQ: NVAX) and Novartis AG (ADR) (NYSE: NVS) could also get a boost from a bird flu scare.
Image: Olin Gilbert, Flickr
View Comments and Join the Discussion!
Posted-In: Long Ideas Short Ideas Health Care Commodities Top Stories Markets Trading Ideas General Best of Benzinga