Wide Moat ETF off to Decent Start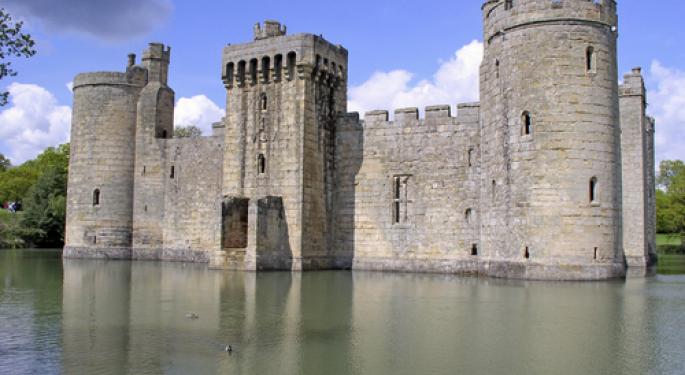 As the overall exchange-traded products industry has grown, an increasing amount of so-called niche funds have emerged. These narrowly-focused ETFs grant access to a wide array of investment concepts ranging from social media to stock buybacks.
A common criticism of such funds is that their investment concepts are too esoteric. Perhaps for this reason, plenty of niche funds have been sent to the ETF graveyard.
Conversely, other niche ETFs have proven quite successful. One example of a successful new niche ETF is the Market Vectors Morningstar Wide Moat Research ETF (NYSE: MOAT). This ETF has just over three months of trading under its belt and has already hauled in $40 million in assets under management.
Perhaps part of the reason for MOAT's success is that its niche is not complex, nor obscure. MOAT tracks the Morningstar Wide Moat Focus Index, a rules-based, equal-weighted index intended to offer exposure to 20 attractively priced companies with noticeable competitive advantages over their rivals. The index was created in 2007.
Of the broad equity universe analyzed by Morningstar, currently about 10 percent receive a wide moat categorization. Within these 10 percent, the 20 stocks with the most attractive valuations are selected, according to MOAT's web site.
The term "moat", as it pertains to stocks, has been used by noteworthy investors, including Warren Buffett, to highlight a company's distinct competitive advantages over its competitors. A premise for investing in companies with wide moats is that these companies are hard to rival and are thus worth more than their counterparts.
To be sure, the ETF's 21 holdings live up to the fund's wide moat billing. Oracle (NASDAQ: ORCL) is the ETF's top holding. Oracle is the leader in enterprise software. Google (NASDAQ: GOOG), MOAT's second-largest holding, may have as wide of a moat as a stock can get. Other search engines have not been turned into verbs, but Google has. Few oil services companies do exactly what National Oilwell Varco (NYSE: NOV) does and Western Union (NYSE: WU) is the dominant provider of money-wiring services.
Other MOAT constituents include General Electric (NYSE: GE), Cisco Systems (NASDAQ: CSCO), Express Scripts (NASDAQ: ESRX) and United Technologies (NYSE: UTX). Not all of MOAT's holdings make products available to ordinary consumers, but many investors are at least somewhat familiar with these firms and the dominant positions they hold in their respective industries.
Familiarity and lack of complexity could bode well for MOAT. The fund is up 1.4 percent in the past month and charges an expense ratio of 0.49 percent.
For more on niche ETFs, click here.
Posted-In: Long Ideas News Broad U.S. Equity ETFs Short Ideas Specialty ETFs New ETFs Pre-Market Outlook After-Hours Center Best of Benzinga
View Comments and Join the Discussion!