#PreMarket Primer: Wednesday, June 4: Iran Deal Not Likely To Meet July 20 Deadline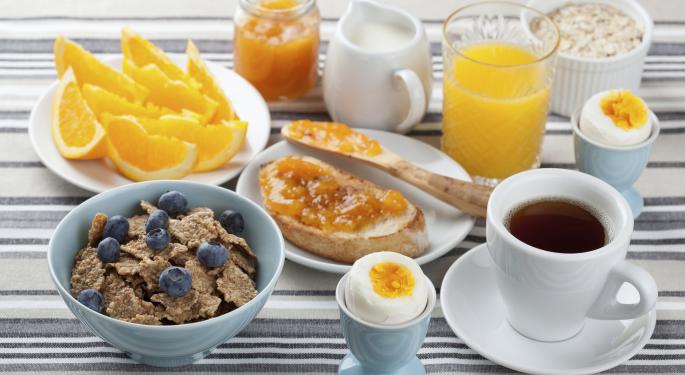 Though Iran, the US, Britian, France ,Germany, Russia and China all agreed to find a long term solution to the ongoing debate over Iran's nuclear capabilities by July 20, an agreement in just under two months is looking less and less likely.
The six world powers and Iran agreed to a short term solution on November 24 that would ease sanctions while the group worked to make a final agreement by the July deadline. Now, most are expecting that President Obama will ask US lawmakers to approve a six month extension of the current agreement to allow more time for negotiation.
At last month's talks the seven nations were unable to agree on an acceptable number of enrichment centrifuges that Tehran will be allowed to maintain, leaving the six world powers and Iran accusing each other of being unreasonable.
In other news around the markets:
The Ukrainian army continued with its second day of an offensive against pro-Moscow separatists holding the Eastern city of Slaviansk on Tuesday. Fighting between rebels and the military has left both sides with several casualties and even more wounded in recent weeks. The nation's newly elected president Petro Poroshenko vowed to crush the rebellion quickly when he was voted in on May 25, and since then the Ukrainian military has stepped up its involvement.
On Wednesday, Chinese state media called on Beijing to "punish severely" companies like Yahoo, Cisco Systems, Microsoft and Facebook for allegedly monitoring China and stealing the nation's secrets. While it is unclear what specific data the US is accused of monitoring, Chinese officials have been suspicious of US tech firms since Edward Snowden revealed US cyber espionage programs like PRISM.
A report out on Tuesday showed that the eurozone's inflation fell to a four year low of 0.5 percent in May, a sizable drop from April's 0.7 percent and below the one percent mark that the ECB has called the "danger zone." The data solidified expectations that the ECB will ease further at its Thursday meeting as bank President Mario Draghi said the bank was prepared to act in June if the data warrants.
On Tuesday, compensation expert Kenneth Feinberg said he will have prepared a set of financial restitution options that General Motors can offer to those connected with the ignition switch recall. Feinberg, who was hired by GM in April, has been working to determine who is eligible for financial compensation as GM has said there were only 13 deaths connected with the recall, but other sources like the Center for Auto Safety have said that number killed could be up to 100; with 2,004 reports of death or injury in GM models that have since been recalled.
Asian markets were mostly lower with the exception of the NIKKEI and the KOSPI, down 0.22 percent and 0.33 percent respectively. The Shanghai composite lost 0.66 percent, the Shenzhen composite was down 1.09 percent and the Hang Seng index fell 0.60 percent.
European Markets
European markets were down across the board; the UK's FTSE lost 0.35 percent, the eurozone's STOXX 600 fell 0.27 percent, the German DAX lost 0.29 percent, France's CAC 40 was down 0.58 percent and the Spanish IBEX lost 0.73 percent.
Energy futures rose on Wednesday; Brent futures were up 0.35 percent and WTI futures gained 0.60 percent. Gold and silver gained 0.14 percent and 0.38 percent respectively but industrial metals faltered. Copper lost 0.89 percent, aluminum was down 0.22 percent and tin lost 0.28 percent.
The euro dipped with the ECB meeting on the horizon, losing 0.15 percent against the dollar, 0.04 percent against the pound and 0.06 percent against the yen. The dollar was on a high and gained 0.12 percent against the yen, 0.14 percent against the pound and 0.11 percent against the franc.
Earnings
Notable earnings released on Tuesday included:
Dollar General (NYSE: DG) reported first quarter EPS of $0.72 on revenue of $4.52 billion, compared to last year's EPS of $0.71 on revenue of $4.23 billion.
ABM Industries (NYSE: ABM) reported second quarter EPS of $0.40 on revenue of $1.23 billion, compared to last year's EPS of $0.36 on revenue of $1.17 billion.
Mattress Firm Holding (NASDAQ: MFRM) reported first quarter EPS of $0.31 on revenue of $333.50 million, compared to last year's EPS of $0.38 on revenue of $275.96 million.
Stocks moving in the Premarket included:
Notable earnings releases expected on Tuesday include:
Leidos Holdings (NYSE: LDOS) is expected to report first quarter EPS of $0.54 on revenue of $1.26 billion, compared to last year's EPS of $0.54 on revenue of $2.71 billion.
PVH Corp. (NYSE: PVH) is expected report first quarter EPS of $1.49 on revenue of $1.98 billion, compared to last year's EPS of $1.91 on revenue of $1.94 billion.
Brown-Forman (NYSE: BFB) is expected report fourth quarter EPS of $0.58 on revenue of $923.73 million, compared to last year's EPS of $0.45 on revenue of $866.00 million.
Economics
Services PMI will be the main event of Wednesday's economic calendar with releases from China, the UK, Germany, France, Italy and Spain. The US will also put out a host of closely followed data including non-farm productivity, the trade balance and ISM non-manufacturing PMI data.
For a recap of Tuesday's market action, click here.
Tune into Benzinga's #PreMarket Prep show today to hear Whitney Tilson and Jack Steiman by clicking here!
Posted-In: Earnings News Guidance Eurozone Futures Commodities Previews Forex Best of Benzinga
View Comments and Join the Discussion!