Politics' Push And Pull On The Alcohol Industry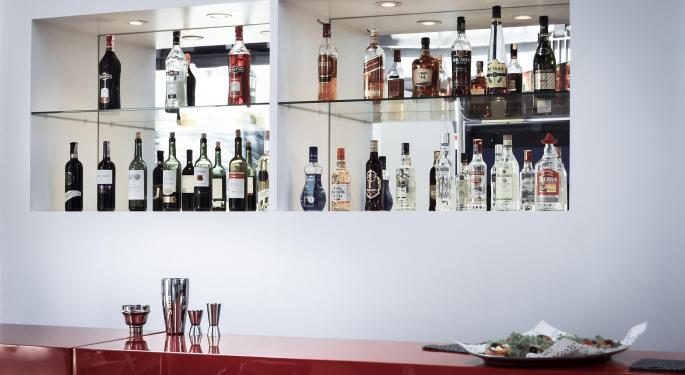 We know that the fate of some industries better aligns with one political party over others. We'd never expect cannabis growers to vote Republican, and, at least last election cycle, private prisons were disincentivized to vote Democrat.
But beer, wine and liquor producers seem less resolute.
Having contributed $2,765,142 to Democrats (44 percent) and $3,586,830 (56 percent) to Republicans in 2016 PAC contributions, according to Open Secrets data, it seems the sector's constituent companies can't decide which party serves their communal interest.
The issue is, in part, the state-by-state, county-by-county, city-by-city variability in alcohol laws.
The Political Influence
Federal policies and levees certainly influence industry players, but, thanks to the 21st Amendment, which grants states relative autonomy with alcohol regulations, most politicking and lobbying are done at the state and local levels.
Massachusetts bans happy hours, drink specials and drinking games, while Louisiana allows drive-thru daiquiri stands. Utah prohibits border-crossing with beverages purchased out of state, and Nevada permits public drunkenness. Some municipalities forbid alcohol sales on Sunday, after curfew or in supermarkets. Some limit the number of issued liquor licenses, with Idaho enforcing a ratio of one license per 1,500 residents.
The inconsistencies necessitate different political strategies in different regions. Thus, in some cases, it behooves industry players to get behind Republicans, while in others, they're better off befriending Democrats.
Nationwide, the aggregate of constituents imbibes the GOP cup, as does the subset with needs and interests distinct to publicly traded firms.
Each of those specific PAC contributors ━ Altria Group Inc (NYSE: MO), Anheuser Busch Inbev NV (ADR) (NYSE: BUD), Beam Suntory Inc (NYSE: BEAM), Brown-Forman Corporation (NYSE: BF.A) (NYSE:BF.B), Constellation Brands, Inc. (NYSE: STZ), Diageo plc (ADR) (NYSE: DEO) and Molson Coors Brewing Co (NYSE: TAP)'s MillerCoors LLC ━ gave more than half of their federal political contributions to Republican candidates.
However, there are few, if any, federal regulatory amendments directly relevant to the industry, so donors may simply be extrapolating small-scale allegiances to federal candidates or identifying federal policies underpinning local decisions.
Ongoing Policy Wars
So far this year, the alcohol industry has found small battles to pick in local statutes, but the politics of the fights aren't so clear, and other characteristics may be unexpected.
Community nuances often call for arguments of religious or cultural rather than civic nature. Additionally, many of the campaigns are led not by brewers and distillers but by distributors, whose cases ultimately affect manufacturer brand exposure and accessibility.
Here are some of the fights in which alcohol players have stakes:
In Nevada, alcohol distributors and wholesalers recently filed a temporary restraining order against the Nevada Department of Taxation as it works to reinstate a withdrawn proposition to allow alcohol distributors 18 months of exclusivity in recreational marijuana sales.
Farther east, residents of some "dry" Texas counties are working to legalize sales through local petitions and ballot proposals.
Wal-Mart Stores Inc (NYSE: WMT) also picked a fight in the largely Republican state, where publicly traded companies are forbidden from selling hard liquor. Its outstanding lawsuit challenges the law as anti-competitive, but the courts have yet to set a date for a trial.
The company lost a similar battle last Wednesday when Florida's Republican Gov. Rick Scott, in alleged defense of small-business jobs, vetoed a bill that would have allowed Walmart, Target Corporation (NYSE: TGT), Costco Wholesale Corporation (NASDAQ: COST) and other retail stores to sell liquor.
In Connecticut, multiple statewide measures are under consideration. Gov. Dannel Malloy is pushing to eliminate minimum state pricing for wine and liquor to allow retailers to sell at wholesale costs.
Another state bill would allow direct-to-consumer shipments from out-of-state retailers. If approved, the measures could catalyze manufacturer sales hikes.
So would authorization of by-the-glass machine dispensation of beer and wine, which was approved by the Connecticut House in April. Proponents noted that the bill would foster economic development through both restaurant sales and brewery development and would heighten craft brew exposure through taste-testing.
The Tennessee legislature is considering a bill to extend an alcohol curfew for two Nashville bars. If approved, the establishments could sell between 4 a.m. and 3 a.m. rather than the current limit between 8 a.m. and 3 a.m.
Related Links:
Alcohol As A Pain Reliever?

\Should The Alcohol Industry Be Worried About The Legalizing Of Pot?
View Comments and Join the Discussion!
Posted-In: News Education Futures Politics Topics Travel Restaurants Legal Best of Benzinga