Alcohol As A Pain Reliever?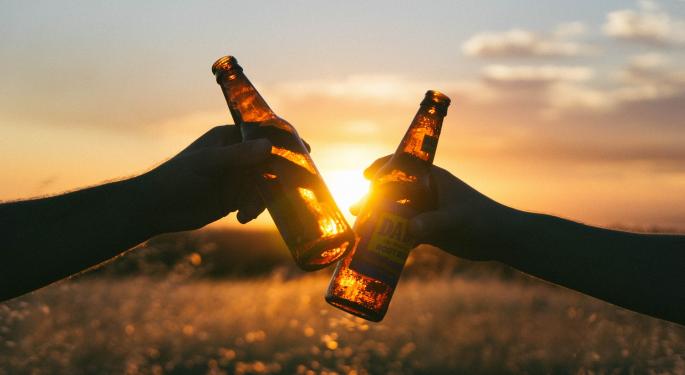 Too much of anything is a poison, and moderation is recommended for anything to work in a positive manner. This seems to ring right and true even for alcohol, as a drinking binge can cause several health to physiological to psychological to behavioral issues.
That said, analysis of some studies has confirmed alcohol's benefits, when consumed in moderation.
This could be good news for beverage giants such as Anheuser Busch Inbev NV (ADR) (NYSE: BUD), Boston Beer Company Inc (NYSE: SAM), Molson Coors Brewing Co (NYSE: TAP) and the like. At least, the news should remove some of the stigma surrounding alcohol.
Alcohol Can Alleviate Pain
A paper published in the Journal of Pain, which set out to analyze whether alcohol produces a decrease in experimentally-induced pain and to determine the magnitude of any such effect, found robust evidence for the analgesic properties of alcohol.
The paper presented by British researchers analyzed 18 studies involving 404 participants published in the journal and looked at the PubMed, PsycINFO and Embase databases since inception until April 2016. These studies provided alcohol versus no-alcohol comparisons for 13 tests of pain threshold and nine test of pain intensity ratings.
The Findings
A mean blood-alcohol content of approximately 0.08 percent, or 3–4 standard drinks, produced a small elevation of pain threshold and a moderate to large reduction in pain intensity ratings.
Furthermore, increasing BAC resulted in increasing analgesia, with each .02 percent BAC increment producing an increase in pain threshold and reduced pain intensity.
Related Links: Should The Alcohol Industry Be Worried About The Legalizing Of Pot?
"Findings suggest that alcohol is an effective analgesic that delivers clinically-relevant reductions in ratings of pain intensity, which could explain alcohol misuse in those with persistent pain despite its potential consequences for long-term health," lead author Trevor Thompson, the University of Greenwich said.
The Sun Newspaper, quoting Thompson said, "It can be compared to opioid drugs such as codeine, an opiate, and the effect is more powerful than paracetamol (acetaminophen)." Therefore, alcohol as a pain reliever, without its harmful side effects, would be a breakthrough product.
Abuse Could Increase
As every coin has two sides, the confirmation of the analgesic effect has given rise to fears that it could lead to alcohol misuse in pain patients. The strongest analgesia occurs for alcohol levels exceeding WHO guidelines for low-risk drinking.
Some patients who are on pain medication and are unable to get complete relief begin to mix them with alcohol, which works because of its dulling effect.
Gradually, they begin to increase their intake and reach a point of being addicted to it. There is another danger as well. Mixing alcohol and pain medicines can be very harmful.
Therefore, the paper recommends vulnerable patients be put on less harmful pain interventions.
The findings are preliminary in nature, with the paper suggesting that further research is needed to corroborate these findings for clinical pain states.
Posted-In: alcohol Embase Journal of Pain medicinal alcoholEducation Health Care Psychology General Best of Benzinga
View Comments and Join the Discussion!