What Does The China Trade Deal Mean For Financial, Beef And Poultry Players?
After all the bravado about bringing China down to its knees, President Donald Trump seems to be warming to the idea of putting up with the Dragon nation in order to maintain global order. The telling proof for the changed stance came from the set of trade deals signed between the world's first largest economy and the second largest on May 11.
Angie Setzer, a grain industry veteran and vice president of Grain for Citizens Elevator in Charlotte, Michigan, has this to say when asked about whether the reversal in stance an acknowledgment of China's supremacy in world affairs.
"I think we've grown comfortable with the idea that much of what Trump has said whether on the campaign trail or in the early days of his presidency tends to have been a much tougher approach than what we're seeing when the deals are actually cut," Setzer said.
"Whether you would call it a reversal or a change in rhetoric it has appeared to work, at least when it comes to the compromises outlined in this recent set of agreements."
Why A Trade Deal With China Is Important For The US
China is currently the largest goods trading partner of the U.S., with the total trade of both goods and services estimated at $648.2 billion in 2016. Goods and services imported to China totaled $169.3 billion compared to $478.9 billion worth of goods and services exported from China, resulting in a deficit of $309.6 billion on the trade with China. The total trade deficit of the U.S. for 2016 was $500.560 million.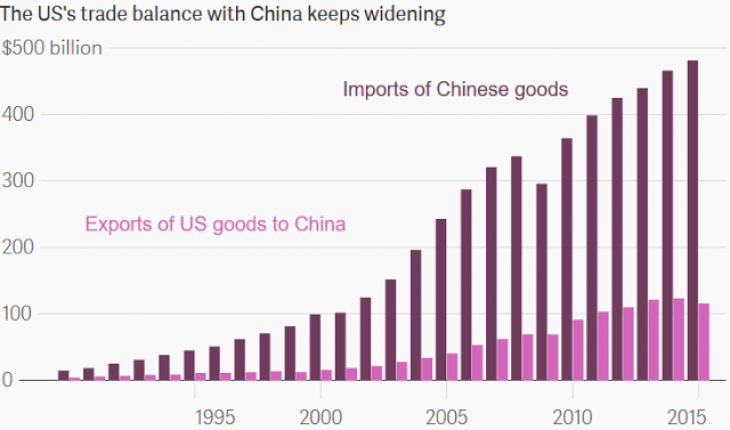 Source: Next Big Future.com
Majority of goods imported from China are consumer electronics, clothing and machinery. According to Balance.com, U.S. exports raw materials to China with the intention of getting the finished product, capitalizing on China's low assembly costs.
How does China accomplish to keep assembly costs down? The low standard of living in China relative to the U.S. allows Chinese companies to pay lower wages. Additionally, the exchange rate of the Chinese yuan, which is partially tied to the dollar, also helps.
Estimates by the Commerce Department pitches the jobs generated by the export of goods and services to China at 911,000 in 2015, 601,000 from the export of goods and 309,000 from the export of services.
What Does The May 11 Deal Bequeath?
The May 11 deal is a follow through on the agreement between Trump and Chinese President Xi Jinping at their Mar-a-Lago meeting in April to advance the U.S.-China economic cooperation with a 100-day action plan under the framework of the U.S.-China Comprehensive Economic Dialogue.
The initial actions outlined by the government release included:
China to allow beef imports from the U.S. no later than July 16, 2017; this is contingent on another round of technical consultations between the U.S. and China.
Resolution of outstanding issues related to the imports of cooked poultry from China, with the U.S. to publish a proposed rule by July 16, 2017, at the latest.
Following assessment by the China National Biosafety Committee, China is to grant certificate for U.S. biotechnology products that pass the safety evaluation within 20 days of determination.
Allowing China access to LNG imports from China.
By July 16, 2017, China is to allow foreign-owned financial services firms in China to provide credit rating services and to begin the licensing for credit investigation.
By the same deadline, China is to allow U.S.-owned suppliers of electronic payment services to begin the licensing process, and also bond and underwriting and settlement licenses are to be issued to two qualified U.S. financial institutions.
One Belt One Road Initiative
Over and above this, as part of the deal agreed upon by three co-chairs, namely the U.S. Secretary of Treasury Steve Mnuchin, U.S. Commerce Secretary Wilbur Ross and Chinese Vice Premier Wang Yang, also recognizes the China's One Belt and One Road, or OBOR, initiative and was to send delegates to attend the Belt and Road Forum in Beijing May 14–15.
The OBOR initiative is a strategy proposed in 2013 to establish connectivity and cooperation among China and the rest of Eurasia, with a land-based Silk Road Economic Belt and ocean-based Maritime Silk Route. This is seen as a way of China asserting its supremacy in global affairs.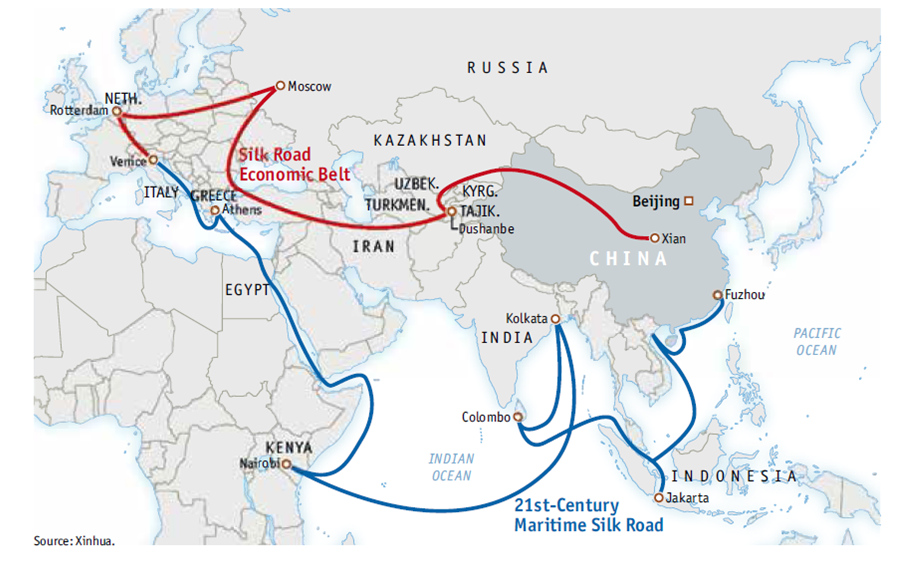 Setzer believes Trump's softened stance in acknowledging the OBOR initiative is attributable to many reasons, the chief among them being the agricultural trade opportunities presented by China and a helping hand China may provide in handlong relations with Russia and North Korea.
"From an agricultural standpoint the amount of money China is looking to spend on food imports in the next decade could easily outpace the benefits China is looking to obtain through this policy. China's ability to direct diplomatic relations from a global standpoint cannot be ignored either. China has put themselves in an interesting position in the world and I believe this shift in policy from the US when it comes to the One Belt One Road initiative is us simply acknowledging that importance," Setzer clarified.
Trump's stance is a radical shift from his predecessor, former President Barack Obama, who stitched up a deal, named the Trans-Pacific Partnership, or TPP, with 12 Pacific Rim nations, including many of China's neighbors but excluding China. China was reluctant to confirm to the reforms potential member nations had to adhere to, hence the exclusion.
The treaty was meant to trim tariffs, incentivizing trade among the involved parties. However, on assuming office, Trump dismantled the TPP.
Old Wine In A New Bottle
However, some argue that the trade agreements don't offer anything new. All agreements are either adding new details or chalking up new deadlines for the agreement that were already in place under Obama.
Setzer sees one marked difference between the approach of President Trump and Obama. While Obama was trying to reduce China's importance through the TPP, Trump is much more interested in working with China unilaterally before building up other trade relations with the countries working together under TPP.
What Does The Trade Deal Mean?
1. Financial Industry
The deal provides for U.S-owned card payment services breaking the monopoly of China's UnionPay system, which is owned by Chinese banks and has about 90 percent share of the overall market. Credit card companies such as Visa Inc (NYSE: V) and Mastercard Inc (NYSE: MA) can now begin preparing for applying licenses to operate in China.
The participation could be either in the form of going solo in offering yuan credit cards or offering dual-branded cards with Chinese banks. However, there are doubts, China would provide a level playing field for the U.S. companies, which would go a long way in helping them snare market share.
Probed on whether China will offer a level playing field for the U.S. firms, Setzer suggested it isn't likely.
"Historically even though the playing field may look even from a distance intricacies of market adjustments and rules will likely limit the ability for Visa, Mastercard or any others to get a hold of a significant market share in the country — unless of course a large investment was made by the Chinese government into one of those companies named," Setzer explained.
Credit rating agencies such as S&P Global Inc (NYSE: SPGI)'s S&P Ratings, Fitch and Moody's Corporation (NYSE: MCO) stand to benefit when they get a foothold in the Chinese markets.
2. Beef And Poultry Industry
The U.S. livestock industry sees the agreements related to beef export and poultry imports as opening up a new lucrative market for their products. Beef exports to China, which was banned in 2003 after an outbreak of the mad cow disease, would now restart after a 14-year hiatus.
A report in USA Today, quoting Food Safety News, said beef exports from the U.S. fell to $1.1 billion in 2004 from $3 billion in 2003, due to the worldwide ban on U.S. beef exports. Potential presented by the Chinese middle customers is seen as vast by the beef industry.
Allowing beef exports from U.S. is seen as a move by China to get their cooked chicken into the U.S. In return, it is also seen as a step toward lifting of the ban on U.S. cooked chicken imports into China. The premise based on which Chinese chicken exports was the poor quality standards of the Chinese processing facilities.
However, Setzer believes this scenario has changed slightly, with improvements made in the plants cooking the chicken products expected to be imported by the US.
"The reasons behind a US refusal to import uncooked meat (bird flu, disease, tainted supplies) have not gone away," Setzer said.
"However Chinese officials claim they have been working hard to improve the facilities handling the expected exported product. China is now working with US officials allowing inspections of those facilities as well — just to add, the US will not import food products that do not meet inspection standards equal to that of the US. Because of this most say these imports will be safe — we'll let the consumer be the judge of that."
Jim Sumner, president of USA Poultry & Egg Export Council was quoted by USA Today as saying, "We can't produce enough chicken wings to satisfy demand here. So it's all good. We're glad to see it happen because our industry believes in free, open trade."
The recent deal should help the cause of chicken and beef companies such as Tyson Foods, Inc. (NYSE: TSN), Hormel Foods Corp (NYSE: HRL), Sanderson Farms, Inc. (NASDAQ: SAFM) and Pilgrim's Pride Corporation (NASDAQ: PPC).
Meanwhile, Setzer take is that the Chinese chicken may offer competition to the U.S. firms, although she doesn't expect a shock overall but a small impact.
"The American consumer is not going to line up for Chinese chicken products. Those unaware may change their buying habits, but most will avoid imported meat products from China, in my opinion," Setzer said.
Related Links:
China Gears Up To Take On Trump Even As Domestic Economy Slows To 26-Year Low
View Comments and Join the Discussion!
Posted-In: Education Emerging Markets Futures Commodities Politics Top Stories Exclusives Markets Best of Benzinga