China Gears Up To Take On Trump Even As Domestic Economy Slows To 26-Year Low
The hot-and-happening economy is showing cracks. China, the world's second largest economy behind the United States, saw its economic growth decelerate to the slowest pace in over a quarter of a century in 2016 as it strives to transition to a neutral policy. That said, optimists expressed comfort at a slight acceleration in economic growth for the first time in two years in the final quarter of 2016. The data comes amid testing times for China, which is being threatened by policy backlash from the United States where Republican candidate Donald Trump, a proponent of protectionists policy, assumes office Friday.
2016 GDP Slows; Q4 Picks Up Pace
Data released by the Chinese National Bureau of Statistics showed that the Chinese economy grew at an annualized pace of 6.7 percent in 2016. The fourth quarter saw a slight pick-up in pace to 6.8 percent year-over-year from the 6.7 percent run rate seen in each of the first three quarters. Economists were bracing for a slightly slower growth of 6.7 percent.
The 2016 growth, the slowest in about 26 years, followed 6.9 percent growth in 2015, but is within the central government target of 6.5–7.5 percent.
Credibility Of Data Under Question
Economists and market participants, however, take the macro data with a pinch of salt, as not many believe these are real numbers. Some provinces reportedly inflate statistics to show that local leaders have been successful in revving up the economic performance, while there are others who intentionally under-report for securing additional favors from the central government.
Some experts suggest the actual GDP growth number could be anywhere near 4 percent. However, even a 4 percent growth stacks up better against the developed nations such as the United States (1.7 percent year-over-year growth in Q3) and Japan (2.2 percent growth in Q3).
Recently, Chen Qiufa, the governor of Liaoning made a startling disclosure that city and country level officials of the province cooked up numbers for the years 2011 to 2014 to give a misleading picture about the local economy to the central government.
To dispel doubts and to add credibility to the numbers released on Friday, Ning Jizhe, the head of National Bureau of Statistics said the numbers are authentic and reliable but promised action against data fraud at local levels.
Quality Of Growth A Concern
Apart from the veracity of the data, quality of growth is a concern too. Analysts feel there is a debt bubble waiting to burst. According to data released by the People's Bank of China, the number of new loans issued in China was up 16 percent sequentially and 26 percent year-over-year in the fourth quarter.
The drive to meet the government's growth target is seen as the reason behind the indiscriminate lending resorted to by the banks. To put things in perspective, total debt was about 2.4 times the nation's GDP, which sure looks like a real problem in hand. As the economy transitions from an export-driven to domestic demand-model, the country is unable to keep up the growth pace. As a panacea, the government is forced to fuel credit growth to drive short term growth.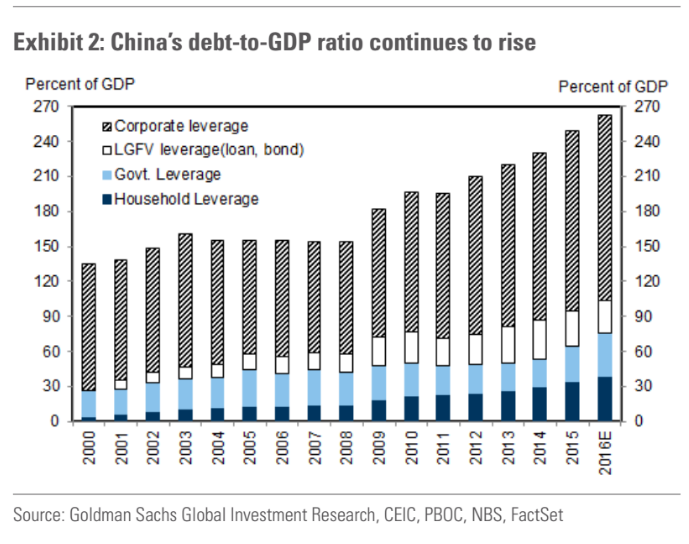 Breakdown Of 2016 GDP Numbers
Production approach analysis showed that the primary industry (agriculture and allied activities) accounting for 8.5 percent of the total growth saw value addition growing by 3.3 percent in 2016 compared to 6.1 percent for the secondary industry (the industrial sector) and 7.8 percent by the tertiary industry (the services sector). The secondary and the tertiary industries accounted for roughly 40 percent and 52 percent of activity, respectively.
Expenditure side breakdown showed that fixed asset investment rose a real 8.8 percent and Retail sales was up 9.6 percent. Exports fell 2 percent, while imports were up 0.6 percent.
At the same time, inflation is picking up, with the annual consumer price inflation rate for 2016 at 2 percent. For December, consumer prices were up 2.1 percent year-over-year and producer prices rose 5.5 percent, with the metric snapping 54 consecutive months of declines in September and turning positive subsequently.
Way Forward
A Reuters report suggested that a closed-door meeting of the Central Economic Work Conference targeted GDP growth of 6.5 percent for 2017, a slowdown from the 2016.
Trump Threat Looms
Even as China is grappling with multiple issues at home, the nation is set to face the Trump threat. Trump has been sending out overt threats of launching a trade war with China. His suggestion of imposing a 45 percent tariff on imports from China is a step in this direction, with economists predicting a decline in Chinese exports to the United States by one-half or even up to 87 percent from the purported move.
With Chinese exports to the United States accounting for roughly 18 percent of its total exports, total exports by China is seen to decline by 9 percent. This would hurt overall GDP notably despite the Chinese move to diversify away from export-related growth. Apart from hurting exports, such a move would also wreak havoc on the job market.
The threat of the United States naming China a currency manipulator is also looming large, with Trump tweeting his displeasure at China devaluing its currency. However, there are views that election campaign rhetoric is mostly a empty threat and is hardly followed up.
The likely recourse for China is to penalize some large U.S. corporations operating in China or doing business with it. China could also seek to cut down on Chinese investments in the United States, which could serve the purpose of hurting the U.S. economy as well as slowing capital flight from China.
China is effectively going through turbulent times and the onus of taking the economy unscathed from the looming U.S. threat and the domestic risks lies with the Communist regime and the policymakers.
Image Credit: By U.S. Army/Rachel Larue [Public domain], via Wikimedia Commons
Posted-In: Central Economic Work Conference Chen QiufaNews Emerging Markets Politics Markets Trading Ideas General Best of Benzinga
View Comments and Join the Discussion!