The Market In 5 Minutes: Gold's New Market, Dakota Pipeline And A Nike Upgrade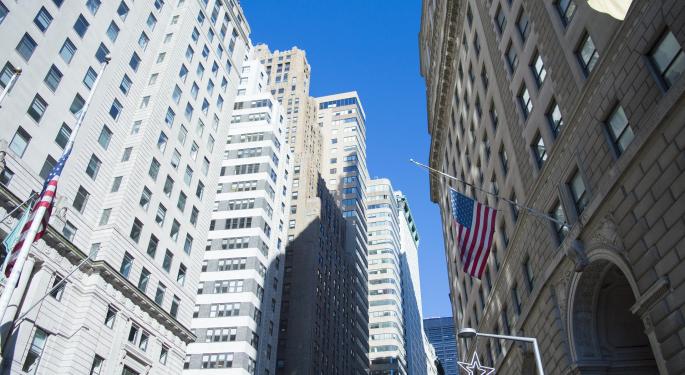 Macro Focus
Futures for the Dow Jones Industrial Average climbed 72 points to 19,230.00, while the Standard & Poor's 500 index futures gained 7.50 points to 2,199.50. Futures for the Nasdaq 100 index surged 20.50 points to 4,759.00.
Oil prices traded higher as Brent crude futures gained 0.44 percent to trade at $54.70 per barrel, while US WTI crude futures also rose 0.35 percent to trade at $51.86 a barrel.
Chicago Federal Reserve Bank President Charles Evans will speak in Chicago at 9:11 a.m. ET.
US Services Purchasing Managers' Index for November is schedule for release at 9:45 a.m. ET.
The ISM non-manufacturing index for November will be released at 10:00 a.m. ET.
The Labor Market Conditions Index for November is schedule for release at 10:00 a.m. ET.
The Treasury is set to auction 3-and 6-month bills at 11:30 a.m. ET.
The TD Ameritrade IMX for November will be released at 12:30 p.m. ET.
St. Louis Federal Reserve Bank President James Bullard is set to speak at the Arizona State University, W.P. Carey School at 2:05 p.m. ET.
BZ News Desk Focus
As the quarter and the calendar year wind down, things turn quiet on the earnings front. Yet, the latest quarterly numbers from specialty retailers Costco (NASDAQ: COST) and Lululemon (NASDAQ: LULU) will be among the highlights this week. The consensus Wall Street forecasts see top- and bottom-line growth for the membership warehouse operator for the three months that included an announcement that some fees would be raised. The yoga apparel focused retailer is also expected to show earnings and revenue gains year-over-year, in the period that included some chatter about going private.
Sell-Side Themes
HSBC initiated Goldman Sachs (NYSE: GS) at Buy and Morgan Stanley (NYSE: MS) at Hold.
Citi downgraded Kinross Gold (NYSE: KGC) to Sell and Newmont Mining (NYSE: NEM) to Neutral.
Sell-Side's Most Noteworthy Calls
Deal Talk
Burberry (OTC: BURBY) is said to have rejected multiple takeover from Coach (NYSE: COH), according to sources as reported by Financial Times on Sunday. Sources say there are currently no ongoing discussions.
Consolidated Communications (NASDAQ: CNSL) will acquire FairPoint Communications (NASDAQ: FRP) for about $1.5 billion in an all-stock merger.
Edgar Bronfman Jr. had some big plans for the titles at Time (NYSE: TIME), according to the New York Post. Bronfman, who led Warner Music Group before selling it to oil mogul Len Blavatnik for $3.3 billion in 2011, had a vision for Sports Illustrated in particular. Sources said not to expect a higher bid from the consortium anytime soon, but keep an eye on savvy Bronfman's future media and music ambitions, as they've heard he's long had his eye on Sony's (NYSE: SNE) entertainment assets, too.
In The News
Gold is acceptable for the first time as an investment in Islamic finance after the group that sets standards for the industry adopted Shariah-compliant rules for trading the metal. The rules approved last month allow gold to be used in the $1.88 trillion Islamic finance business, the Accounting and Auditing Organization for Islamic Financial Institutions said Monday in a statement.
Italian Prime Minister Matteo Renzi's referendum defeat on Sunday has left Italy facing political and economic uncertainty. Renzi announced he was stepping down after his constitution reform plan was rejected by voters. Mattarella must decide whether to appoint a new PM or hold elections. There are concerns the instability may trigger a deeper crisis for Italy's already vulnerable banking sector.
Prime Minister Shinzo Abe said he will visit Pearl Harbor in late December to pay tribute to the victims of the Japanese attack there 75 years ago, becoming the first Japanese leader to do so.
The Obama administration said it had denied a permit needed to complete the last leg of an oil pipeline across the Midwest, prompting cheers from opponents but warnings that the move could be short-lived since President-elect Donald Trump supports the project.
Blogosphere
"For the last 35 years, the classic 60/40 portfolio returned 10.5% a year. It's hard to imagine that these results will be matched over the next 35 years, which has a lot of people looking to alternative ways of managing a portfolio."
Santa Claus has been benign even to the markets, as is evident from the typically strong rally witnessed at the end of the year. Named the "Santa Claus Rally," this annual trend refers to the strong upward move in stock prices between Christmas and New Year's. Now, how is this related to the "January Effect"?
Trending
GLD GDX DUST BAC DGAZ KITE ETP ETE
Donald Trump has never been afraid to voice his opinion on China, tweeting this on Sunday: "Did China ask us if it was OK to devalue their currency (making it hard for our companies to compete), heavily tax our products going into.. their country (the U.S. doesn't tax them) or to build a massive military complex in the middle of the South China Sea? I don't think so!"
CNBC reported Friday that this company is open to selling itself, however Reuters quickly countered with a report that the company is "making no effort to sell itself."
This was followed by a third report from Bloomberg that Sirius had recently approached the company to express renewed takeoever interest.
Sympathy plays include Amazon, Apple and Alphabet.

Posted-In: Market in 5 minutesNews Global Top Stories Markets Best of Benzinga
View Comments and Join the Discussion!