5 Sectors Millennials Prefer To Consumer Goods, And The Stocks That Prove It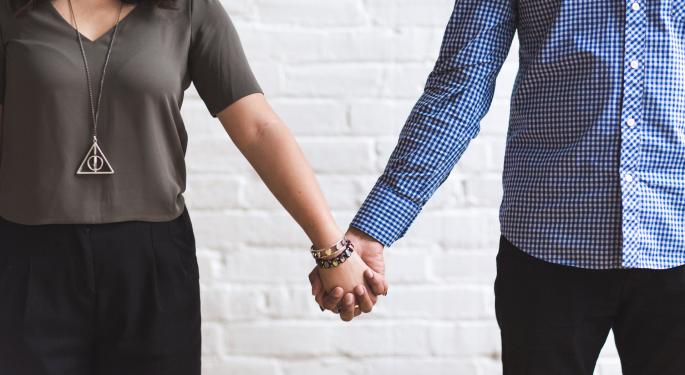 Jim Cramer recently said on "Mad Money" that the boom in travel and leisure stocks is a direct result of millennials' activity. Specifically, millennials are increasingly disinterested in consumer goods.
"They don't have much of a yen for material goods anymore. They want to go see and do things," said Cramer.
He went on to say the "selfie generation" especially would prefer to go somewhere cool and post a picture on social media than amass possessions.
Cramer didn't indicate whether he thought the trend was overall a positive or negative to the markets, but it seems safe to assume that sentiment among the older generations is negative.
Millennials have been blamed for "ruining" and "killing" everything from wine and golf to handshakes and democracy.
So, in a world where they are accused of both dining out too much and not dining out enough, here are five sectors millennials can be counted on to help perform.
Food
Every generation likes to eat, but it wasn't until the '90s that "foodies" became ingrained in popular culture.
That said, the vast majority of restaurants foodies want to patron are private operations. In the publicly traded realm, the companies that are earning millennial dollars are those that can provide quick and convenient food. Three top performing food stocks right now are:
Travel
As Cramer said, millennials love to travel. Airlines and hotel booking services have had a solid year, and even some hotel chains have seen strong gains, although there are growing concerns in the industry over the rapid rise of Airbnb.
Three of the best travel stocks over the last year are:
Video Games
Video games have never been hotter. ESports is on the rise, and established players in the sports media field are just starting to take seriously. The emerging industry already attracts audiences large enough to fill arenas and pay out millions in prizes.
These three game developers are at all-time highs:
TV Streaming
Millennials largely prefer to stream television shows and movies over the internet rather than watch through cable subscriptions because of its significantly cheaper pricing and mobility. They also boast high quality and popular original programming that can't be had with cable. The sector was largely driven by Netflix, Inc. (NASDAQ: NFLX)'s disruption of the traditional TV industry.
Three companies that have made a name among millennials are:
Music
There's no doubt that millennials are just as big on music as generations before. Perhaps even more so thanks to the internet making it possible for anyone to promote their music without a record label.
That said, it's tough to judge how the music industry has been performing, due to the immense popularity of privately held streaming platforms like Spotify and SoundCloud. Millennials tend to prefer the speed, ease and relatively low cost of these services compared to buying individual songs or albums.
Three stocks that have performed well this year are:
Related Links:
'Get Lit': Blend's Data Reveals How Millennials Talk About Weed
All Things Digital: Fidelity's Kathleen Murphy On Using Millennials As 'Highest Standard' For Creating Experiences
View Comments and Join the Discussion!
Posted-In: Education Psychology Travel Restaurants Top Stories Tech Media Trading Ideas Best of Benzinga