Market Primer: Thursday, September 26: Fed Budget Battle Weighs On US Stocks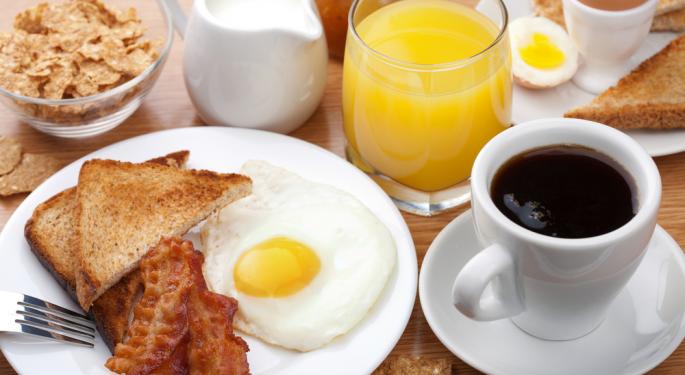 Policymakers in Washington continued to struggle with passing a spending bill that will keep the government going past October 1. Unfortunately, even if the bill is passed, most see this battle as just the tip of the iceberg as US Treasury Secretary Jack Lew has indicated that the US will reach its borrowing capacity on October 17.
With the possibility of a government shutdown looming, the US dollar and stocks have softened, but US Treasuries have rallied as investors look for security "just in case."
In other news around the markets:
Reports that the Japanese government was considering plans for corporate tax cuts helped boost Japanese shares on Thursday. Kyodo News wire reported that Prime Minister Shinzo Abe will soon announce his plans to study corporate tax cuts as part of an economic stimulus package.
US Treasury yields neared the 2.6 percent mark as investors flocked to a safe haven while the Federal spending budget hung in the balance. Treasury prices climbed for the fourth consecutive session on Wednesday as both the debt ceiling and the Fed's tapering plan encouraged buyers.
The Bank of England's Financial Policy Committee made its first public comments on real estate on Wednesday saying it had its eye on the housing market. The committee, organized to recognize crises before they develop, will be focused on increased mortgage lending as UK house prices rise. Many are worried that the inflating housing prices are the beginning of a housing bubble.
The recent wave of computer glitch errors have rival NYSE Euronext and NASDAQ OMX Group considering a partnership to cut down on trading errors. The two are discussing a plan in which each company houses a backup feed for the other's stock price data, so if one group's data is lost, investors can turn to the other exchange for the information.
Asian markets were mixed on Thursday; The Japanese NIKKEI was up 1.22 percent and Indonesia's JSX composite was up by 1.29 percent. China's Shanghai composite lost 1.94 percent and the Shenzhen composite was down 1.61 percent.
European Markets
European markets suffered on Thursday morning, the UK's FTSE was down 0.07 percent and the eurozone's STOXX 600 was down 0.12 percent. Italy's MIB lost 0.84 percent and France's CAC 40 was down 0.37 percent.
Brent futures were down 0.19 percent and WTI futures lost 0.14 percent. Gold was up 0.12 percent but silver lost 0.12 percent. Industrial metals were up across the board with Tin posting the largest gains, up 1.20 percent.
The euro was back above $1.35 on Thursday and the pound to dollar ratio remained flat. The yen lost 0.54 percent against the dollar and the Australian dollar was up 0.25 percent against the greenback.
Earnings
Notable companies that reported earnings on Wednesday included:
Stocks moving in the pre-market included:
Carnival Corp (NYSE: CCL) continued its fall and lost 0.36 percent in pre-market trade
McDonald's Corp (NYSE: MCD) gained 0.33 percent in pre-market trade after falling just over 1 percent over the past week.
Earnings Reports Expected On Thursday Include:
Accenture plc. (NYSE: ACN) is expected to report EPS of $1.01 on revenue of $6.09 billion, compared to last year's EPS of $0.88 on revenue of $6.84 billion.
Nike, Inc. (NYSE: NKE) is expected to report EPS of $0.78 on revenue of $6.97 billion, compared to last year's EPS of $0.64 on revenue of $6.47 billion.
Economics
Wednesday's economic calendar is a busy one with British consumer confidence, current account and GDP data, US pending home sales, initial and continuing jobless claims, and GDP data, the Brazilian unemployment rate and Italian retail sales.
Happy trading!
Posted-In: Earnings News Bonds Guidance Dividends Emerging Markets Eurozone Rumors Best of Benzinga
View Comments and Join the Discussion!