Why Apple Will Likely Remain Sole Member Of $1 Trillion Club For A While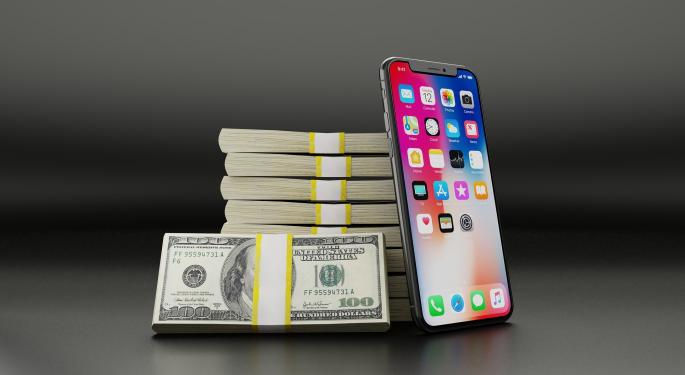 Less than two months ago, Amazon.com, Inc. (NASDAQ: AMZN) became the second company in the world behind Apple Inc. (NASDAQ: AAPL) to hit the $1-trillion market cap threshold.
Since that milestone Sept. 4, Amazon's stock is down 26.2 percent, and there's reason to believe Apple will remain alone atop the $1 trillion mountain for the foreseeable future — although the stock narrowly held the distinction when it closed down 6.63 percent Friday at $207.48 following a post-earnings sell-off.
Market Cap Giants
Incredibly, Amazon's market cap has dropped to $813 billion, putting it neck-and-neck with Microsoft Corporation (NASDAQ: MSFT).
Here's a look at the top 10 market caps as of Nov. 2 at the close:
Apple: $1 trillion
Microsoft: $814.91 billion
Amazon: $814.39 billion
Facebook Inc. (NASDAQ: FB): $434.09 billion
Alibaba Group Holding Ltd (NYSE: BABA): $382.58 billion
Johnson & Johnson (NYSE: JNJ) $377.41 billion
JPMorgan Chase & Co. (NYSE: JPM): $364.25 billion
Exxon Mobil Corporation (NYSE: XOM): $346.96 billion
Tech stocks have been on such a run in the past decade that it's easy to lose sight of what it actually means from a fundamental standpoint to get from $730 billion to $1 trillion in valuation.
At this point, Amazon needs to gain 34 percent to get back to $1 trillion. Considering how Amazon has performed in the past, investors may think that's no big deal. But from a fundamental perspective, $270 billion in value is a huge deal.
Golden Arches
For a bit of perspective, most investors recognize McDonald's Corp (NYSE: MCD) as the biggest, most successful, most global restaurant company in the world. McDonald's was founded in 1940, and over the next eight decades aggressively expanded to become one of the handful of most powerful American companies and most valuable American brands.
McDonald's market cap is $136 billion. In other words, in terms of value added, Amazon would need to add roughly two McDonald's worth of value to its business to get back to $1 trillion.
Share Price Vs. Fundamentals
Amazon bulls can say $1 trillion is no big deal because Amazon was there just two months ago. But hitting $1 trillion and staying there are clearly two different beasts. Market caps fluctuate on a daily basis, but they don't change anything fundamental about a company.
Just two years ago, Amazon's market cap was only $368 billion. Sure, Amazon is growing at an impressive clip, but to fundamentally justify Amazon at a $1-trillion valuation, the company would need to fundamentally be nearly three times the size of October 2016 Amazon.
If one company could produce the type of growth to add two McDonald's to its market cap in the blink of an eye, maybe it's Amazon. But it may be more likely that Amazon investors should forget about $1 trillion for the time being, and Apple investors should get used to being the lone member of the $1 trillion club.
Related Links:
6 Investing Lessons From Apple's $1 Trillion Climb
Posted-In: Education Top Stories General Best of Benzinga
View Comments and Join the Discussion!