6 Investing Lessons From Apple's $1 Trillion Climb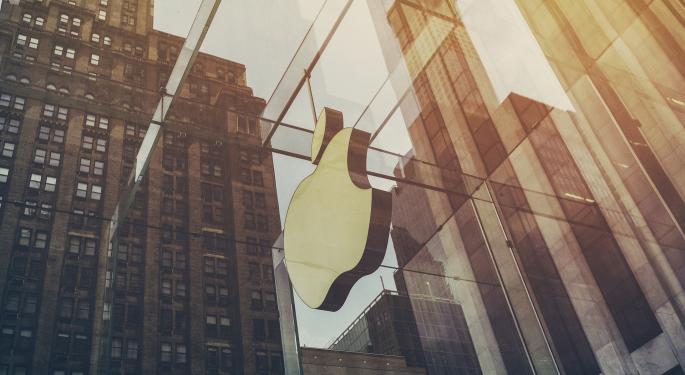 After years of speculation about which company would hit the elusive $1 trillion market cap first, Apple, Inc. (NASDAQ: AAPL) became the first U.S. company to reach the historic milestone on Thursday.
But while Apple investors are now neft to wonder where the stock will head from here, DataTrek Research's Jessica Rabe came up with a list of six things all investors should learn from Apple's meteoric rise to $1 trillion.
1. Companies can be more powerful than governments.
Rabe said Apple is an american company that produces its products in China, and its relationship with both nations is so important that it has avoided the crosshairs of the international trade war. "While this political hedge was clearly an accident of history, it works well today," Rabe said.
2. Hardware isn't dead.
For years, Silicon Valley investors have been focusing on the latest software trends, but the vast majority of Apple's revenue still comes from its devices. "Software may eat the world, as Marc Andreessen famously said 7 years ago, but it still needs hardware," Rabe said.
3. Value stocks can still grow.
It's been a difficult decade for value investors, but Apple became the first to hit $1 trillion and it didn't need a 20 times PE ratio to do so. "It would be logical, but wrong, to think a huge valuation must stem from a sky-high PE ratio," Rabe said.
4. Innovative genius is not required.
There's no question Apple wouldn't be where it is today without Steve Jobs, but Apple's current management team were able to pick up where jobs left off. "The team he put in place was able to find new ways to leverage it without his direct guidance," Rabe said.
5. Data privacy and security are valuable.
Apple has mostly avoided the privacy and security concerns weighing on its FANG brethren in 2018, and it likely never would have made it to $1 trillion this quickly otherwise. "Respecting data privacy and security helps equity valuations," Rabe said.
6. Premium products and brands count.
Much of the success in the tech world in the past decade has come from companies disrupting markets from the low end of the market, but Apple's products demonstrate that consumers are willing to pay more for high-quality products. "If smartphone unit counts drove market cap, Samsung would be getting ready to ring the $1 trillion bell instead of Apple," Rabe said.
For now, Apple investors can celebrate the company's historic achievement. However, the six points above may come in useful to investors who want to identify the next group of $1-trillion companies.
Related Link:
Wall Street Weighs In On Apple's Q3 Earnings Beat: Buybacks, Services, iPhone Demand In Focus
View Comments and Join the Discussion!
Posted-In: DataTrek DataTrek Research Jessica RabeEducation Psychology Top Stories General Best of Benzinga