6 Examples Of Billionaires Acting Like Supervillains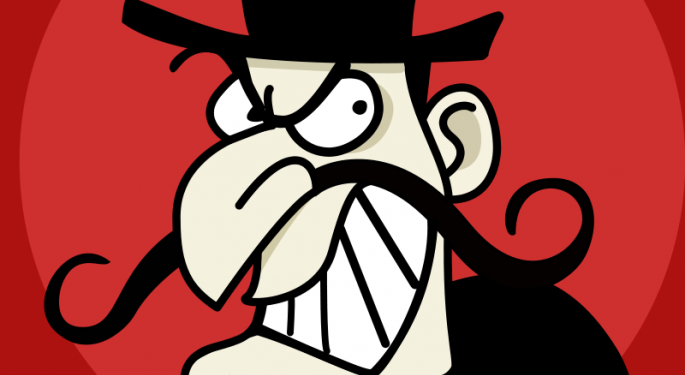 As flying taxis transform Dubai into the Jetsons' actual Orbit City and revelations abound of Obama-era CIA hacks, a common theme is emerging in contemporary society. The augury of artists is justified.
Now, as the world's ultra-wealthy emulate supervillains with futuristic ventures and oft-unchecked ambition, the literary prophets are three for three in foresight.
Here are six occasions of elite billionaires presently flexing their super muscles.
6. Larry Ellison
The world is a giant Risk board for the former Oracle Corporation (NYSE: ORCL) CEO. Ellison bought out the Hawaiian island of Lanai in 2012 and controls vast real estate in Malibu, Lake Tahoe, San Francisco and Kyoto, Japan.
5. Donald Trump
People of affluence are generally people of influence. But President Donald Trump, whose "Big Brother" policies have many dusting off copies of "1984," has taken the correlation to new heights. The man now boasts a deadly trio of money, prestige and power; not much more is required for world domination.
What's more, Sportsnet's Andrew Berkshire recently pointed to a striking resemblance between Trump's business practices and Lex Luther's.
When DC Comics made Lex Luthor president, he sold LexCorp. Trump is literally less ethical than a comic book villain.

— Andrew Berkshire (@AndrewBerkshire) March 27, 2017
4. Bill Gates
On his quest to dominate the world with good-intention ventures promoting access to vaccinations, clean water and the like, the Microsoft Corporation (NASDAQ: MSFT) co-founder has used his influence to get people to do a number of crazy things, including consume toilet water.
The philanthropist may not have the character of a supervillain, but he sure has the house of one. His $125 million property is straight out of Walt Disney Co (NYSE: DIS)'s "Beauty and the Beast" or "Smart House."
The home features a high-tech sensor system to alter temperature and lighting, an in-wall sound system following listeners from room to room, underwater pool speakers, a trampoline room, a 200-guest reception hall, a 20-guest home theater, 24 bathrooms, six kitchens, a 2,100-square-foot library, a 900-square-foot activities building, a 1,900-square-foot guest house and several garages accommodating 23 cars.
In another "Beast" parallel, Gates even protects a favorite tree under 24-hour computer monitoring.
3. Peter Thiel
Nine years ago, the Paypal Holdings Inc (NASDAQ: PYPL) co-founder invested $1.7 million in the Seasteading Institute to develop a libertarian utopia in the middle of the ocean. Thiel recently told the New York Times Co (NYSE: NYT) that the idea's no longer an immediate priority.
"That's still very far in the future," he said.
He's also been known to push the limits of youth and immortality with interest in experimental parabiosis (youth blood transfusion), cryogenics (body freezing) and growth-hormone enhancements.
2. Jeff Bezos
At the Amazon.com, Inc. (NASDAQ: AMZN) MARS conference earlier this month, the company's CEO channeled Iron Man as he piloted a massive, mechanical robot suit designed by South Korea's Hankook Mirae Technology.
I just got to pilot an awesome (and huge) robot thanks to Hankook Mirae Technology. Nice! #MARS2017 pic.twitter.com/MvN6ghEYFi

— Jeff Bezos (@JeffBezos) March 20, 2017
In a side venture, Bezos is also poised to snatch up space real estate with Blue Origin's luxurious tourism capsules.
1. Elon Musk
The Tesla Inc (NASDAQ: TSLA) and SpaceX CEO launched Neuralink, an enterprise aiming to implant a "neural lace" in the human brain. What's described as a digital layer above the cortex could, at its worst, serve as a welcome mat for brain hackers and, at its best, further distinguish the ultra-wealthy from everyone else.
Related Links:
25 Interesting Facts About Forbes' 25 Highest-Earning Hedge Fund Managers
GOP Tax Plan Would Sacrifice Long-Term Debt For Quick Gains, Penn Wharton Analysis Shows
_________
Image Credit: By J.J. at the English language Wikipedia, CC BY-SA 3.0, via Wikimedia Commons
Posted-In: Bill GatesEducation Movers & Shakers Politics Psychology Top Stories Movers General Best of Benzinga
View Comments and Join the Discussion!