This Weekend, The SECC Expo Brings Cannabis Education To Florida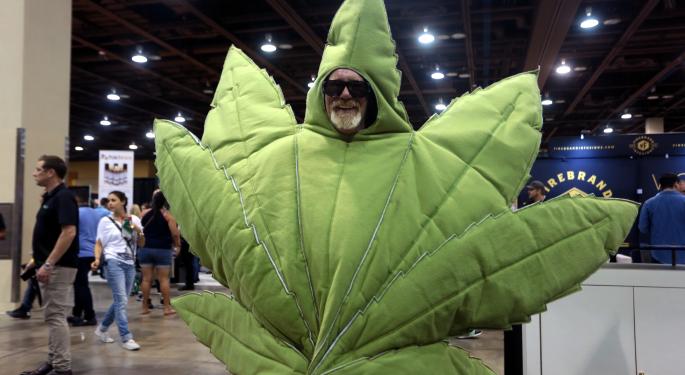 The Southeast Cannabis Conference & Expo has just kicked off in Fort Lauderdale, Florida, and will go on until Sunday afternoon. This non-consumption event is aimed at educating, engaging and empowering "the cannabis industry of tomorrow," Executive Operations Director Danielle Sedgwick told Benzinga.
The conference and expo will feature educational and business panels, family-friendly entertainment and even Spanish-speaking presenters for the Latino community in the Southern state.
Among notable speakers are TV actor Montel Williams; former NFL players Ricky Williams, Marvin Washington and Boo Williams; former NCAA player turned medical marijuana entrepreneur Treyous Jarrels; and former NFL and USFL Tight End Darren Long. "Our goal is to create an electric environment where industry members, entrepreneurs, local leaders, emerging companies, job seekers and curious individuals can come and learn about the expanding cannabis industry," Sedgwick said.
Related Link: Montel Williams Talks About His Cannabis Company And Its Emphasis On Patients
In addition, the SECC Expo will count on the presence of other prominent industry characters Benzinga has spoken with in the past, like Viridian Capital Advisors' Scott Greiper and cannabis entrepreneur and activist Bonita Money.
One of the speakers, Raúl Elizalde, a globally known medical cannabis activist who became the first to win the right (in court) to import to Mexico cannabidiol (CBD) hemp oil to treat his daughter, Grace's, severe form of epilepsy, told Benzinga: "Seeing how hemp CBD oil has helped my daughter has driven me to be an outspoken advocate for this medicine ... This conference is the first in Florida, during a time when the state is discussing expanding its program, making this event timelier than ever. I want everyone to know how medical cannabis can help save lives."
Interesting Workshops
Going through the events schedule, two workshops caught Benzinga's eye: the Cannabis Investment Workshop presented by Viridian and Technical 420, and the one-day career course "Marijuana Industry 101 & 102 Course: Shifting Your Career Into The MMJ Business & Enter the Cannabis Industry," hosted by Clover Leaf University (CLU).
While tickets are currently on sale starting at $50 per day, minors accompanying adults, medical marijuana cardholders, seniors aged 65 and above, and U.S. military veterans can gain access for free.
More From Benzinga:
'Pot Baron' Andy Williams Discusses Challenges Of Entering The Cannabis Industry And How To Overcome Them
Patent Wars Surprisingly Reach The Cannabis Industry: How Do You Register A Plant?
_______
Image Credit: By Gage Skidmore from Peoria, AZ, United States of America (Marijuana cosplayer) [CC BY-SA 2.0 (http://creativecommons.org/licenses/by-sa/2.0)], via Wikimedia Commons
View Comments and Join the Discussion!
Posted-In: Biotech Cannabis News Education Emerging Markets Previews Topics Events Best of Benzinga