Montel Williams Talks About His Cannabis Company And Its Emphasis On Patients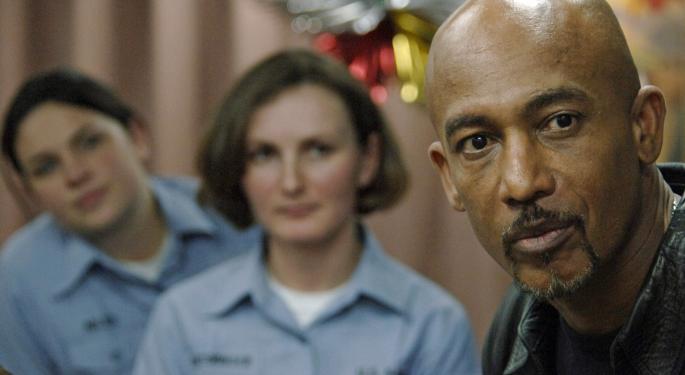 TV personality Montel Williams was one of the keynote speakers at the Viridian Cannabis Investment Series, hosted by Viridian Capital Advisors at the John Jay School of Criminal Justice in New York City.
Before his moving, personal speech on medical marijuana and the importance of patient care, Benzinga had the chance to ask Williams about his recent venture in the space, Lenitiv Labs.
Meet Lenitiv Labs
Benzinga: Can you tell us about Lenitiv Labs?
Montel Williams: I became involved in cannabis 17 years ago and have been a part of the Victoria Island Compassion Society in Canada for almost 14 years.
Only recently, I decided to get into this industry, because I wanted to be an actual provider of medication.
So, I formed a company called Lenitive Laboratories, which is a full-spectrum cannabinoid company. We're doing things that no one in this industry is doing right now.
We're doing 100 percent supercritical CO2 extractions, but we're doing a two-stage distillation with a single-stage wash. We're cleaning this product, we're taking it down to base cannabinoids, stripping out all terpenes, and then going back and reintroducing the useful ones.
No Baloney
Williams moved on to talk about the cannabis industry and how he is getting involved "not like everybody else."
Williams: You've got all these people who've gotten all caught up in making sure that they can replicate Bubba Kush, OG This, Smack My Mama This... whatever the stupid names are of the products that they come up with. They think they need to make sure that people can taste that difference.
Well, I will also tell you that that's a lie, and has been a lie in this industry for the last 12 years, because if we really, really, really, really, really do the research on cannabinoids, we understand that in ancient times there were probably only seven different plants. Notwithstanding, we have taken these seven plants and crossbred them once and again, and now — I don't care what dispensary you walk into anywhere in this country — you see something that's called O This or B This... but it's not! They just threw a name on it just to make it up.
So, instead of chasing smells, I'm trying to make medication.
As I said before, we've been reintroducing those useful terpenes into our oil. Now we understand through other sources, through other valid research, that there are certain terpenes that have medicinal properties; we know this now for a fact, and this applies not only to cannabis.
Instead of introducing fruit-based and plant-based terpenes back, we strip our product out and put back in hemp-based, cannabis-based terpenes, taking out the ones that are unnecessary and leaving in the ones that actually have some medicinal benefit.
Instant Hit
Pretty much like "The Montel Williams Show," Lenitiv's products have been a hit.
"So far, the reaction of our product line has been unbelievable," Williams revealed. "We've started the company six months ago and, within the next 30–60 days, we will be in four states, because right now, people have seen the product, they've tasted the product, they tested the product."
BZ: Tell us about the product line.
Williams: We have seven different formulations.
I believe we are the only cannabinoid oil in the entire country that is truly edible and vape-able. But we also give you a spectrum of choice: everything from a very high C.B.D. percentage with some T.H.C., to a very high T.H.C. percentage with C.B.D.
So, what we are doing is what sciences told us we should be doing: looking at this plant as if it had an orchestra effect and putting the cannabinoids together in a way that can elicit certain responses.
Right now, we only have anecdotal data, but we intend to start collecting clinical data soon.
So, that's the difference in what I'm doing. And, you know, I'm not knocking anybody who's involved in the other side; go have as much fun as you have. But for a person like me, I need to make sure that what I'm putting in my body is as efficacious for me and as pure as possible.
BZ: How safe is it?
Williams: I have a daughter who has epilepsy, and I want to make sure that she's getting efficacious and pure treatments.
And, I will make sure that anybody else who looks to me for advice gets a product that they can guarantee will be the cleanest product in the market. Right now we are zero parts per million of any contaminant whatsoever, and we're only using CO2.
BZ: Which indications are you targeting right now?
Williams: There's a broad spectrum.
We know that science has proven that most neurological-based diseases can be helped. So, everything from Chron's to M.S. to fiber myalgia to localized pain...
I think a lot of people have been using a lot opioids and don't even know why they use them. For a majority of this people, the reason why they use opioids is because they're addicted, and they don't know they are.
Even if you only take in 100 or 200 milligrams a day... If you look back over the last 75 days and you took 200 milligrams every day, you have not a problem with your pain; you have a problem with addiction.
In these cases, we have found that cannabinoids serve as good transitional drugs to get people off opioids, while still providing pain relief.
More From Benzinga (Cannabis + Stigma):
From NCAA Outlaw To Medical Marijuana Entrepreneur: Treyous Jarrells Talks Opioids, Weed And Changing The Stigma
Overcoming Stigmas: The Game Is Trying To Educate Others On Marijuana, Children's Health And Adult Fitness
________
Image Credit: By U.S. Navy photo by Mass Communication Specialist 2nd Class Kitt Amaritnant [Public domain], via Wikimedia Commons
View Comments and Join the Discussion!
Posted-In: Cannabis Education Emerging Markets Health Care Topics Top Stories Startups Exclusives Best of Benzinga