15 Upcoming Earnings Reports To Keep An Eye On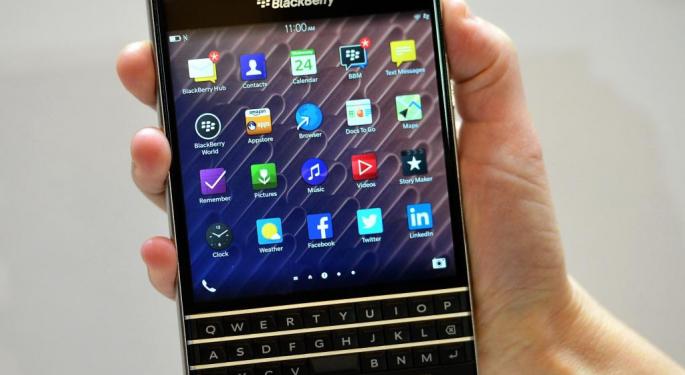 A relatively quiet week on the earnings front will be highlighted by the most recent quarterly results from BlackBerry Ltd (NASDAQ: BBRY), Carnival Corp (NYSE: CCL), ConAgra Foods Inc (NYSE: CAG), GameStop Corp. (NYSE: GME) and Lululemon Athletica inc. (NASDAQ: LULU).
If the analysts' consensus forecasts are correct, there will be no clear trend among these most prominent reports for the week.
Below is a quick look at what analysts are looking for from these results, as well as some of this week's other most anticipated earnings reports.
BlackBerry
The fiscal fourth-quarter forecast for this struggling tech company calls for a per-share net loss that narrowed from $0.08 in the year-ago period to $0.04. Also, revenues for the three months that ended in February are expected to have slumped almost 18 percent to $802.29 million.
The full-year net loss is estimated at $0.15 per share, which would be an improvement from the $1.35 per share lost in the previous year.
The anticipated revenue of $3.49 billion would be almost 49 percent lower. Look for BlackBerry to release its results Friday before the regular trading session begins.
See also: These 4 Stocks Finished The Week At 1-Year Lows
Carnival
The consensus estimates for this cruise ship operator call for a profit of $0.10 per share and for revenue to total $ 3.57 billion for its fiscal first quarter, when it reports Friday morning. That would compare to break-even per-share earnings and revenue of $3.58 billion in the same period of last year.
That consensus earnings per share (EPS) estimate has ticked up by a penny in the past 30 days, and note that Carnival's earnings have handily exceeded analysts' expectations in the past four quarters.
Looking ahead, sequential and year-over-year growth on the top and bottom lines is predicted for the current period.
ConAgra Foods
When it shares its results first thing Thursday, this Omaha-based company is expected to say its earnings for the most recent quarter came in at $0.55 a share. That would be down from $0.62 per share in the year-ago quarter.
Note that the consensus EPS estimate was up at $0.61 just 60 days ago.
The analysts' forecast for ConAgra also calls for revenue to be almost 12 percent lower than a year ago to $3.87 billion for the fiscal third quarter.
Looking ahead to the current quarter, so far revenue is expected to have dropped again, while EPS are higher both sequentially and year-on-year.
GameStop
Analysts expect this Texas-based video game purveyor to post $2.16 per share earnings for its fiscal fourth quarter, which would be about 12 percent higher than in the year-ago period. However, note that analysts overestimated EPS by four cents back in the third quarter, the second miss in the past year.
Revenue for the three months that ended in January is predicted to be less than 2 percent lower than a year ago to $3.63 billion.
Sequentially, revenue will be lower in the current quarter, if the consensus forecast is accurate, but up more than 7 percent year on year. Look for GameStop's results after Thursday's closing bell.
Lululemon
In its report early Thursday, this yoga-inspired apparel maker is expected to say that its EPS slipped two cents to $0.73 for the three months that ended in January. In addition, full-year EPS are expected to come to $1.83, which would be down from earnings of $1.91 per share in the previous year.
The forecast has revenues up more than 15 percent to $601.61 million for the fiscal fourth quarter and up about 13 percent to $1.80 billion for the full year. For the current quarter, about a 15 percent gain in revenue is anticipated thus far, as well as EPS that are up almost 13 percent from a year ago.
See also: Why This Analyst Has Tesla As His Top Pick Of The Year
And Others
Analysts also are looking for earnings growth this week from the following:
However, a quarterly net loss is forecast for Apollo Education Group Inc (NASDAQ: APOL).
Watch for upcoming reports from the likes of Micron Technology and Monsanto, before a new earnings season kicks off in early April with the first-quarter report from Alcoa.
Keep up with all the latest breaking news and trading ideas by following Benzinga on Twitter.
View Comments and Join the Discussion!
Posted-In: Blackberry carnival conagra foods gamestop Lululemon AthleticaEarnings Previews Trading Ideas Best of Benzinga