7 Big Companies That Could Tap The IPO Markets In 2018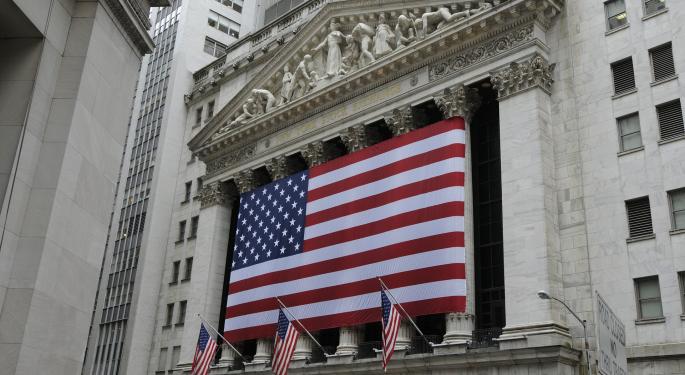 A breakout year for IPO has yet to materialize after the stellar showing in both 2013 and 2014. The performance in 2017 can at best be qualified as lukewarm — despite the record run of the equity markets.
IPOs could become easier, gaccording to a report in the Wall Street Journal Thursday. Citing people familiar with the matter, the Journal said the SEC is contemplating a deregulatory move that would allow all "wannabe public companies" to hold private talks with investors before announcing an IPO. This privilege was previously accorded by a 2002 law to smaller firms through the Jumpstart Our Business Startups Act, or JOBS, route.
A provision under the act that allowed companies to secretly file with the SEC, thereby keeping sensitive financial information under wraps, could spur more big companies that were indecisive about going public to take the plunge.
2017 Blew Hot And Cold
Hard statistics show the 2017 U.S. IPO market saw 50 percent more offerings in volume terms in 2016, but the value of the IPOs nearly doubled to $35 billion, according to Renaissance Capital.
Reasons for the "so-so" performance include availability of private capital, uncertainties surrounding the massive tax overhaul and disappointing debuts of tech unicorns such as Snap Inc (NYSE: SNAP) and Blue Apron Holdings Inc (NYSE: APRN), according to Renaissance Capital.
On the contrary, there were immensely successful offerings such as that of argenx SE - American Depositary Shares (NASDAQ: ARGX), AnaptysBio Inc (NASDAQ: ANAB) and Roku Inc (NASDAQ: ROKU).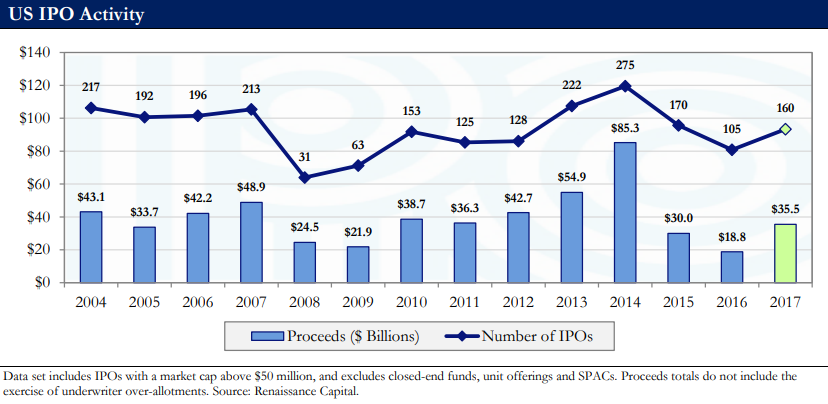 Source: Renaissance Capital
Off To A Circumspect Start In 2018
Volatility returned to the market in 2018, with the major averages swinging wildly after a strong start to the year. In early February, the S&P 500 Index was in the red, dropping about 3.5 percent at the trough before recovering some lost ground. The index is currently up 1.60 percent.
Around the time when the market plunged, it appeared the IPO market would be hit badly, with only six out of the 10 companies scheduled to tap the public market in the week ending Feb. 9 actually offering shares in an IPO.
February is typically a lean period for IPOs, as companies need complete year-end financial information for filing an IPO. With the markets having rebounded after the sell-offs, activity could start picking up in the days to come.
Spotify Opts to Circumvent The IPO Route
Music streaming platform Spotify is contemplating listing its shares on an exchange without actually going the IPO route — or in other words raising cash — according to a Wall Street Journal report. The listing could occur as early as March, the report said.
Such as listing could serve two purposes in helping Spotify to avoid paying underwriting fees and avoid dilution of promoters' stake in the company.
See also: ARMO Biosciences Has 'Potential Blockbuster' Cancer Drug In Pipeline, BMO Says
These IPOs Could Be 2018's Eyeball Grabbers
1. Can Lyft Take Investors On a Smooth Ride?
Even as rival Uber is held back by controversies that could delay its IPO, ride-hailing service Lyft could beat it to the IPO market, given its recent attempts to beef up capital to strengthen its competitive positioning. Last year, Lyft raised $1 billion in financing from firms led by Capital G, the venture capital arm of Google's parent Alphabet Inc (NASDAQ: GOOGL)(NASDAQ: GOOG).
Lyft is valued at $11.5 billion, according to CNET.
2. Dropbox To Share Ownership With Public
File sharing company Dropbox confidentially filed for an IPO early this year, Bloomberg reported, citing people familiar with the matter. The company is likely to list in the first half of the year, the report said.
Based on its last round of financing completed in 2014, Dropbox is valued at $10 billion.
3. IPO Buzz Around Buzzfeed
Online news and entertainment company Buzzfeed was widely rumored to consider an IPO last year. But a Wall Street Journal report that said the company may fall 15-20 percent short of its 2017 revenue target has poured cold water on the prospect.
Laurene Powell Jobs, the widow of Apple Inc. (NASDAQ: AAPL) co-founder Steve Jobs, could be interested in investing in Buzzfeed's news division and potentially spinning it off as a separate company, according to FT.
4. Ancestry.com Traces The IPO Route
It's long time coming for Ancestry.com. which filed confidentially for an IPO in June 2017. The financing from PE firm Silver Lake and Singaporean sovereign wealth fund GIC Private in 2016 valued the company at $2.6 billion.
The company announced in November that it is delaying the IPO.
5. Airbnb To Accommodate Public Investors
Another company that has long been subject to go-public speculation is Airbnb. A recent report in Recode that said the company achieved cash flow profitability for 2017 only served to strengthen expectations of an IPO.
6. 23andMe To Test IPO Waters?
Genetic testing and analysis company 23andMe could also be preparing for a public listing. In September, the company raised $200 million in funding from a consortium led by Sequoia Capital, with the funding done at a $1.5 billion pre-money valuation.
Given that companies rarely tap the public market within a year of a financing round, the IPO, if occurs, could only materialize in the later half of the year. Speculation is also rife that the company could take the M&A route.
7. Xiaomi Dials to Investors?
Chinese smartphone maker Xiaomi, with a $100-billion valuation, is also on tap for a listing through an IPO, according to multiple media reports. The company has hired CLSA, Goldman Sachs and Morgan Stanley for the proposed IPO, according to Reuters.
The company reportedly chose Hong Kong over New York for its listing.
Apart from the above companies, there are several tech and biotech stocks that would potentially be on offer for IPO investors. Pinterest, after reporting a revenue miss in 2017, is now expected to list its shares only in 2019. Several Chinese issues such as Meituan-Dianping and iQiyi.com, an online television and movie portal owned by Baidu Inc (ADR) (NASDAQ: BIDU), are also likely to hit the Street.
From the looks of it, 2018 could be an action-packed year for first-time offerings.
Related Link:
View Comments and Join the Discussion!
Posted-In: 23andMe AirbnbNews Education IPOs Top Stories SEC Trading Ideas Best of Benzinga