Asset Class Year In Review: Equities, Commodities, Cryptos, And Cannabis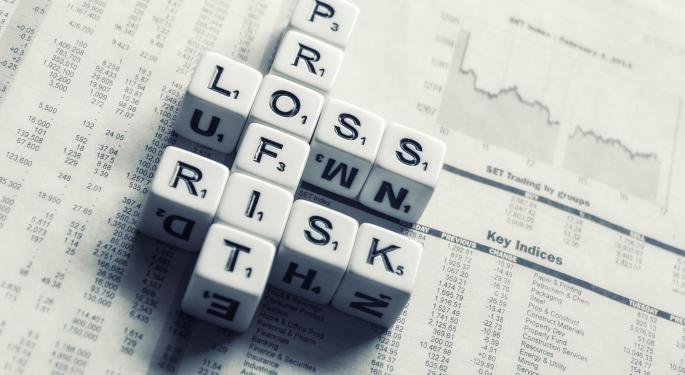 2017 will go down in history as one of the best years for the financial markets, with risky bets such as equities clocking in strong returns. The global economy expanded robustly, interest rates remained accommodative, and corporate profits grew — all catalyzing strong upward moves in several asset classes.
The S&P 500 Index is on track to close the year with a gain of about 20 percent, provided the markets don't sell off in the final few sessions of the year. Did all asset classes perform as well as equities?
U.S. Equities
Taking the S&P 500 Index as a proxy, U.S. equity markets generated a return of about 19.5 percent as of Dec. 15.
Growth stocks, especially a small group of Chinese Internet companies known as "BAT" — ( Baidu Inc (ADR) (NASDAQ: BIDU), Alibaba Group Holding Ltd (NYSE: BABA) and Tencent Holdings Ltd (OTC: TCEHY) — and the FANG group — Facebook Inc (NASDAQ: FB), Amazon.com, Inc. (NASDAQ: AMZN), Netflix, Inc. (NASDAQ: NFLX) and Alphabet Inc (NASDAQ: GOOGL)(NASDAQ: GOOG) — have led the market rally of the year, according to JPMorgan.
Among the sectors, IT stocks were standout performers, netting gains of 38.7 percent for the period ending Dec. 15. Health care, consumer discretionary, financial and material stocks followed with gains of 21.7 percent, 20.5 percent, 19.7 percent and 18.7 percent, respectively. Telecom and energy have generated negative returns.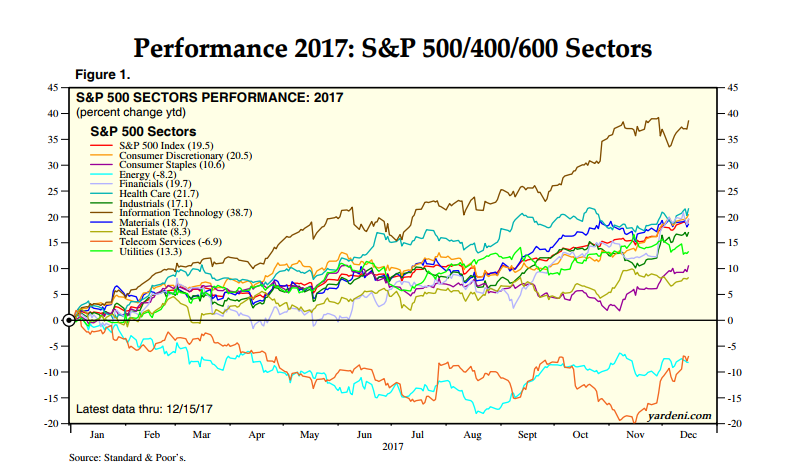 Some heavily weighted tech stocks rallied, leading naysayers to say the broader market rally lacked depth. The following stocks recorded strong gains for the year.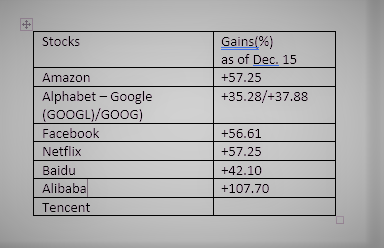 Marijuana Stocks On The High
Marijuana investing, which picked up pace with the legalization of medical marijuana in many states and recreational marijuana in two states, also stood investors in good stead.
The North American Marijuana Index has gained about 33 percent for the year-to-date period ending Dec. 15.
The first marijuana ETF launched in Canada in early April, and is called the HORIZONS MARIJUANA LIFE SCIENCES IDX USD (TSE: HMMJ.U).
Some of the best performers among marijuana stocks are:
AURORA CANNABIS IN (OTC: ACBFF): Up 218.5 percent.
AbbVie Inc (NYSE: ABBV), which has exposure to the marijuana space through its Marinol drug, is up 55.62 percent.
CANOPY GROWTH CORP (OTC: TWMJF): Up 120.80 percent.
A few others didn't fare very well.
GW Pharmaceuticals PLC- ADR (NASDAQ: GWPH), which soared over 60 percent in 2016, saw its gain moderate to a more muted 16 percent this year. The stock is expected to see increased momentum in the coming year, according to a recent note from Goldman Sachs.
Vitality Biopharma Inc (OTC: VBIO) is down about 44 percent so far in 2017 following a staggering 809-percent gain in 2016.
Global Equity Markets
Emerging markets advanced strongly, with the MSCI Emerging Market Index, which is available for 24 countries and covers roughly 85 percent of the free float-adjusted market capitalization in each of the countries, is up about 30 percent as of Dec. 16.
The MSCI Europe Index, meanwhile, has gained about 20 percent.
See also: 2 REIT Picks From Bank Of America
A Muted Fixed-Income Showing
The yield on benchmark 10-year Treasury bonds has fallen from 2.45 percent at the end of 2016 to 2.35 percent. In early September, bond yield dropped as low as 2.06 percent before recovering some lost ground.
The fairly flattish performance of bonds has come despite four interest rate hikes announced by the Fed.
Returns from corporate bonds have outpaced the returns from U.S. treasuries.
It's The Year of the Euro
The euro is the best-performing major currency this year, having gained about 12 percent against the dollar. The common currency shared by 19 eurozone nations is benefiting from fading risks of a eurozone break-up, speculation of an interest rate normalization by the European Central Bank and tapering of the quantitative easing program amid a strengthening economy.
Against the backdrop of Brexit negotiations, the pound sterling has gained about 8 percent against the dollar and has shed 4 percent against the euro.
The yen is up about 4 percent against the dollar but is down about 6.6 percent against the euro.
Commodity Rally Loses Steam
Commodities, which had a stellar year in 2016, took a turn for the worse in 2017. The Bloomberg Commodity Index, which tracks futures performances of 22 commodities, is down about 4 percent for the year through Dec. 15.
A few, including Palladium, fared better. Palladium has gained about 49 percent year-to-date. WTI crude oil, gold, coal, heating oil, copper and aluminum are all expected to end the year with gains, although they're likely to be more modest relative to 2016.
The WTI grade of crude oil futures are up about 6.7 percent after a strong 45 percent jump in 2016.
Most agricultural commodities, natural gas, silver and platinum are down for the year.
Cryptocurrency Craze Takes Hold
It was the year of cryptocurrency. Bitcoin, the pioneering and widely traded cryptocurrency, soared over 1,700 percent so far in 2017 to $17,601.94 as of Dec. 15.
Bitcoin Cash, which was created in August 2017 following the forking of bitcoin, is up over 200 percent. Ethereum, the second most widely traded digital currency, has gained over 8,000 percent.
Cryptocurrency investors may have benefited the most in 2017, although it's still a new market. The CME Group Inc (NASDAQ: CME) recently launched Bitcoin futures, and the Bitcoin Investment Trust (OTC: GBTC) is an ETF investing in bitcoin and trading on the OTC markets.
Equities also performed robustly, with strong corporate profits and a conducive economic milieu driving the rally.
Related Link:
KeyBanc On Steel Stocks: Take Profits In Your Outsized Gains
View Comments and Join the Discussion!
Posted-In: Cryptocurrency Education Emerging Markets Eurozone Commodities Forex Top Stories Markets Best of Benzinga