International Law Expert Explains Tax Implications And The Search For Legitimacy In Cannabis Industry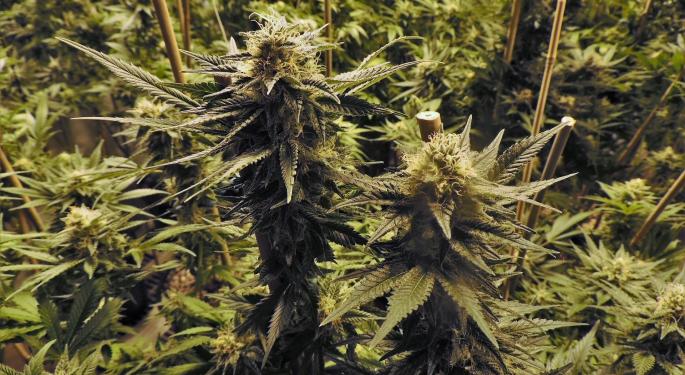 The New York State Society of Certified Public Accountants (NYSSCPA) and the Foundation for Accounting Education (FAE) hosted their 2016 Marijuana Symposium: Business, Tax and Legal Implications last Tuesday.
After the event, Benzinga had the chance to chat with one of the keynote speakers, Zameer Qureshi, a legal consultant to the Acta Group EU, Ltd, an affiliate of Bergeson & Campbell, P.C. that focuses on marketing chemicals, biocides and products of industrial biotechnology, nanotechnology and synthetic biology.
When asked about taxation and the cannabis industry, the lawyer referred to the Internal Revenue Code. Section 280E states:
No deduction or credit shall be allowed for any amount paid or incurred during the taxable year in carrying on any trade or business if such trade or business (or the activities which comprise such trade or business) consists of trafficking in controlled substances (within the meaning of schedule I and II of the Controlled Substances Act) which is prohibited by Federal law or the law of any State in which such trade or business is conducted.
This means that cannabis-related businesses do not get any deductions, Qureshi explained. "The IRS must enforce the section, because of the federal level status of marijuana."
"Illegal income is taxable," he supplemented. "You can question the wisdom of that and whether you like it or not, but there's a case from 1961 [James v. United States], which states pretty clearly that, regardless that the income is illegal, you have got to pay a tax. So, in essence, marijuana businesses have not received some of the deductions like rent and employee salaries that they would have liked to, and have often paid a large tax on income; for example, 50 to 70 percent."
The Search For Legitimacy
"The marijuana industry wants to feel legitimized. They would like to pay taxes like other companies," the expert voiced. However, cannabis-related companies "are often times forced into a position of criminality, whereby they don't have access to banks, they don't get the deductions, and now, they have to pay their taxes."
"I actually heard at the symposium that a lot of companies do pay their taxes in cash, and there are issues with security [...] Because of this situation, the industry has relied upon [...] weird little strategies," he revealed. "In my opinion, as a lawyer, de-scheduling under the Controlled Substances Act would be a feasible alternative to the problems that the industry faces."
The Early Fruit
Discussing legitimacy, Benzinga asked about Innovative Industrial Properties Inc (NYSE: IIPR), the first marijuana-related company to be accepted on a major stock exchange.
The expert replied, "I think that they are potentially equal [to other companies], if not more vulnerable to all of the problems that the marijuana industry faces. Being a publicly traded company raises lots and lots of questions, be there related to banking, taxes, transparency, global stakeholders. I think that publicly traded companies in the cannabis trade walk a fine line, and there can be numerous challenges, legal and otherwise, that they may face."
Liked this interview? Now check out our conversation with Viridian Capital Advisors president and founder, who shared a look into its Cannabis Stock Index, which tracks a few biotech companies including GW Pharmaceuticals PLC- ADR (NASDAQ: GWPH) and Zynerba Pharmaceuticals Inc (NASDAQ: ZYNE).
View Comments and Join the Discussion!
Posted-In: Cannabis News REIT Emerging Markets Politics Topics Legal Markets Best of Benzinga