Blackstone Announces Cell Tower Buy, Real Estate Executive Hire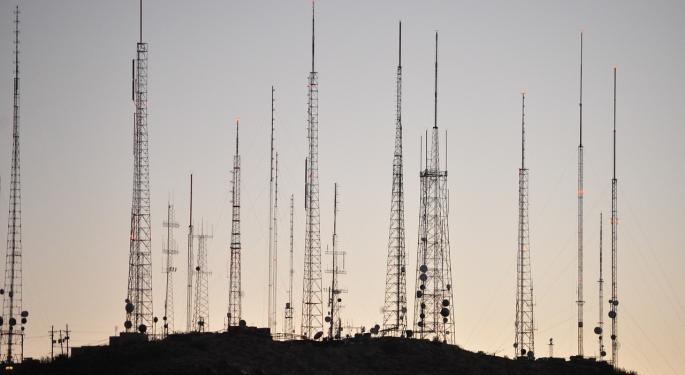 On Monday, Blackstone Group LP (NYSE: BX) announced that its Phoenix Tower International (PTI) portfolio company had purchased T4U Holding Brasil S.A. Phoenix intends to merge the business, which includes more than 500 wireless towers, into its Brazilian operating company.
Along with the 529 existing towers, PTI will gain a pipeline of over 250 wireless tower sites under construction "for all of the major wireless operators in Brazil." PTI's existing Latin America customers include: América Móvil (America Movil SAB de CV (ADR)(NYSE: AMX) (NASDAQ: AMOV)), Telefonica S.A. (ADR) (NYSE: TEF), Cable & Wireless Communications Plc (OTC: CWIXF) and Digicel Group.
Related Link: Diebold Moving On Blackstone, Carlyle Possible $10 Billion Bid For NCR
According to Jasvinder Khaira, a managing director in Blackstone's Tactical Opportunities business, "We believe the combination of PTI and T4U's experienced teams create a strong foundation from which to build upon T4U's existing portfolio of assets and pursue additional growth opportunities in the sector."
Tale Of The Tape: Blackstone's Recent Performance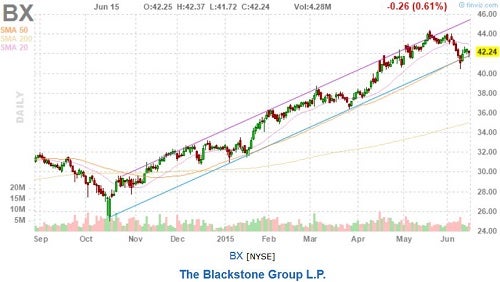 During the past 52-weeks, shares of Blackstone have traded in a range of $25.09 to $44.43 per share, and are up approximately 30 percent 2015 YTD.
Blackstone's current annual distribution is yielding another 8.4 percent for investors.
PTI Brazil's U.S. Publicly Traded Competitors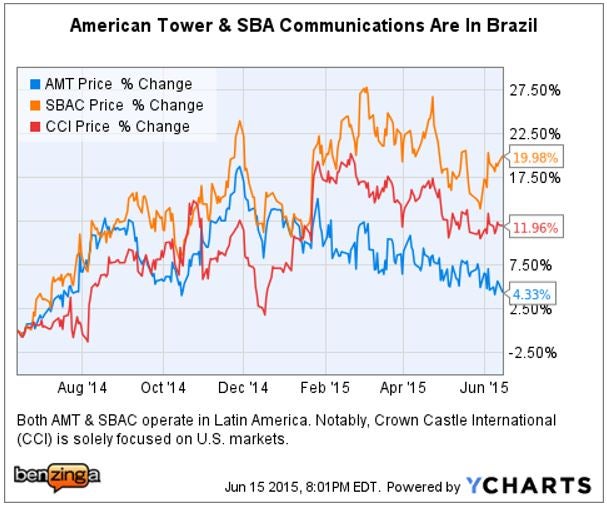 Back in November 2014, PTI announced the purchase of American Tower Corp (NYSE: AMT)'s Panamanian business, consisting of 60 tower assets, for an undisclosed sum. Notably, there are four wireless carriers who are potential customers for PTI in Panama.
Related Link: Is Vivint Solar's Blackstone Commercial & Industrial Announcement A Game Changer?
Phoenix Tower International was formed in 2013, and is owned by investors in Blackstone Tactical Opportunity funds and members of the PTI management team. Key PTI executives, including CEO Dagan Kasavana, formerly worked at Global Tower Partners.
PTI is currently operating in Costa Rica, Panama, Dominican Republic, Colombia, the United States and Brazil. PTI's U.S. customers include the four major wireless carriers: AT&T Inc. (NYSE: T), Verizon Communications Inc. (NYSE: VZ), Sprint Corp (NYSE: S) and T-Mobile US Inc (NYSE: TMUS).
Blackstone Adds To Real Estate Management Team
Blackstone also announced on Monday "that Jonathan Pollack has joined the firm as a Senior Managing Director in its Real Estate Group. He will be the Chief Investment Officer for Blackstone Real Estate Debt Strategies (BREDS), reporting to Mike Nash, who continues as the Global Head of BREDS. Mr. Pollack was previously a Managing Director and Global Head of Commercial Real Estate, as well as Head of Risk for Structured Finance, at Deutsche Bank."
Related Link: Susquehanna: Time To Buy Blackstone Group
Mike Nash said, "Our real estate debt business has grown dramatically in the past few years, in size, scope and geography. Today, we manage nearly $10 billion of investor capital through our publicly traded mortgage REIT Blackstone Mortgage Trust (NYSE: BXMT), our private mezzanine debt funds, and our CMBS investing platforms. Our recent purchase of mortgages from General Electric has scaled the business even further."
Image Credit: Public Domain
View Comments and Join the Discussion!
Posted-In: M&A REIT Emerging Markets Management Global Top Stories Markets Tech Best of Benzinga