Benzinga Weekly Preview: Last Of The Retailers Reporting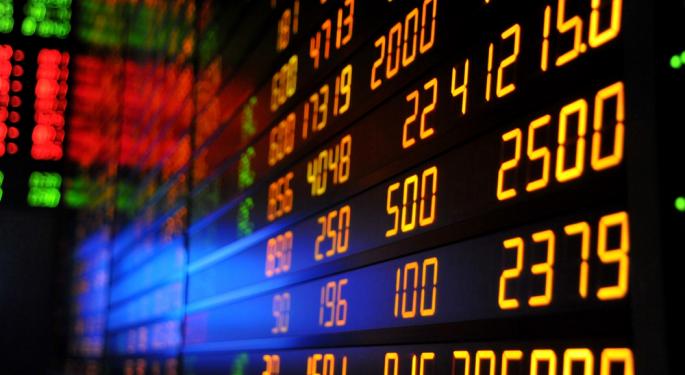 The number of companies expected to report earnings next week is significantly lower than previous weeks, however investors will be watching several hot retailers: JC Penney (NYSE: JCP), Macy's (NYSE: M), Kohl's (NYSE: KSS).
Earnings
JC Penney
Like 2013, JC Penney has not fared well in 2014. Shares are down almost 40 percent YTD and even dropped below five dollars at the beginning of February. Analysts are expecting the company to announce a $0.76 loss versus a $1.95 loss for the same quarter last year. Despite optimistic earnings, revenue is predicted to be 3.94 billion, down 3.55 percent YoY.
Citi Research slapped a Neutral rating on JC Penney last week with a $6.50 price target. "In our view, JCP has a number of initiatives in place to bring her back to stores and improve margins including: (1) restoring private label brands & enhancing national brand assortment (2) selling through of legacy inventory & ensuring appropriate core and basics inventory levels (3) improving the home business (4) restoring initial markups necessary to support the return to promotional department store strategies (5) strategic store closures." Citi cites execution and liquidity concerns as reasons to be hesitant about a recovery.
Citi explains potential liquidity issues: "At the end of 3Q13 JCP had net debt of $4.4Bn or $17.41 per share based on cash of $1.2bn and total debt of $5.6bn. We estimate that JCP will have a FCF burn of $2.2bn by YE2013 and $350mm in YE2014, assuming revenue growth of +4-5% and capex of $300mm (per company guidance) for 2014. We note that capex averaged $800mm over the last three years, and this would represent a significant decline in spending. In our view, stronger sales are required to restore healthy FCF, however we acknowledge that bolstering the flagging brand may be difficult in the long run given JCP is cutting investment."
Morgan Stanley on the other hand is less optimistic about the retailer's recovery. Analysts reiterated an Underweight rating and lowered their price target to four dollars.
"The stock has fallen 44% YTD and broke through our prior $6 PT. Our new PT is derived from applying peer avg. EV/EBITDA multiple to our 2017 estimate and discounting back after adjusting for debt. Our base case assumptions may prove too optimistic and we will re-evaluate post 4Q EPS and management's 2014 outlook. 4Q call is Wed Feb 26 after the close." In order to reach the base case four dollar estimate, JC Penney will have to deliver "positive comps in 2014-2016 and recover margins steadily. Cash balance continues to deteriorate through FY16. JCP achieves slightly positive EPS by FY17."
Macy's
Contrary to JC Penney, Macy's has fared much better in 2013 and 2014. The company is expected to announce 9.04 percent YoY earnings growth and a small revenue drop.
Citi Research initiated Macy's with a Buy rating and $63 dollar price. They explain their logic: "We initiate on Macy's with a Buy rating as we model consistently attractive +2-4% comp on solid product execution, localization efforts, and an improving macroeconomic picture." Citi bases their price target off a multiple of "~12x on our 2015 EPS estimate to derive our target price of $63. We choose a multiple in the upper quadrant of the 5 year P/E range as we believe Macy's will post attractive consistent +2-4% comp growth on solid product execution, localization efforts, omni-channel capabilities and an improving macroeconomic picture."
Nomura also initiated the company with a Buy rating, but put on a more optimistic $65 price target. "During a 2013 of difficult trends in the department store industry, Macy's emerged a clear winner. The company's com - driving M.O.M. strategy, scale, and strong vendor relationships have led to outperformance relative to our Broadlines & Department Stores universe in a difficult and rapidly changing department store landscape,which we believe Macy's is well-equipped to navigate. We expect ongoing momentum to continue into 2014."
Kohl's
Kohl's legged Macy's in 2013, but performed inline with the market. The anticipated EPS of $1.54 is down 5.52 percent YoY. Revenue is also expected to drop.
Like JC Penney, Citi Research initiated Kohl's with a Neutral rating. Their analysts have a $55 price target on the stock. They explain their rationale, "We initiate on KSS with a Neutral rating, as we wait to see if KSS can broaden appeal and increase traffic through renewed focus on national brands, a new beauty department, expansion of the loyalty program, optimized advertising, and enhanced omni-channel capabilities. We do believe this will happen, over time. We are impressed with KSS superior returns to shareholders, but remain concerned about greater weather sensitivity, as well as comps below off-price competitors TJX & ROST." The $55 price target is based on an 11 times multiple for 2015.
Nomura also has a Buy rating on the retailer, but a slightly more bullish $57 price target. A focus on national brands and push for loyalty programs are expected to boost top line growth. "11.6x our 2014E EPS, a ~26% discount to our Broadlines & Department Stores universe and the least expensive stock in our coverage on a P/E basis, the shares offer an attractive entry point given the company's demonstrated capital allocation commitment toward share repurchase and dividend. We believe Kohl's is undervalued given its competitive operating margins and productivity relative to its department store competitors."
SolarCity
Moving away from retail, it will be interesting to see how Elon Musk's other public company can also beat earnings. SolarCity (NASDAQ: SCTY) is expected to lose just $0.55 per share versus $1.10 for the same period last year. Revenue is expected to grow 17.45 percent to 43.07 million.
Deutsche Bank recently initiated the company with a Buy rating and $90 price target. "SCTY is one of the pioneers in the residential solar leasing market and is poised to benefit from accelerating growth of distributed generation as retail electricity customers switch to solar and increasing number of US states achieve grid parity by 2016 timeframe. We expect SCTY's installed bas e of solar customers to roughly double exiting 2014 and believe growth could accelerate in the 2015/16 timeframe. Declining system costs, customer acquisition costs, financing costs and rising volumes should drive significant scale benefits and operating leverage in the model."
On the other hand Baird downgraded the stock to neutral, but maintained their $81 price target. They explain their rationale, "SCTY has demonstrated its ability to maintain/gain market share in the N.A.
residential rooftop market, but we believe the current valuation prices in much of its growth/execution. Furthermore, we believe risk vs. reward now warrants a Neutral rating. We would look for accelerated growth and continued system and financing cost reductions to become more constructive on the name.
"Our price target is based on our estimates of the net present value of SCTY's current contracted projects and our estimates of projects deployed from 2014 through 2017. We use a 6% discount rate for initial contracts and 8% for renewal contracts and have discounted the cash flows to YE:2014."
Economics
The biggest economic announcement set for next week is the GDP reading. Analysts are expecting 2.7 percent quarter over quarter growth.
Initial and continuing jobless claims are always a figure to keep track of. After Decembers horrible nonfarm payroll reading and January's miss (despite a bullish reaction), many investors are questioning stability of domestic job markets.
Monday
Tuesday
Wednesday
Thursday
Friday
View Comments and Join the Discussion!
Posted-In: Citigroup Credit Suisse Deutsche Bank Morgan Stanley Sterne AgeeNews Pre-Market Outlook Best of Benzinga