Market Wrap For November 15: Janet Yellen's Post Fed Nomination Keeping Markets In The Green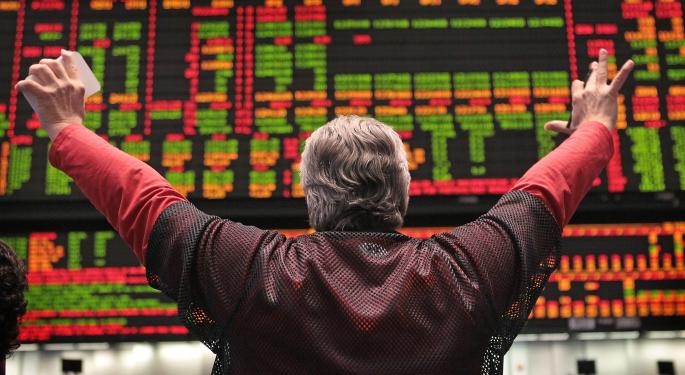 The major indices can bank another day in the green. The Dow Jones and S&P 500 both reached new highs during Friday's trading session as markets continued its momentum following U.S. Federal Reserve's new boss Janet Yellen confirmed the central bank's economic stimulus would continue.
The Dow Jones gained 0.42 percent to close at 15,961.70.

The S&P 500 gained 0.42 percent to close at 1,798.18.

The Nasdaq gained 0.33 percent to close at 3,985.97.
Gold gained 0.09 percent, trading at $1,287.40 an ounce.
Oil fell 0.21 percent, trading at $94.80 a barrel.
Silver edged higher by 0.09 percent, trading at $20.74.
News of Note
According to the U.S. Import Price Index, U.S import prices declined 0.7 percent in October, compared to the 0.5 percent decline which was forecast. The previous reading came in at positive 0.2 percent. Year over year the U.S. Import Price Index is down 2 percent compared to an estimated 1.6 percent, with a previous reading of negative 1 percent. Paving the way for lower cost of imports can be attributed to a sharp decline in oil prices.
Exports declined unexpectedly, hinting at a sign of global economic weakness. The U.S. Export Price Index declined 0.5 percent compared to a forecast of a 0.1 percent gain. This marks the seventh time in eight months the index has risen.
U.S. production unexpectedly fell in October by 0.1 percent compared to a forecast rise of 0.2 percent. The previous reading was revised to a gain of 0.7 percent. Manufacturing output (SIC) production raised 0.3 percent in October, higher than the 0.2 percent forecast, and the previous reading of 0.1 percent.
China has released the details of its reforms, which includes creating more free trade zones in different cities and encouraging overseas investments.
Equities-Specific News of Note
Bill Ackman's Pershing Square revealed new stakes in Fannie Mae (OTC: FNMA) and Freddie Mac. (OTC: FMCC) Both position sizes each amounted to slightly less than 10 percent stake of the company. Shares of Freddie closed the day higher by 6.21 percent at $3.08 while Fannie closed higher by 7.84 percent to $3.30.
Related: Ackman Takes Stake in Freddie Mac, Fannie Mae
Jos. A. Banks (NYSE: JOSB) might consider a new proposal to buy Men's Wearhouse (NYSE: MW) in the future, but for now the deal is off the table as the deadline has passed without any meaningful negotiations. Jos. A. Banks is said to be actively pursuing strategic alternatives. Shares of Jos. A. Banks closed the day little changed, up 0.8 percent at $50.71. Men's Wearhouse was also little changed up 1.11 percent at $46.63.
Related: Men's Wearhouse Shares Spiked After Jos. A. Bank Comments Earlier Today
Analysts at JPMorgan reiterated its Neutral rating on Wal-Mart (NYSE: WMT) with an $82 price target. The analysts lowered both fiscal 2013 and 2014 EPS estimates based on the retailer's less than stellar outlook, which was announced yesterday during the company's third quarter, results.
Kellogg (NYSE: K) was downgraded to Underweight from Equal Weight by analysts at Barclays (NYSE: BCS). The analysts cited the company is no different from its peers who are all facing limited upside potential. Shares of the world's largest retailer closed the day edging higher by 0.21 percent to $79.25.
The search for Steve Ballmer's replacement is progressing. Bloomberg reported the company is looking to narrow the CEO shortlist to 3-5 people as soon as Monday. Shares of Microsoft (NASDAQ: MSFT) were little changed, down 0.50 percent to $37.83.
Following a rather large run up in share price in which it has outperformed the major indices, Dish (NASDAQ: DISH) has been downgraded to Equal Weight from Overweight by analysts at Barclays who believe shares are now fairly valued. Shares closed the day little changed down 0.20 percent to $50.96.
BlackBerry (NASDAQ: BBRY) has been downgraded to Underperform from Neutral at Macquarie based on the assumption that an M&A deal is less likely following the struggling Canadian smartphone maker's recent $1 billion debt deal. Shares of BlackBerry closed down 0.69 percent to $6.43, pennies above its 52 week lows of $6.39.
Yesterday, reports of a fire at a Chevron (NYSE: CVX) owned pipeline surfaced. The company announced the fire has burnt itself out. Tragically, one worker was killed due to the fire. Shares were largely unaffected, up 0.40 percent to $120.04.
Yesterday a report surfaced that Green Mountain Coffee Roasters (NASDAQ: GMCR) was losing market share to private label names. KeyBanc argued otherwise in a report released today in which analysts believe that Green Mountain is not only not losing market share, but won't have to enter a pricing war to battle the cheaper private labels. Shares remain a Buy rating with a $100 price target. Shares gained 3.86 percent to $62.97, well off its 52 week high of $89.66.
Shares of LinkedIn (NASDAQ: LNKD) were boosted after analysts at Stifel rated shares a Buy with a $300 price target. Shares of the social media firm closed the day up 4.40 percent to $231.18.
Shares of Pandora Media (NYSE: P) gained 7.1 percent to close at $31.56 after the company received yet another bullish report. This time, JPMorgan raised the company's price target to $35 from $25.
Shares of Allscripts (NASDAQ: MDRX) gained 5.77 percent to close at $15.02 as the company was upgraded to Outperform with an $18 price target from analysts at Leerink Swann.
Winners of Note
Zulily (NYSE: ZU) began trading today at $39.40, above its IPO price of $22, giving the company a 71.36 percent gain on its first day of trading. Shares declined for most of the day, closing at $37.70.
Dov Baharav disclosed he had bought 57,700 shares of Mellanox (NASDAQ: MLNX) of which he is a director. Shares closed the day higher by 14.04 percent at $40.30.
Shares of Vanda Pharmaceuticals (NASDAQ: VNDA) continues to rise following the company's FDA approval for its treatment that was revealed yesterday. Shares rose another 11.72 percent closing at $14.57. Shares traded as high as $16.45 this morning.
Decliners of Note
Shares of Electronic Arts (NYSE: EA) suffered after NPD estimates of U.S retail video games sales only rose 12 percent year over year in October, substantially lower than the 52 percent in September. EA games were ranked poorly in the NPD's list of top ten selling games. Shares closed the day down 7.4 percent at $24.04.
Shares of Real Goods Solar (NASDAQ: RSOL) fell as the company is selling 5.9 million shares at $3.40. The offering will increase the company's diluted share count by around 20 percent. Shares closed the day lower by 5.59 percent at $3.21.
Quote of the Day
"Money is better than poverty, if only for financial reasons." - Woody Allen
View Comments and Join the Discussion!
Posted-In: Barclays Bill Ackman BlackberryNews Econ #s Federal Reserve After-Hours Center Movers Best of Benzinga