Pot Stocks, ETFs, Top News And Data From The Cannabis Industry This Week
Canopy Growth Corp (NYSE:CGC) received a $4 billion investment from Constellation Brands, Inc. (NYSE:STZ). This deal, the largest in the industry to date, was one of the most talked-about topics at the Benzinga Cannabis Capital Conference in Toronto.
Harrison Phillips, Vice President of Viridian Capital Advisors, said during a conversation there that the deal "is over 70 percent of the $5.3B USD raised by cannabis-related companies YTD in 2018, according to out Viridian Cannabis Deal Tracker. This is by far the largest investment in a cannabis company to date and an example of the amount of capital large, incumbent companies may be willing to deploy to capture a hold in the still-developing cannabis industry."
"The surprising part was that the company paid a premium for the shares," Debra Borchardt, CEO of Green Market Report, told Benzinga. "Normally with a deal of this size the buyer gets a discounted price. Plus, Constellation is adding billions in debt to their balance sheet. I'm not surprised at the investment, but I'm surprised at the price paid and the debt that it has taken on in order to be a part of the cannabis industry.
Karan Wadhera, Managing Partner at Casa Verde Capital said, "We may have previously seen investments from alcohol and tobacco companies in the cannabis space as a hedge, but it is becoming clear that firms across consumer categories need to start strategizing on how they will be building real cannabis verticals within their organizations. We think Constellation's move today will continue to be extremely positive for the cannabis industry at large."
Another deal that seemed to slip under the radar was that Harborside is planning a C$200 million ($152 million) RTO with Lineage Grow Company.
"Harborside has two dispensaries that do C$50 million in sales per year," Borchardt said. "So it seems a reasonable price. However with more dispensaries opening in the San Francisco area, I wonder if they can maintain those levels of sales. Still, I applaud the Harborside folks for finally getting a reward for all of their hard work over the years."
Marijuana Indexes & ETFs
In the capital markets realm, the United States Marijuana Index, which tracks 18 of the largest marijuana stocks in the U.S., gained roughly 8.7 percent this week, while the North American Marijuana Index, which also includes Canadian stocks, surged about 7.1 percent.
The SPDR S&P 500 ETF Trust (NYSE:SPY) closed the week up 0.67. This compares to the Horizons Marijuana Life Sciences Index ETF (OTC:HMLSF) (TSE:HMMJ)'s 5.68 percent gain, and the ETFMG Alternative Harvest ETF (NYSE:MJ)'s 2.56 percent rise.
Stock Moves
Here are some of the top marijuana stocks (market cap above $100 million) in U.S. exchanges and how the performed over the last five trading days:
In Other News
Three years after introducing his Signature Herbal Vaporizer pen, "The Chief", by Lord Vaper Pens, TESTAMENT vocalist Chuck Billy announced the launch of "The Chief" Signature Series of 420 Products and "The Chief of Thrash!" merchandise line. In a time that most herbal smoking products and accessories are being marketed towards urban and hip-hop audiences, Chuck wants to release a pen that hard rockers and metalheads alike could call their own.
"Growing the product line along with the industry itself was an important component to the growth of my product line," Billy told Benzinga. "I felt it was important to benefit the recreational customer as well as to create products that would be beneficial for customers seeking products for medicinal use as well."
Rapper and cannabis entrepreneur Berner has teamed up with Grenco Science to launch the Cookies G Pen Gio.
Pure Global Cannabis Inc (OTC:PRCNF) announced its entry into the Colombian cannabis market through the acquisition of a 60-percent stake in the Colombian subsidiary of Avicanna in a $20-million cash and stock deal. "Colombia represents the gateway to South America's 650 million [people]," said Stephen Pynn, Pure Global's vice president of corporate development. Pure Global is newly listed on the TSX Venture Exchange.
Pennsylvania pro-medical cannabis organizations Compassionate Certification Centers (CCC) and Empower Your Odyssey have partnered to help fund Hannahtopia, an online boutique specializing in products for families and children with special needs. Heather Shuker, founder of Empower Your Odyssey and Hannahtopia, named the startup after her daughter Hannah, who is a medical cannabis patient. Empower Your Odyssey t-shirts are now available for purchase at CCC medical cannabis offices with all proceeds donated to the cause.
"We are excited to partner with Empower Your Odyssey and help get Hannahtopia off the ground. Our organizations share a common mission to assist patients and families on their medical cannabis journeys with an emphasis on education. We plan on selling out of t-shirts," said Melonie Kotchey, COO of Compassionate Certification Centers.
Pegasus Capital Advisors portfolio company VividGro announced a strategic partnership with Merida Capital Partners, one of the largest investment funds in the cannabis space.
"Merida Capital Merida Managing Partner Mitchell Baruchowitz will join the VividGro Board and work with VividGro CEO David Friedman, former CEO of MJIC, as well as Board Chairman and Pegasus Operating Advisor Abraham Morris, to aggressively grow VividGro, including through acquisition of innovative CEA technology and service providers," a press release said. VividGro is a spinout from Lighting Science Group Corporation (OTC:LSCG).
Inc. magazine included Cura Cannabis Solutions in its 37th annual Inc. 5000 list, ranking it at No. 45. Cura is the first and only cannabis company to ever make it into the top 50 on this list, known for its brands Select Oil and Select CBD.
"We've seen companies like LinkedIn, Timberland, Yelp and Microsoft gain national recognition for the first time through the Inc. 5000, and now it's time for cannabis to elevate to the top on the same national scale… Cura has always pushed forward with our belief that Everything is Possible, and this is a great illustration of that belief coming to life," Cura founder, president and chief executive officer Cameron Forni told Benzinga.
Erin Fay, J.D./M.B.A. was named as COO of GeekTek, a provider of managed IT and security services in the cannabis industry. The company is often regarded as a thought leader in scalable technology solutions in the cannabis sector, with clients throughout the medicinal and adult-use markets in the United States.
Fay said, "Prior to joining GeekTek, I recognized the need for stability and professionalism in the cannabis industry as it matures. As the COO of the leading technology firm in the space, I'm excited by the massive opportunity to apply my skill set to help GeekTek and its clients grow as legalization continues."
Over three million shares of MassRoots Inc (OTC:MSRT)'s common stock were dumped Thursday, pushing it to its lowest ever closing price, after someone impersonating an SEC investigator dialed into the company's conference call claiming he was investigating them. The SEC confirmed this wasn't their doing.
"Impersonating an SEC investigator on a shareholder call is a criminal attempt to cause material harm to our company. It's entirely possible that this was a short-seller distracting the market from the many exciting developments happening at MassRoots. While we were obligated to properly disclose this incident to the SEC and our shareholders, management remains laser-focused on growing our monthly recurring revenues and book of business," Isaac Dietrich, CEO and Co-Founder of MassRoots told Benzinga.
Golden Leaf Holdings Ltd (OTC:GLDFF), a cannabis company with cultivation, production and retail operations built around recognized brands, signed a definitive agreement to acquire the assets of Tahoe Hydroponics Company and 11T Corp. Tahoe was one of the first cultivators in Nevada and possesses years of cultivation experience and expertise, having built a successful cash flow positive business underpinned by an extensive distribution network.
"GLH provides the capital strength Tahoe needs to continue its explosive growth in Nevada and California as well as additional markets, while Tahoe seamlessly compliments GLH's verticals with ultra premium flower and high quality material for extracts," Ray Schiavone, Co-Founder & CEO of Tahoe Hydroponics told Benzinga.
"Ray and his team have established themselves with a strong brand and loyal following, winning coveted awards and wowing customers… We spent months learning each other's capabilities and value propositions, and we will now be able to use each other's strengths to grow our brands. Tahoe's capabilities won't just be evident in Nevada, but we plan to leverage their expertise in other jurisdictions as well. Tahoe's knowledge and expertise will support our goal to bring to market an array of premium products for our customers, sourced from high-quality cultivation," William Simpson, CEO Golden Leaf Holdings added.
Axim Biotechnologies Inc (OTC:AXIM), a world leader in cannabinoid research and development, will be presenting at BIT's 16th Annual Congress of International Drug Discovery Science and Technology. Chief Technology Officer, Lekhram Changoer will speak on novel cGMP technologies for extraction, purification and conversion of cannabinoids for the pharmaceutical industry.
Cannabis cultivator, FSD Pharma (OTC:FSDDF) announced it's launching its first clinical research project in Israel with the company's strategic partner, SciCann Therapeutics. The trial will investigate cannabis-based pharmaceutical products that target and modulate the endocannabinoid system using a series of rigorous, randomized, placebo-controlled clinical studies to demonstrate the safety and efficacy.
According to Zeeshan Saeed, EVP and Director of FSD Pharma, the launch of this clinical study collaboration program in Israel further demonstrates FSD's focus and commitment to bringing disruptive science-based cannabinoid therapies to Canadian patients and provide them with innovative cannabis products that have been tested and verified in rigorous clinical studies for the highest level of safety and efficacy.
Also this week, FSD started trading on the Frankfurt Stock Exchange.
Loyalty marketing company springbig announced a partnership with Leaf Logix, a cloud-based seed-to-sale ERP solution for cannabis businesses. Leaf Logix services three continents and 25 states as well as D.C., and Puerto Rico, integrates with all regulatory compliance software providers and has experienced zero service disruptions. This is springbig's fifth partnership this year with the preeminent POS systems in the Cannabis industry (a total of six integrations with industry leading POS Systems), bringing the company's services to over 1.35 million customers, establishing springing as one the largest providers of customer loyalty tools in the space.
"We are excited about our latest partnership," said Jeffrey Harris, founder and CEO of springbig. "Leaf Logix customers have already started implementing our best-in-class digital communications platform which has enabled them to drive traffic into their stores within hours of launching their targeted SMS campaigns through our easy-to-use portal. We are looking forward to seeing these retailers continue to see the benefit from the ROI and lift in spending that our platform provides them"
The Prime Minister of Vanuatu has called an emergency parliamentary meeting to get trails for Phoenix Life Sciences International's diabetes drug started as soon as possible, after the Prime Minister's wife was diagnosed with diabetes.
Find out more about these news and others on C21 Investments Inc. (CSE:CXXI), Cronos, TGOD, MedMen, Tilray and GW Pharma, with our friends at Marijuana Money, who make a weekly video summary of the top financial and business news in the cannabis industry.
More From Benzinga's Cannabis Newsdesk
Over the week, Benzinga's cannabis newsdesk also reported on:
New Frontier Data's call for more objective information on the cannabis industry and legal markets around the globe. "This is one of the fastest emerging markets in the world. Our mission is to provide objective information to those looking to take a stake in the cannabis industry," Giadha Aguirre de Carcer, CEO of New Frontier Data, said Friday at the Benzinga Cannabis Capital Conference in Toronto.
New Frontier Data's analysis of gray markets, caregiver and home-grown markets, trends for the summer, and black markets.
The views of Aphria's CEO Vic Neufeld on Trump, Ontario And Securing A Supply Chain.
The investor presentations of six leading cannabis companies at Benzinga's Cannabis Capital Conference.
The Diversity in The Cannabis Industry panel at the Benzinga Cannabis Capital Conference, which featured famed activists Larisa Bolivar, Jodie Emery and Annamaria Enenajor.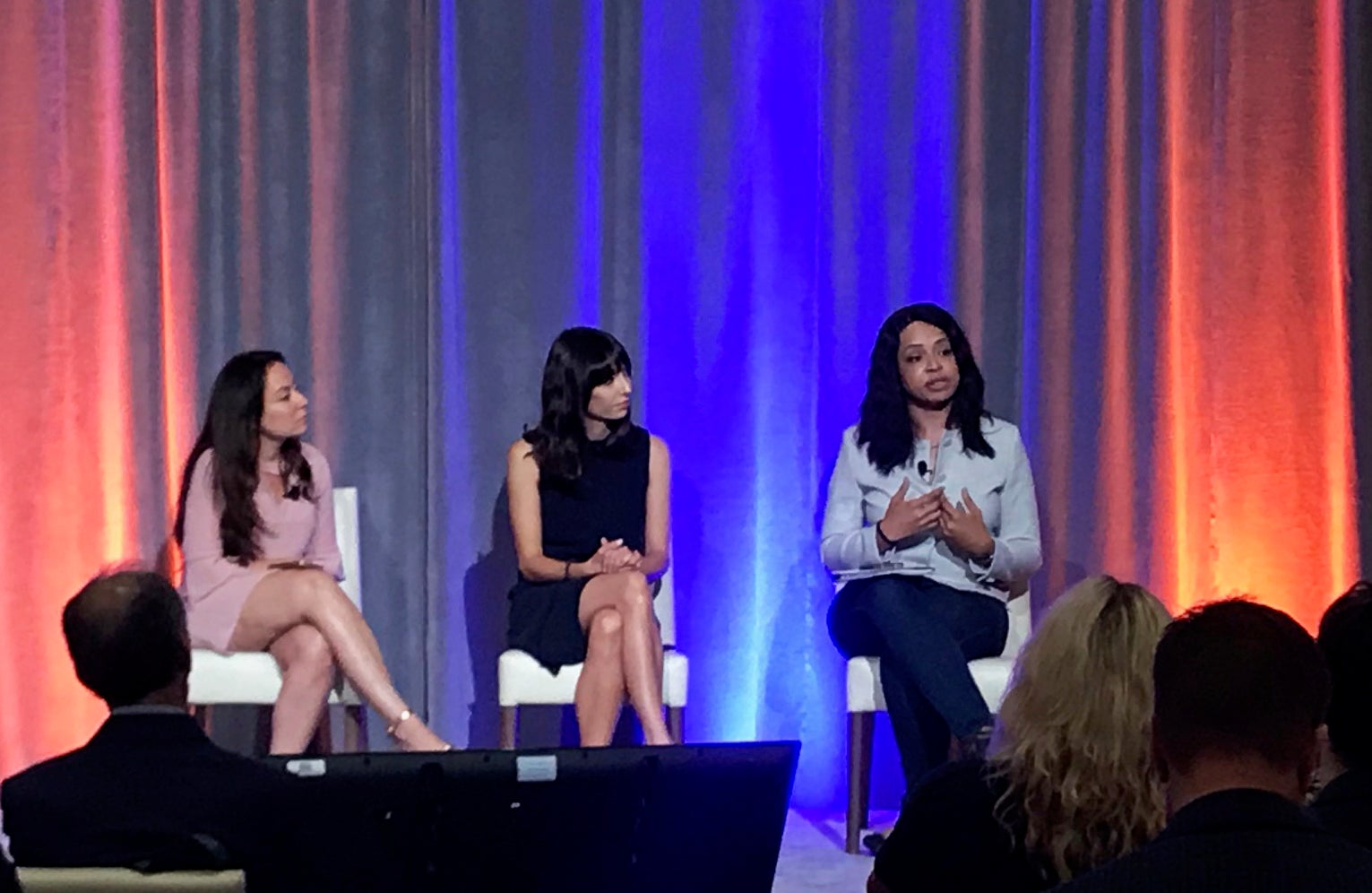 The investments panel hosted by Tim Seymour, a member of CNBC's "Fast Money" team. The panel members were, Vridian Capital Advisors Vice President Harrison Phillips; Arcview Ventures General Partner Jeanne Sullivan; Tidal Royalty CEO Paul Rosen; Merida Capital Partners Managing Partner Mitch Baruchowitz.
The surge of cannabis companies CannaRoyalty Corp. (OTC:CNNRF) and Compass Cannabis.
Industry leaders Liberty Health Sciences Inc (OTC:LHSIF), Tidal Royalty (OTC:TDRYF), OrganiGram Holdings Inc (OTC:OGRMF) and Mjardin discussing the future of medical marijuana at the Benzinga Cannabis Capital Conference.
Canaccord Genuity's Matt Bottomley and Bank of America's view of the Canopy-Constellation deal.
4 Cannabis Stocks In Uptrends This Week.
5 Cannabis Stocks Getting A Boost From Canopy Growth's Big Investment.
Shaila Mehta's audit services; the launch of the cannabis-focused Inception REIT (I-REIT); Stifel's bullish thesis on GW Pharma; the latest cannabis-beer company partnerships; and Citron Research's view on Tiray.
Interesting Data
Eaze released a full report about the state of the cannabis industry and the issues consumers are facing with the illicit vs. legal markets. Key findings included:
California's illegal cannabis market is still thriving: Eighteen percent of Californians have purchased from unlicensed businesses in the past three months and 84 percent of them are likely to buy from the same place again in the future
Consumers return time and time again to the illicit market but would prefer to purchase from licensed sources given the option. Eighty-four percent of respondents (who have purchased from the illicit market) are likely to make return purchases from unlicensed sources. Yet 92 percent of licensed business customers are likely to make return purchases from licensed sources.
High taxes are driving consumers to the illicit market: For 85 percent of the Californians who purchase from unlicensed sources, lower prices and a lack of taxes are the top two factors driving satisfaction.
Minor tax changes will bring more consumers to the legal market: A 5-percent decrease in the overall tax rate in California could drive 23 percent of illegal market supporters to move their purchases entirely to the legal market. Conversely, a 5 percent increase in the overall tax rate in California would drive nearly a third of legal market consumers (32 percent) entirely to unlicensed sources.
Consumers frequently buy from unlicensed sources and are pretty satisfied: Nearly 20 percent of Californians have purchased from unlicensed businesses in the past three months and 84 percent of them are likely to buy from the same place again in the future
Cannabis industry analyst and MJBizDaily Vice President Chris Walsh kicked off the The Marijuana Business Conference & Expo INTL, better known as MJBizConINTL, sharing an overview of the international cannabis marketplace.
"Best example of where the cannabis industry is going happened this morning," Walsh said about the news of Constellation Brands, the makers Corona, announcing an investment in Canopy Growth. "This is the biggest business development I've ever seen this industry. It's very telling. These outside companies are coming. They are here. They are looking for future growth."
MJBizDaily expects the global cannabis market will reach $10 billion to $12 billion in sales this year. "This number could easily double or even triple as Canada's recreational market takes off and other countries come online," a company representative said. Here are some other insights shared by MJBizDaily, analyzed in its new report:
The U.S. is the largest market dollar-wise at the moment, but Canada is leading in many other areas.
In Germany, medical marijuana is part of the healthcare system and is a very interesting model to watch.
Israel has long been a leader in marijuana research, they're now trying to develop an export market around the world.
UK, Italy and Portugal are quickly expanding.
Events Calendar
August 6–19: Thinking of a career change? Be sure to tune into Green Flower's free Cannabis Career Summit here.
August 17–19: Dope Magazine is hosting Dope Land this weekend, a festival inside the 27th Annual Seattle Hempfest. Featuring vendors, a fully-upgraded Seeley Black Memorial Stage and three days of 80+ featured speakers and musical guests, Dope Land will also host The 7th Annual Washington Dope Cup Awards on August 18 from 6 p.m. to 8 p.m.
August 21: CannaGather Jersey City. Present will be Wanda James, former United States Military and the first black dispensary owner in CO, and Al Harrington, former professional basketball player, and NJ native. Harrington and James are applying for one of six vertical medical dispensary licenses in NJ. The successful applicants will be deemed on November 1, 2018. James is representing the black and brown community in the cannabis space and has goals toward prison reform and correcting social injustice in communities across the nation.
August 22: Leafwire is hosting "The Future of Cannabis Pitch Competition" in Santa Monica, California. The prize also includes a $10,000 PR distribution from AxisWire and tickets to the High Times Cannabis Cup.
August 30: Grassposts.com is hosting the second even in its GP Connect Series at The Majestic in Los Angeles, CA. The experience "will provide an environment for cannabis brands, distributors and retailers to engage face to face to conduct business. In order to attend the event, you must possess a valid state and local license to operate in California's regulated market. If you are an existing brand or a startup looking to meet a white labeling partner, you may register to attend."
September 7– 9: Oklahoma is getting its first Hempfest ever: the Hempfest Oklahoma. "With Dj Snoopadelic [Snoop Dogg] coming for a free show in Oklahoma and the massive four-stage three-day lineup we are about to announce, we are hoping to bring out the masses and educate on what the hemp industry really is," Scott Mckinley, event organizer and CEO of Hi Tunes Distribution told Benzinga.
September 14: New York City will see the "Green Market Summit – The Advanced Economic State Of Cannabis," the first of a series of conferences titled Green Market Summit. This event hosted by Green Market Report will be held in partnership with The Street at One World Trade Center. The keynote speaker is CNBC and TheStreet's Jim Cramer, who will interview Kevin Murphy CEO of Acreage Holdings.
September 21–22: Anaheim, California will get the CBD Expo West 2018. Powered by CBD Health and Wellness Magazine, the CBD-focused event will feature 75 exhibitors, along with a large lineup of presentations and panel discussions from experts in the production, distribution and sale of CBD products. Tickets and can be purchased online; check out cbdexpo.net for more detail.
October 11–13: The New West Summit, a conference focused on "game-changing, disruptive developments in technology, science, media and investment within the Cannabis space," will hit Oakland, California. Speakers include Weediquette's Krishna Andavolu, Slow Ventures' Dave Morin, Berner the rapper, Steve DeAngelo, Ricardo Baca and many others.
October 30-31: Michigan is hosting its first Commercial Cannabis Conference & Expo. This inaugural year is special – celebrating its first year in a commercial framework and supporting the upcoming recreational legalization vote. Collectively, the state cannabis community is taking a stand for a healthy and strong cannabis industry in Michigan. Sponsorship, booths, and tickets are available.
Picture by Javier Hasse.
© 2020 Benzinga.com. Benzinga does not provide investment advice. All rights reserved.
---